MultiVersus Batman Guide: Moves and strategies
Learn all the moves and how to master DC's Batman in Warner Bros' fighting game MultiVersus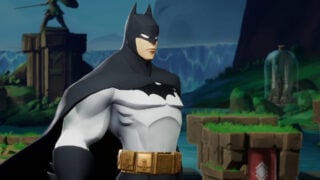 This MultiVersus Batman guide will give you the moves and strategies you need to master the DC hero.
If you want to know how to use Batman's special moves, this guide breaks them all down and gives tips on how to use them.
It also gives general strategies on the best way to use Batman when fighting against opponents online.
And if you (somehow) don't even know who Batman is, we've got you covered there too.
For more MultiVersus guides and tips, consider reading our full MultiVersus guide for strategies on every character, as well as our MultiVersus unlockables guide which details unlockable variants, taunts, emotes and more.
Update - Batman becomes free
Batman will be one of four characters who'll be free to choose between August 15-30.
Batman will join Arya Stark, LeBron James and Steven Universe as the four characters that players will be able to choose without having to unlock them.
Any progress players make levelling up these characters will be saved, even when the characters are locked again after August 30.
This means if you choose to unlock them later (either with in-game coins or Gleamium), they'll still have the progress you previously earned for them.
MultiVersus Batman guide – Who is Batman?
One of the most famous superheroes of all time, Batman has been one of DC Comics' most popular characters for decades.
Batman first made his debut appearance back in 1939 in Detective Comics issue 27, and has been continuously reinvented over the years in countless comics, cartoons and movies.
By and large, though, he's generally Bruce Wayne, a wealthy Gotham City playboy who's a philanthropist by day and a crime-solving detective by night.
One of the most well-known incarnations of Batman was that in Batman: The Animated Series, which originally ran from 1992 to 1995.
Kevin Conroy, who voiced Batman in that series, returns to voice the Caped Crusader in MultiVersus.
---
MultiVersus Batman guide – Skin variants
Batman's default skin is his trademark gray suit, black cowl and bat symbol on his chest.
At launch, he has one variant, which is called 'The Animated Series'.

As the name suggests, this makes Batman look more like his Animated Series design, with a squarer jaw and the more traditional yellow bat symbol.
The Animated Series variant can't be unlocked through gameplay, and has to be bought with 2000 Gleamium (the game's premium currency).
---
MultiVersus Batman guide – Fighting strategies
Batman is a 'bruiser' character, which on paper means he specialises in getting close and doing damage hand-to-hand.
That said, he's a bit of a contradiction because his moves also have a heavy emphasis on avoiding enemy engagement.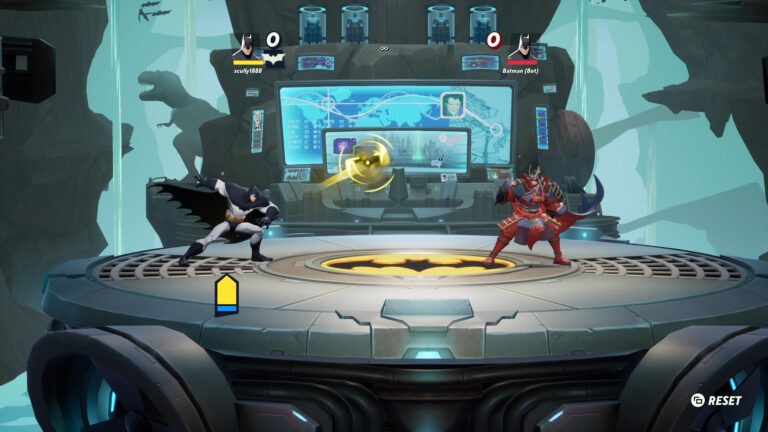 His neutral attack, for example, is a Batarang projectile (which can be aimed after it's thrown), designed to attack enemies from a distance.
Meanwhile, moves like his Bat-Bomb and Smoke Bomb are designed to do damage without getting too close, and avoiding detection when he is.
He's also one of the few characters who can dodge upwards or diagonally upwards from a standing position, giving players more options when evading attacks.
---
MultiVersus Batman guide – Moves
Bat-Bomb
(Neutral, ground or air)
The Bat-Bomb is a small explosive device which can be attached to an opponent.
Once it's attached, it'll detonate after a few seconds, causing an explosion that throws the opponent upwards.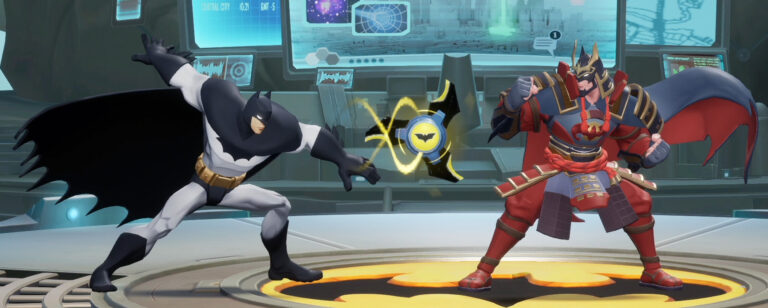 Performing the command will spawn the Bat-Bomb, but Batman will hold it at first.
You then have to attach it to your opponent by attacking them – when you land a hit that will attach the bomb.
Even better, if you throw a Batarang (neutral standard attack) after taking out a Bat-Bomb, the bomb will be attached to the Batarang, allowing you to attach it from a distance.
---
Bat-Grapple
(Side, ground or air)
Where would Batman be without his trusty grappling hook? Further away than where he wants to be, that's for sure.
The Bat-Grapple has two key uses – attack and recovery – and can be used both on the ground and in the air.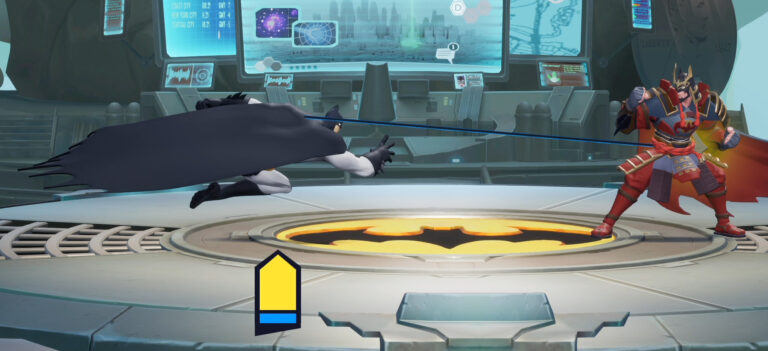 Fire it at an opponent and if it connects with them, Batman will then quickly fly across the stage towards them, hitting them at the end.
Alternatively, if you need to get around quickly or are falling off the edge of the stage, you can fire the Bat-Grapple at parts of the scenery and it will attach to those, pulling you over to them.
---
Rising Bat
(Up, ground or air)
The Rising Bat is your standard Street Fighter style Ryu Dragon Punch but it has a couple of interesting quirks.
Firstly, it can be charged, and if you hit the opponent with a fully charged one it'll hit them twice, doing extra damage.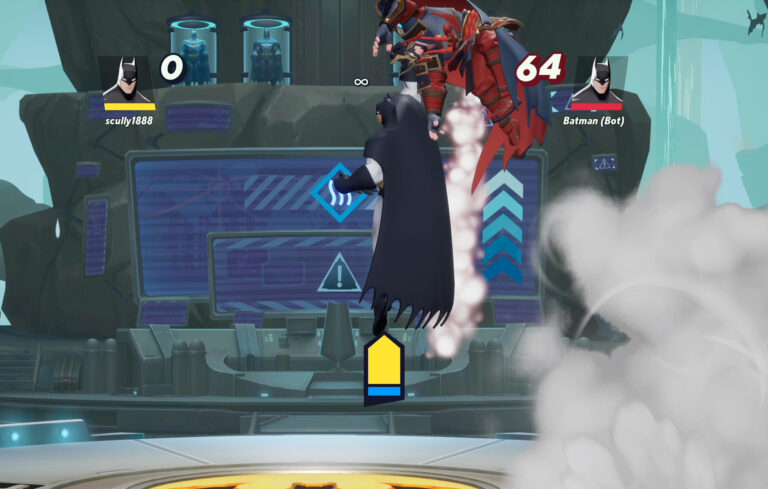 Secondly, it can also be performed in the air, giving you extra height and helping you KO opponents off the top of the stage.
The ground and air versions can also both be used in quick succession, so a good strategy is to hit an opponent with the ground one then immediately jump straight up and perform the command again to try and hit them again with an air one.
---
Smoke Bomb
(Down, ground)
Performing this move makes Batman drop a smoke bomb on the ground, creating a large cloud of smoke.
If you stand in this smoke you'll become completely invisible, but not invincible.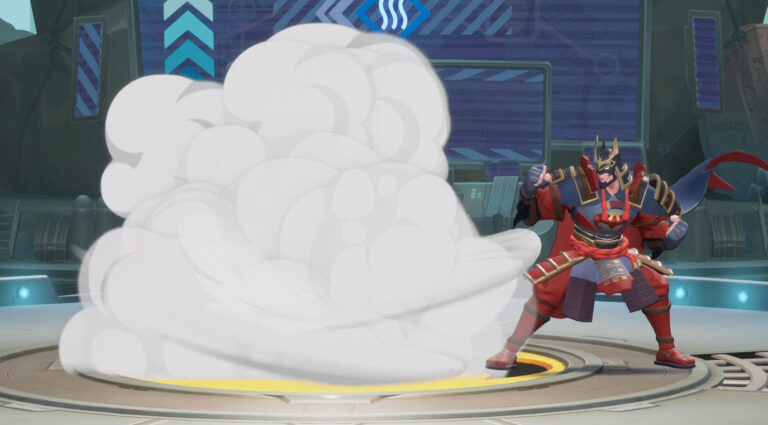 If opponents realise you're in the smoke, they can still damage you like normal. The smoke does have other benefits, though.
If you attack opponents while you're invisible, you'll give them 'weakened' debuffs, and can also move faster.
On top of that, your dodge meter will refill faster, meaning if you're the type who likes to dodge a lot, hiding in smoke will let you do it more frequently.
---
MultiVersus Guides
MultiVersus characters | MultiVersus tier list | MultiVersus Guide | MultiVersus unlockables guide | Finn MultiVersus guide | Garnet MultiVersus guide | Iron Giant MultiVersus guide | LeBron James MultiVersus guide | Reindog MultiVersus guide | Superman MultiVersus guide| MultiVersus Gizmo guide
---
Related Products
God of War Ragnarök (PS5)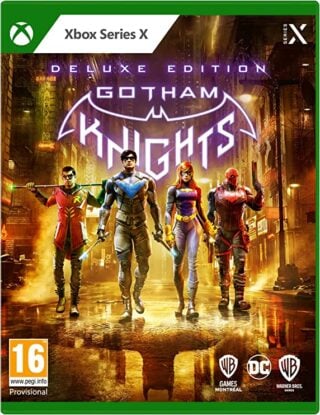 Gotham Knights - Deluxe Edition (Xbox Series X|S)
Other Products
Some external links on this page are affiliate links, if you click on our affiliate links and make a purchase we might receive a commission.