Math answers in Pokemon Scarlet and Violet
All Math answers in Pokemon Scarlet and Violet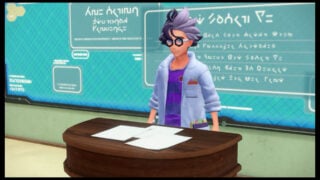 Pokemon Scarlet and Violet is finally here, bringing with it a huge new world, a ton of new Pokemon, and plenty of new mysteries to uncover.
A new addition to the franchise is the academy that players can attend. While you'll join the academy at the start of the game, once you've left, you can go back to the academy and take classes.
There are several different classes that you can attend in the game, including Biology, Math, Home Economics, Battle Studies, Languages, and Art. Each class will require the player to take two tests.
So read on to find out all the Math answers in Pokemon Scarlet and Violet.
More Pokemon Scarlet and Violet academy answers:
Biology all answers | Maths all answers | History all answers | Art all answers | Home Economics all answers | Languages all answers | Battle studies all answers
---
Math answers in Pokemon Scarlet and Violet
Question 1: If Water Gun hits a Fire Pokemon
Answer: Double
Question 2: How many Poke Balls can you buy
Answer: 11
Question 3: What percent chance a Pokemon has of landing a Critical?
Answer:  4%
Question 4: How much more damage?
Answer: Triple
Question 5: Surf or Hydro Pump?
Answer: Answer anything
Question 6: If you have a power of 100. If a Pokemon shares a type with this move and uses it and hits an opponent that is weak to that move, what happens to that move's power?
Answer: 300
Related Products
Other Products
Some external links on this page are affiliate links, if you click on our affiliate links and make a purchase we might receive a commission.