Mario RPG Culex guide: How to fight Culex and rematch
How to unlock the Monstro Town door and fight the secret boss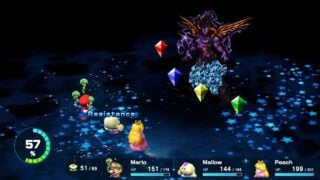 Culex is one of the best secrets in Super Mario RPG, and this guide will show you how to unlock the secret boss in the Nintendo Switch version.
Culex is an optional hidden boss. Initially, he appears as a 2D sprite inspired by the Final Fantasy series. In the Nintendo Switch remake, he also has a brand new second form when you rematch him after completing the game.
He's also one of the most challenging bosses in the game, with more HP than even Mario RPG's actual final boss, so you'll want to have your party of characters levelled up a fair bit before you face him.
Read on to find out how to unlock Culex in Super Mario RPG, how to unlock Culex's rematch and how to beat Culex.
---
How to unlock Culex in Mario RPG

In order to unlock Mario RPG's secret boss, Culex, you need to unlock the locked door in Monstro Town, which will lead you to the battle.
To unlock the Monstro Town locked door, you'll need to perform the following steps:
Visit Moleville and find the little girl hidden behind three boxes (pictured above). You should be able to see her bow poking over the top. The little girl says she'll trade you a Shiny Stone in exchange for some fireworks.
A mole inside the house right next to the little girl will sell you fireworks for 500 coins. Purchase them, give them to the little girl, and she'll hand over the Shiny Stone.
Take the Shiny Stone to the locked door in Monstro Town, and it will unlock, allowing you to fight Culex's first form.
---
How to unlock the rematch, Culex 3D

In the Nintendo Switch version of Super Mario RPG, there is a brand new second phase rematch, Culex 3D, in which the boss finally trades his pixels for polygons.
In order to unlock the Culex 3D rematch, you'll first need to finish the game. Then you can visit the Marrymore Inn and use your free voucher for a night in the honeymoon suite.
Next, you'll need to head to Star Hill and find one of the new pink stars.
Now, head to the Tadpole Pond and speak to the Frog Sage. He'll tell you to revisit the Belome Temple next to Monstro Town, where you'll fight Belome again.
After defeating Belome, the Frog Sage will tell you to rematch other bosses in the game. Eventually, you'll obtain the Super Shiny Stone and be able to unlock the locked Monstro Town door once more.
---
How to beat Culex

Combined with his four crystals, Culex has the most HP of any boss in Mario RPG. It also means he dishes out tons of magic attacks with each turn.
You'll want to prioritise Peach in your party, ideally equipped with the Lazy Shell Armor so she can stay alive, reviving allies and dishing out healing magic.
Each crystal has around 2,000 HP. Target those first to limit Culex's attacks, before moving on to Culex himself.
In Culex's second phase, he has a magic attack that can wipe out your entire party if you're unlucky, so make sure you always have somebody alive in reserve, and a full inventory of revive items.