King Legacy – Halloween update Version 4.8 patch notes and code
Find out what's new in King Legacy's Halloween update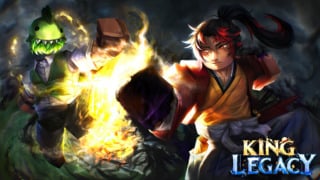 King Legacy's Halloween update, version 4.8, has just gone live.
The update adds a new Halloween event, where you can exchange items using candy.
It also revamps the Black Market, and adds a new 'Collectible' inventory.
It's not all good news, though, as Phoenix (Z) burn damage, Magnet (B) and Electro v2 (V) have all been nerfed.
The new update also comes with a new code, which you can find here:
The full update notes for King Legacy can be found below:
---
King Legacy – Halloween update Version 4.8 patch notes
Halloween Event
Added Halloween Island at First Sea / – Second Sea with a Daily Quest Event – Shop where you can exchange items using 'Candy.'
Candy can be obtained from Raid Bosses, Sea King's Chests, Hydra's Chests, and randomly spawned Chests.
Added Jack o Lantern at Second Sea, which requires you to use 'Candy' to summon the boss. The boss drops 'Pumpkin Smasher,' the limited item that everyone is looking for.
Pumpkin Smasher has been revamped.
Black Market Revamp
Adjusted the Black Market (Money/Gem) so that physical fruits will be given instead of their power when purchased.
Increased the restock time of the Adjusted Black Market from 3 hours to 6 hours to provide more preparation time.
Adjusted the price requirements ($) Money and Gem :

Common and Uncommon fruits use only ($) Money.
Rare fruits require ($Money) + 5 Gems.
Epic fruits require ($Money) + 10 Gems.
Legendary fruits require ($Money) + 25 Gems.

Adjusted item sorting from lower-tier to highest tier.
New Collectible Inventory
Gamepasses and products are now purchasable and can be stored in 'Collectible' and are tradable.
Added a Safe Zone at NPC Fruit Awake.
Changed 2x EXP to a timer. Players who own the gamepass will automatically receive 2X EXP for 12 hours, 3 ea and EXP Crown Limited Item +20% exp upgradable. in return, and it can be found in 'Collectible' , 'Accessory' inside the inventory.
Buffed Water Style C V2 Speed.
Added a new Raid Boss Health Bar for the following bosses:

Expert Swordman
Monster
Sea King
Hydra
Jack o lantern
King Samurai
Ms. Mother

Added a Notification System around sea areas when there's an event from Legacy Island, Hydra Island, and Ghost Ship.
Adjusted 'Ghost Ship' spawn time from every 4 hours to every 1 hour.
Adjusted spawn time of Sea King inside Private Server from every 2 hours to 1 hour, equal to Public Server.
Adjusted Products price

Spawn GS 350 to 100 (R$)
Race Rerolls 100 to 75 (R$)

Adjusted inventory sorting for Sword, Accessories, Material, and Fruit based on rarity.
Adjusted Trade GUI
Fixed Ice v1 V.
Fixed Ice awake passive
Nerfs:
Nerfed Phoenix (Z) burn damage.
Magnet (B) will be slower in pulling in.
Electro v2 (V) now drops observation at least – 6 dodges, not 10.
Other Products
Some external links on this page are affiliate links, if you click on our affiliate links and make a purchase we might receive a commission.