Roblox Kaizen codes September 2023: How to get double XP, free spins and more
Codes for double XP, Clan Spins and free stat resets are here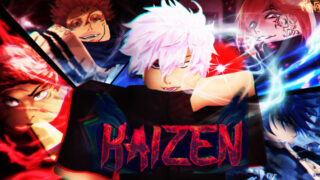 Kaizen codes can be used in the latest trending Roblox game to get double XP, free Clan Spins and more.
Kaizen is developed by Grifon Games and is currently in a public alpha phase, but while this means there are bugs it's still fully playable.
The game features seven curses, three fighting styles and more than 10 weapons despite its early state.
It also has some bonus codes which can be redeemed for extra items. These codes won't last forever, so it's worth coming back here to check which Kaizen codes are active, and which have expired.
If you found this article useful, be sure to check out our other Roblox codes guides including those for Shindo Life codes, Blox Fruits codes, King Legacy codes, Anime Mania codes and YBA codes.
Latest update
We've run a check for new Kaizen codes but we haven't found any new codes since our last update. Keep checking back regularly, however – as new codes are added to the game we'll add them to this page and update it accordingly.
---
New Kaizen codes (September 2023)
20KPLAYERS! – 12 clan spins
---
Expired Kaizen codes
These Kaizen codes used to be active, but aren't anymore. If you have these codes from a previous list and don't know if they're real – they are, but they just no longer work.
ALPHA! 
5_FREE_SPINS 
MORE_FREE_SPINS 
MORE_UPDATES_SOON 
4K_LIKES!
6KPLAYERS!
20KLIKES!
SUB_TO_GRIFON_GAMES
PVP_SOON!


---
How to redeem Kaizen codes
It can be a little difficult to redeem codes in Kaizen until you know where to look.
Start the game and look for the little book icon on the left-hand side of the screen.
Select that and you'll bring up a handful of other icons. Select the Settings one (the gear icon) and you'll enter the game's specific Settings screen.
Right at the top here you'll see a Redeem Codes option. Enter your code there and hit Redeem to claim your code.

---
What are Kaisen codes?
Kaisen codes help unlock useful items in the Roblox spin-off game Kaisen, such as double XP bonuses and stat resets.
Players can redeem the codes listed above to get boosts for their character on top of the ones they get for playing through the game normally.
However, as with other Roblox games with codes in them, these don't always last forever, so it's best to claim them quickly then check back regularly to see when more have been added.
---
Where to find more Kaisen codes
According to developer Grifon Games, more Kaisen codes will be released on its YouTube channel.
This means subscribing to them on YouTube could be a way to make sure you don't miss out on any code releases.
Ultimately, though, the best way to make sure you get Kaisen codes is to let us do the work for you and check back on this page every day.
More Roblox guides:
Roblox codes | Project Slayers codes | Shindo Life codes | Blox Fruits codes | King Legacy codes | Anime Mania codes | YBA codes | All Star Tower Defense codes | Pet Simulator X codes | Bee Swarm Simulator codes