IV Checker Pokemon Scarlet and Violet: How to check IVs
All you need to know about unlocking the IV checker in Pokemon Scarlet and Violet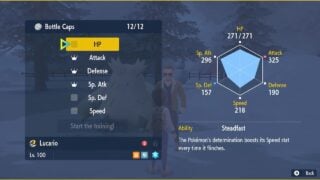 Checking a Pokemon's IVs in Pokemon Scarlet and Violet is key to building competitive Pokemon.
IV training has been part of the Pokemon series for generations now, and it's an essential part of the competitive element of the game and now with the inclusion of 5 and 6-star raids, IV training is also absolutely essential if you're looking to take down the ultra-powerful Pokemon necessary to acquire Herba Mystica.
While you'll have to put in some legwork to unlock the feature, once you do it's simple to check if that newly caught Pokemon has the potential to be competitively viable.
So read on to find out how to unlock the IV Checker in Pokemon Scarlet and Violet.
Pokemon Scarlet and Violet Guides:
Pokemon Scarlet and Violet walkthrough, tips, and Pokemon locations | Roaring Moon location | Iron Valiant location | Shiny sandwich recipes | Pokemon Scarlet and Violet Legendaries | How to find Shiny Pokemon in Scarlet and Violet
---
IV Checker Pokemon Scarlet and Violet: How to unlock the IV Checker

In order to unlock the IV checker in Pokemon Scarlet and Violet, you're going to have to become the Champion of the Paldea Region. This means finishing all of the Gyms and then facing the Elite Four.
Once you've beaten the Elite Four, you'll have one more battle against the League Champion. If you can beat the League Champion, you'll unlock the ability to add the "judge" function to your Pokedex.
As soon as you regain control of your character after defeating the Champion, head to any Pokemon Center, and the Pokemon Center staff will add the judge function to your PokeDex.
Once they've done this, simply go to any Pokemon of yours in your box, press the + button twice and you'll see the IVs for your Pokemon.
---
IV Training in Pokemon Scarlet and Violet

Increasing IV stats in Scarlet and Violet is easier than ever thanks to the use of Bottle Caps. Once you've acquired Bottle Caps, head to the NPC in Montenevera standing with the Abomasnow.
He'll allow you to improve the stats of one of your Pokemon in exchange for a Cap. If you're lucky enough to have a Golden Bottle Cap, he'll increase all of your stats, up to 31, which is the maximum.
If you're looking to improve your Pokemon's IVs, you can check out our guide to IV training here. 
Related Products
Other Products
Some external links on this page are affiliate links, if you click on our affiliate links and make a purchase we might receive a commission.