How to unlock Gold Camo in Modern Warfare 2 and Warzone 2
The Gold Camo is the ultimate way to show off how much of a sweat you are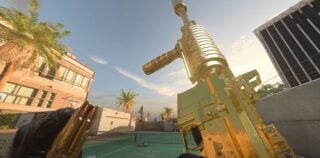 Gold Camo is one of the quickest ways to show just how much time you've invested in Modern Warfare 2 and Warzone 2.
A staple of the franchise going back to the original Modern Warfare, the Gold Camo is the ultimate accessory for those who plan to no-life the game the second it comes out.
While it's easier than it used to be, there are still a few things that you can do to make the process smoother.
So read on, and we'll show you how to unlock the Gold Camo in Modern Warfare 2 for any gun.
Update
Treyarch has launched Modern Warfare 2's delayed competitive multiplayer playlist, CDL Moshpit.
Acting as a dry run for Modern Warfare 2 Ranked Play, which itself won't arrive until 2023, CDL Moshpit was originally planned to launch on November 16 as part of the game's first season of live content.
---
Buy Modern Warfare 2
---
How to unlock Gold Camo Modern Warfare 2
In order to unlock the Gold camo in Modern Warfare 2 for any weapon, players will have to complete a series of base camo challenges for each weapon.
These unlock as you level up the weapon through playing the game, so if you're planning on unlocking the Gold camo fast, you're going to have to focus on one weapon exclusively for a while.
For the M4 for example, these challenges unlock at level 8, level 13 and level 19, and will task you with completing something during a match in order to progress to the next stage of the camo. While these start off easy, such as simply getting 50 kills with the weapon, they get tricker as time goes on.

Call of Duty: Warzone 2.0, DMZ and Battle Royale modes Launch Alongside Modern Warfare II Season 01 on November 16.
Players can drop into all-new Al Mazrah map as part of Call of Duty: Warzone 2.0, survive a brand-new experience in DMZ, and enjoy a new Battle Pass system and two free functional weapons.
Vault Edition owners can activate their free seasonal Battle Pass unlock and 50 Tier Skips.
---
More Modern Warfare 2 Guides: 
Warzone 2 best loadout - Season 1 Reloaded | How to unlock Gold Camo Modern Warfare 2 | Disable Modern Warfare 2 crossplay on PlayStation| Disable Modern Warfare 2 crossplay on Xbox | Warzone 2.0 release time | Warzone 2 Battle Pass explained: All rewards and how to unlock