How to preload Warzone 2 on PlayStation, Xbox and PC
Here's how to install the game early ahead of Warzone 2's launch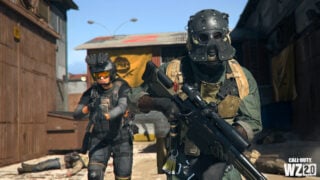 Warzone 2 is almost here, with the massively popular battle royale finally moving on to a new game after over two years of the original Warzone.
Warzone 2, just like the first game, is set to be a massive download, so players are keen to find out how and when they can preload Warzone 2.
But how do you preload Warzone 2? And what platforms can you preload Warzone 2? Read on to find out.
Update
We've updated this article to reflect the Warzone 2 preload going live on Steam.
How to preload Warzone 2 on PlayStation

Despite suggestions that the ability to preload Warzone 2 on PlayStation should have been available by now, the application hasn't shown up on the PSN store yet. If you own Modern Warfare 2, a small part of the download, around 5GB, will be downloaded automatically, but as the whole game is around 20X that size, it's clearly not the full download.  We'll update this story as soon as the update becomes available on PlayStation.
How to preload Warzone 2 on Xbox

While Xbox does have the option to preload the Warzone 2 app, many players are reporting that it is instead downloading a 6GB file, which clearly isn't the full game. However, if you're lucky, the full download should begin. If you end up getting the smaller file, simply uninstall it and try again. What a very normal and functional system. We'll update this story when this issue is fixed.
How to preload Warzone 2 on PC

PC players can preload Warzone 2 on PC through the Battle.net client. Players can also download the Warzone 2 client early on Steam here.
Activision has detailed a range of content coming to Warzone 2.
Headlining the upcoming season of content are the latest iteration of its free-to-play battle royale experience, including Warzone's new extraction-based DMZ mode, reimagined multiplayer maps, a new Special Ops mission, the first three-player Raid, and a football-themed event.
Modern Warfare 2's first season of live content will launch alongside Warzone 2 on November 16 at 10am PT / 1pm ET / 6pm GMT.
Related Products
Other Products
Some external links on this page are affiliate links, if you click on our affiliate links and make a purchase we might receive a commission.