How to learn Egg moves in Pokemon Scarlet and Violet
Everything you need to know about Egg Moves in Pokemon Scarlet and Violet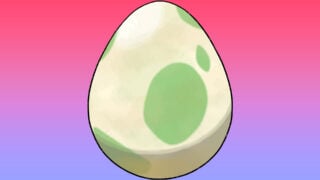 Egg Moves are an essential part of getting the most out of a Pokemon in Pokemon Scarlet and Violet.
Through Egg Moves, Pokemon can learn moves they don't usually know. However, Egg Moves isn't the most obvious mechanic in the game, especially when there's so much else going on when it comes to raising a Pokemon.
So here's everything you need to know about Egg Moves in Pokemon Scarlet and Violet.
Pokemon Scarlet and Violet Guides:
Pokemon Scarlet and Violet walkthrough, tips, and Pokemon locations | Roaring Moon location | Iron Valiant location | Shiny sandwich recipes | Pokemon Scarlet and Violet Legendaries | How to find Shiny Pokemon in Scarlet and Violet
---
What are Egg Moves?

Egg Moves are special moves in Pokemon Scarlet and Violet that can only be learned via another Pokemon which knows the move, rather than by levelling up or by using a TM.
For example, one of the most popular Egg Moves in the current meta is Belly Drum, which can be passed from several Pokemon to Azumarill, making it one of, if not the strongest attackers in the game when it comes to raids.
Azumarill can't learn Belly Drum normally. However, Egg Moves is an essential weapon in its moveset, which is the case with several Pokemon. This also opens up team-building strategies to infinite combinations of interesting moves.
---
How to learn Egg Moves

Learning Egg Moves in Pokemon Scarlet and Violet is the easiest it's ever been in the history of the series. In order to learn an Egg Move, simply have the Pokemon whose move you want to pass on, and the Pokemon who you want to learn the move in your party together.
Then, start a Picnic, and just like that, the move will be passed on to the Pokemon. It's really that easy. Now, crucially, if you overwrite the move with another move, the Egg Move won't be part of the Pokemon's move list, meaning you'd need to relearn the Egg Move.
Related Products
Other Products
Some external links on this page are affiliate links, if you click on our affiliate links and make a purchase we might receive a commission.