How to change outfit in Pokemon Scarlet and Violet
Here's how to change your outfit in Pokemon Scarlet and Violet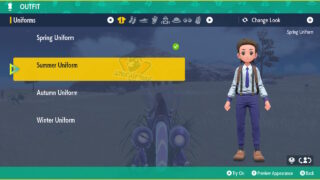 Pokemon Scarlet and Violet are finally here, bringing with them a huge new world, a ton of new Pokemon, and plenty of new mysteries to uncover.
There's a lot to learn about in Pokemon Scarlet and Violet, but some of it is less obvious than others. One of the best features of the game is how customizable the player character is, which is especially important if you're going to be playing with 3 other friends in the brand-new 4 player co-op.
But how do you customize your outfit in Pokemon Scarlet and Violet? Read on to find out.
Pokemon Scarlet and Violet Guides:
Pokemon Scarlet and Violet walkthrough, tips, and Pokemon locations | Roaring Moon location | Iron Valiant location | Shiny sandwich recipes | Pokemon Scarlet and Violet Legendaries | How to find Shiny Pokemon in Scarlet and Violet
---
How to change outfit Pokemon Scarlet and Violet
In order to change your character's outfit in Pokemon Scarlet and Violet, you need to be out of battle, without a Pokemon targetting you, and press left on the D-Pad.
This will bring you to the clothing menu where you can change full outfits, or you can change an individual piece of your outfit. While you'll start off with a few school uniforms, there are plenty of more clothing options than you can find out in the world as you travel across Paldea.
It's easy to miss, but this is also where you can customize the cover of your Rotom phone if you have save data from other Nintendo Switch Pokemon games.
---
How to unlock the Daft Punk helmet 
Players can actually buy a helmet that strongly resembles one of the members of the French DJ duo Daft Punk.
Head to Cascarrafa on the West side of the map. Once there, run to the Seguro Style store, which is near the Gym building.
The "Cool Helmet" can be purchased for $4000.
Related Products
Other Products
Some external links on this page are affiliate links, if you click on our affiliate links and make a purchase we might receive a commission.