Grand Piece Online codes December 2023 (Update 9): Free rerolls, drop boosts and more
Codes for free race rerolls, stat resets and drop rate multipliers are here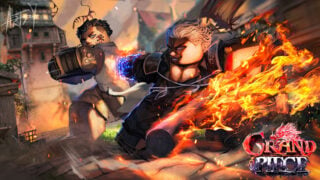 Grand Piece Online codes can give you a helpful boost in the popular Roblox spin-off.
Grand Piece Online is a Roblox experience unofficially based on the One Piece anime, and enjoys a healthy player count.
It also regularly gets bonus codes, which can be entered during the game for various items like free race rerolls, 2x drop rates and more.
These codes don't last forever, so it's important to check back here regularly to find out when new codes are added. More than 100 codes have already been and gone.
If you found this article useful, be sure to check out our other Roblox codes guides including those for Kaizen codes, Shindo Life codes, Blox Fruits codes, King Legacy codes, Anime Mania codes and YBA codes.
Latest update
We've added one new Grand Piece Online code and removed a bunch of expired ones. We'll continue to check on a regular basis.
Keep checking back here, then, because any time a new code appears, or an old one expires, we'll update this article accordingly.
---
New Grand Piece Online codes (December 2023)
---
How to redeem Grand Piece Online codes
Entering new codes for Grand Piece Online can be tricky if you don't know exactly where to go.
Boot up the game, and hit the M key to bring up your menu.
From here, choose the Gear icon, which will take you to the game's settings.
Right at the bottom, you'll see a bar that says 'Enter Code'. Pop your code in there and it'll be redeemed (as long as it's active).

---
What are Grand Piece Online codes?
Grand Piece Online codes unlock useful items and boosts in the Roblox spin-off game Grand Piece Online, such as 2x drop rates and free race rerolls.
Players can redeem the codes listed above to get bonuses for their character on top of what they'd get for playing through the game manually.
However, as with most other Roblox games that get free codes, these codes don't last forever, so it's best to quickly claim any that are active.
---
Where to find more Grand Piece Online codes
According to Grand Piece Online's developer, new codes for the game are regularly added to the Grand Piece Online Discord server.
This means joining the server could be a way to make sure you don't miss out on any code releases.
Alternatively, though, you could let us do the work for you and check back on this page every day instead – we'll update it as and when new codes arrive.