Gimmighoul Evolution: How To Evolve Gimmighoul into Gholdengo – Pokemon Scarlet and Violet
Evolve Gimmighoul into Gholdengo with this easy guide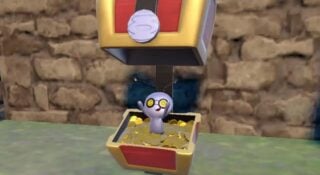 Pokemon Scarlet and Violet are finally here, bringing with it a huge new world, a ton of new Pokemon, and plenty of new mysteries to uncover.
Some of the new Pokemon also bring with them totally new evolution mechanics, some of which might not be too obvious at first. One of those new Pokemon is Gimmighoul, the coin-loving Pokemon that you'll find across the Paldea region. The Pokemon, which debuted in Pokemon GO, is difficult to evolve, and you're going to want to know about Gimmighoul Evolution early in the game.
So read on to find out How To Evolve Gimmighoul into Gholdengo.
Pokemon Scarlet and Violet Guides:
Pokemon Scarlet and Violet walkthrough, tips, and Pokemon locations | Roaring Moon location | Iron Valiant location | Shiny sandwich recipes | Pokemon Scarlet and Violet Legendaries | How to find Shiny Pokemon in Scarlet and Violet
---
Gimmighoul Evolution: How To Evolve Gimmighoul into Gholdengo
In order to evolve Gimmighoul into Gholdengo, you'll have to collect a huge number of Gimmighoul coins.
Gimmighoul coins appear all over Paldea, some of them in small amounts, such as the random Gimmighoul you'll find hiding on rocks and on various signs across the world, you can get large batches of Gimmighoul coins by defeating the chest form of Gimmighoul on watchtowers across the world.
After you collect 999X Gimmighoul coins, then level-up Gimmighoul and it'll evolve into Gholdengo. The Gimmighoul coins in chest form respawn after a certain period of time, usually, after a few days have passed in-game.
There's not much information on exactly how these respawns work, but if you've travelled to every outpost and none are there, concentrate on something else until you notice the day and night cycle happen a few times.

Related Products
Other Products
Some external links on this page are affiliate links, if you click on our affiliate links and make a purchase we might receive a commission.