Fire Emblem Engage Training Yard guide
Everything you need to know about the strength training mini-game in The Somniel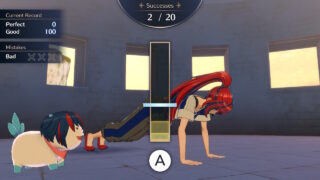 Fire Emblem Engage's Somniel hub area is full of mini-game and different activities that you may miss if you're just playing through the game's main path and not exploring between missions.
Some of these areas in The Somniel can actually give you significant in-game boosts for completing simple mini-games. One of these areas is The Training Yard.
But what is The Training yard, where is it in The Somniel and what do you get out of it? Read our guide below to find out.
More Fire Emblem Engage Guides:
Dining Guide | Spirit of Somniel |How to rewatch cutscenes | amiibo unlocks | Somniel guide | Steel location | Iron location | Gift guide
---
Where is the training yard?
The Training Yard is in The Somniel. It will unlock when you get access to the character Alfred as you progress through the game. Similar to the other shops in The Somniel, this will happen naturally as you play through the game, so if you don't have access yet, continue playing the main chapters and it will eventually unlock.
The Training Yard itself is located just behind The Smithy. If you can't find it, simply open The Somniel map and you'll be able to warp to the location.
---
What is strength training?

Strength training is a way to buff Alear's strength during the next battle. While this effect doesn't happen every time you complete the strength training minigame, it is an effective way to get a significant boost before a tough battle.
The sit-ups training mini-game itself requires you to do an exercise in time with the bar hitting the bottom of the gauge as shown above. We've found in our experience that the timing on this mini-game is… inconsistent to say the least.
The push-ups mini-game sees the player mash the A button to fill the gauge, making sure it doesn't go into the red section of the bar. Doing this mini-game can boost Alear's HP in the next battle.
The final mini-game, Squats, requires the player to move both sticks in rhythm, based on the prompts that appear on the screen. Doing this can boost Alear's DEX stat in the next battle.
Related Products
Fire Emblem Engage (Nintendo Switch)
Other Products
Some external links on this page are affiliate links, if you click on our affiliate links and make a purchase we might receive a commission.