Fire Emblem Engage Silver location: How to get silver for upgrades
Where to find Silver in Fire Emblem Engage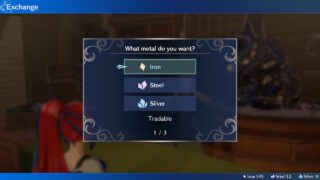 Fire Emblem Engage is here, a sprawling strategy game with plenty of resources to find, including Silver.
A key part of Fire Emblem Engage is improving not only your characters but their equipment. In order to do that you're going to have to gather some rare resources. The rarest of the case materials is silver.
But where can you find silver in Fire Emblem Engage? Read our guide below to find out. If you're looking for Silver or Iron in Fire Emblem Engage, we have guides for those resources too. 
More Fire Emblem Engage Guides:
Dining Guide | Spirit of Somniel |How to rewatch cutscenes | amiibo unlocks | Somniel guide | Steel location | Iron location | Gift guide
---
Fire Emblem Engage Silver location: What is Silver used for in Fire Emblem Engage? 

Silver in Fire Emblem Engage is used for upgrading certain items. As one of the main currencies, and the rarest by far, you're going to want to get as much silver as possible, as frustratingly uncommon as it is. 
---
Fire Emblem Engage Silver location: Where can I get silver in Fire Emblem Engage?

Silver is by far the rarest resource of the three that are required to upgrade weapons to their higher tiers. You can find silver at the end of missions in rare instances. However, you can increase the rate at which silver spawns by donating money to nations using the button board at the back of the cafe terrace.
Since you can check which resource an area is likely to give you before a mission begins, you'll be able to see if you've got a chance of getting a silver drop at the end of that fight. The amount of silver drops also seems to get more frequent the more of the game we play.
Related Products
Fire Emblem Engage (Nintendo Switch)
Other Products
Some external links on this page are affiliate links, if you click on our affiliate links and make a purchase we might receive a commission.