Fire Emblem Engage – How To Redeem Order Of Heroes Item Set
Link Fire Emblem Heroes for some free gear at the start of the game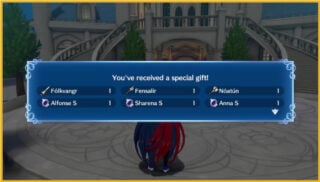 In Fire Emblem Engage players can obtain a free Order of Heroes item set by following a few simple steps in order to connect their Nintendo Switch Fire Emblem Engage game to Fire Emblem Heroes.
This is one of many Fire Emblem Engage we have for players getting started on the game this week, so be sure to come back and check our Fire Emblem Engage guides hub as you play through the game in order to make sure you're getting the most out of your Fire Emblem Engage experience.
More Fire Emblem Engage Guides:
Dining Guide | Spirit of Somniel |How to rewatch cutscenes | amiibo unlocks | Somniel guide | Steel location | Iron location | Gift guide
---
What is the Fire Emblem Engage Order of Heroes set?
The Fire Emblem Engage Order of Heroes set is a group of items that can be acquired in Fire Emblem Engage by linking your game to the mobile title Fire Emblem Heroes.
Players who follow the below steps can add the following item to their game from release day on January 19:
・The Fólkvangr weapon
・The Fensalir weapon
・The Nóatún weapon
・The Alfonse S-rank Bond Ring
・The Sharena S-rank Bond Ring
・The Anna S-rank Bond Ring
---
How to redeem the Order of Heroes set
In order to redeem the Fire Emblem Engage Order of Heroes set, open Fire Emblem Heroes on your smart device, tap the Quests & Missions icon on the bottom right, and then tap the coin icon in the upper right.

You then need to link your Nintendo account to Fire Emblem Heroes. This must be the same MyNintendo account that you use on your Nintendo Switch.
Then head to the MyNintendo rewards screen in Fire Emblem Heroes and select "Nintendo Switch Game Bonus Code + 5 Orbs."
Once redeemed you'll receive a download code for the content, which can be redeemed on the Nintendo Switch Eshop.
Related Products
Fire Emblem Engage (Nintendo Switch)
Other Products
Some external links on this page are affiliate links, if you click on our affiliate links and make a purchase we might receive a commission.