Finizen Evolution: How to evolve Finizen in Pokemon Scarlet & Violet
Finizen Evolution is the only Pokemon in the game that evolves in this way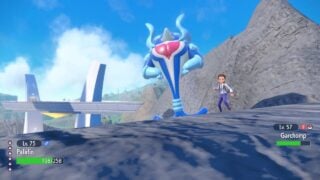 Finizen Evolution is one of the most unique in Pokemon Scarlet and Violet.
While plenty of Pokemon in Pokemon Scarlet and Violet bring new evolution methods, Finizen Evolution is the only Pokemon in the game that evolves in this way.
While evolving Finizen isn't the only way to get Palafin, it is the way that doesn't rely on luck, so we've created this guide to tell you exactly how to get your new dolphin friend.
Finizen evolution shouldn't take you too long, but just make sure you have a friend to help. So read on to find out How to evolve Finizen.
Update
We've updated this guide with a new section detailing the best moveset for Palafin in Pokemon Scarlet and Violet.
Pokemon Scarlet and Violet Guides:
Pokemon Scarlet and Violet walkthrough, tips, and Pokemon locations | Roaring Moon location | Iron Valiant location | Shiny sandwich recipes | Pokemon Scarlet and Violet Legendaries | How to find Shiny Pokemon in Scarlet and Violet
---
Finizen evolution: How to evolve Finizen into Palafin- Pokemon Scarlet and Violet
Form a group in Union Circle
Finizen requires you to play the game with a friend, online or locally, in order to evolve Finizen. Once you have your Finizen, head to the Union Circle and form a group, then invite your friend.

Evolve Finizen after level 38
Your Finizen needs to be at least 38 when you're in the group with your friends. Once you've got a Finizen to that level, then just level it up once with friends, and you'll get a Palafin,
---
Finizen evolution: Catch Palafin raids
You CAN catch Palafin in raids if you don't have friends to play with, however, it appears rarely and is a difficult battle. Palafin can appear in 5 and 6 star raids.
---
Finizen evolution: Palafin Hero form

Palafin can transform into its hero form by using the move Flip Turn during battle.
---
Finizen evolution: Shiny Finizen

Image via Serebii
Finizen's shiny form can be found in any area where Finizen spawns, but there are a few easier ways to get it. Firstly, Finizen is one of the Pokemon that can appear in Mass Outbreaks, which is one of the most effective ways to find shiny Pokemon. We have a guide showing hot to shiny hunting using Mass Outbreaks which breaks down exactly what you need to do to increase your odds of finding the shiny.
The second way to find shiny Finizen, even when it's not in the Mass Outbreaks on your map is by using Shiny sandwiches. By making a water-type shiny sandwich, the recipe of for which you can read below, you'll hugely boost your odds of finding a Shiny Finizen, however this will boost the odds of all of the other water-type Pokemon, as Finizen doesn't have a secondary type with which you can do the isolated encounter method. 
WATER SHINY SANDWICH RECIPE
Cucumber
Salty Herba Mystica X2
---
Cucumber X2
Prosciutto
Red Pepper
Green Pepper
Yellow Pepper
Any Herba Mystica X2
---
Finizen evolution: Best Palafin moveset
Palafin is a very unique Pokemon due to the nature of its ability, Zero to Hero. Naturally, this means its best moveset is centered around using Flip Turn as quickly as possible in order to get Palafin into its Hero Form.
 Wave Crash
Flip Turn
Protect
Close Combat
Because Palafin is required to switch, bulky Pokemon that can take a lot of damage are recommended, and we strongly recommend a Pokemon that can learn the move Parting Shot, like Grimsnarl.
Related Products
Other Products
Some external links on this page are affiliate links, if you click on our affiliate links and make a purchase we might receive a commission.