Bowser's Fury Scamper Shores Cat Shines – Where to find Scamper Shores Cat Shines
Where to find the main Scamper Shores Cat Shines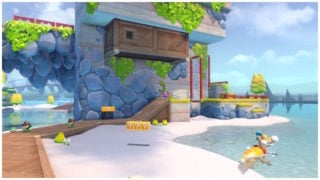 Scamper Shores Cat Shines are the subject of this guide, in which we break down each Cat Shine and its location within this region of Bowser's Fury and Lake Lapcat.
Scamper Shores Cat Shines
By the end of this guide, you'll know where to find Scamper Shores Cat Shines, and for other regions you can click back to our Cat Shine locations guide for the other locations.
Make the Lighthouse Shine
Follow the natural path of the stage and you'll eventually see the Shine sitting in front of the Lighthouse.
Fury Shadow by the Shore
At the start of the stage you'll see a shadow Luigi. Chase him and attack him a few times until his energy bar runs out and you'll get the Shine.
Key to the Cat Shine
Head back to the lighthouse and you'll find a large key. Pick it up and carry it back to the start of the level, where you'll find a Shine trapped in a cage. Use the key to unlock the cage.
Scamper Shores Cat Shine Shards
You can find the Scamper Shores Cat Shine Shards here:
From the giant stone arch that starts the area, follow the wooden path until you come to the first floating chain-link fence. Climb up it with Cat Mario and when you reach the top jump backwards to find a little alcove holding the first Shard.
After the first floating chain-link fence, head forward a bit and you'll find a second one just round the corner. Use Cat Mario to climb the left-hand wall and you'll find the second Shard at the top.
After collecting the third Shard, jump up to the next platform, where there are two trees on the left and a column with paw prints in the middle. Before you reach the trees, turn left and you'll find a gap in the fence: drop down and you'll find the Shard on a small ledge.
Instead of running along the long platform with all the birds waiting to peck you, deliberately drop down to the shore underneath. Look straight ahead and you'll see another rotating chain-link fence in the stone foundation of the stage. Climb up the stone with Cat Mario and wait for the fence to rotate, to get the Shard inside the gap.
The final Shard can be found above the three spinning chain-link fences just before you reach the lighthouse.
Blast the Fury Blocks
Start the stage but instead of running along the wooden section, veer right and head along the shore instead. Keep going around until you find some shiny blocks with Bowser's face on them. Wait around until it gets dark and Fury Bowser appears, then stand in front of the blocks. Fury Bowser will use his fire breath to attack you: this will also break the blocks, revealing the Shine.