Bowser's Fury Missing Kittens locations – Where to find the Missing Kittens
Where to find the Missing Kittens in Bowser's Fury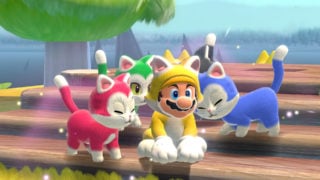 Bowser's Fury Missing Kittens locations are the subject of this guide, in which we break down each Missing Kitten and its location by the Shore, Ruins and Wasteland.
Bowser's Fury Missing Kittens locations
By the end of this guide, you'll know where to find Bowser's Fury Missing Kittens locations, and for other collectibles you can click back to our Cat Shine locations guide for the other locations.
Lost Kitten by the Shore
Right next to the Lakeside Giga Bell, you'll see a large mother cat sitting there, upset. Go close to the cat and you'll see the kitten they're looking for. Go find the kitten (it should be nearby), pick it up and return it to its mum for a Shine.
Lost Kittens Near the Ruins
Next to the Ruins Giga Bell there's another mother cat, and this one's lost three kittens. These are their locations:
The first one is on the shore around the same island the Giga Bell is on.
The second one is standing on the top of the giant cat arch at the start of Clawswipe Colosseum.
The final one is standing by the entrance arch at Crisp Climb Castle: since dropping the kitten in water makes it return to its original location, this last one is difficult to return: you'll need to ride the moving ice islands from Crisp Climb Castle (see Go With The Floe below) until they reach Trickity Tower, then walk around that stage and head to the Ruins Giga Bell from there.

Lost Kittens in the Wasteland
On the same area as the Wasteland Giga Bell you'll find another mother cat, who's lost five kittens. These are their locations:
The first one is in the same area, on the extreme left on the map.
The second is standing at the entrance of Pipe Path Tower (you'll need to walk back on top of the pipe you took to get there, because you can't carry the cat in the pipe).
The third one is at the end of the pier on the south side of the island.
The fourth is at Risky Whisker Island: with your back to the lighthouse, head to the right of the clear pipe and go around to find the kitten in a small alcove inside the wall. You may struggle to get this one back: the question block next to the kitten's location actually has a bunch of hidden blocks above it, creating a stairway of sorts back up to the top of the island.
The fifth and final cat is next to the lighthouse at Mount Magmeow.
Related Products
Some external links on this page are affiliate links, if you click on our affiliate links and make a purchase we might receive a commission.