Bowser's Fury Lost Toads locations – Where to find the Lost Toads
Where to find the Lost Toads locations in Bowser's Fury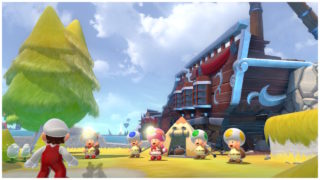 Lost Toads locations are the subject of this guide, in which we break down each missing Toad and its location within Bowser's Fury and Lake Lapcat.
Bowser's Fury Lost Toads locations
By the end of this guide, you'll know where to find the Lost Toads, and for other collectibles you can click back to our Cat Shine locations guide for Cat Shines, Kittens and more.
Toad Brigade: Lost Leader
Once you get 50 Shines and defeat Fury Bowser to see the ending, a number of Toads appear on the map. The first is on a small island just south of the entrance to Scamper Shores and is being chased by two enemies. Beat both enemies and the Toad will give you a Shine.
Toad Brigade: Stuck Under the Slope
The second Toad is in a sneaky location underneath the Slipskate Slope stage. By this point the game will be showing you on the map where every Shine can roughly be located, so grab a propeller block from the start of the stage and head forwards until you reach the exact part where the exclamation point can be found on the map. Jump off the right-hand side of the stage and float slowly down, tilting the camera downwards so you can see a small alcove underneath the stage. The Toad is standing there.
Toad Brigade: Cuddly Castaway
The third Toad is right at the very top of the map. Travel up there on Plessie and you'll see a blue spring. Use it to fling yourself to the other springs so you can reach the island where the Toad is located. If you're struggling to line up your spring jumps properly, switch to Cat Mario: when he's holding onto the spring, his tail points right in the direction you're headed.
Toad Brigade: Hot Pursuit
The final Toad is perched near the north-east corner of Mount Magmeow. The easiest way to get to him is to reach the summit, then head down and left, looking at the exclamation point on the map for a rough idea of where the Toad is. If you look down and see a bird enemy with a long neck, that's where to go.
Related Products
Some external links on this page are affiliate links, if you click on our affiliate links and make a purchase we might receive a commission.