Bowser's Fury Fur Step Island Cat Shines – Where to find Fur Step Island Cat Shines
Where to find the main Fur Step Island Cat Shines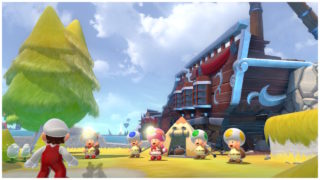 Fur Step Island Cat Shines are the subject of this guide, in which we break down each Cat Shine and its location within this region of Bowser's Fury and Lake Lapcat.
Fur Step Island Cat Shines
By the end of this guide, you'll know where to find Fur Step Island Cat Shines, and for other regions you can click back to our Cat Shine locations guide for the other locations.
Make the Lighthouse Shine
Can't miss it, happens during the prologue. Climb the small staircase of blocks to get it.
Junior's Graffiti Gratitude
After you collect 50 Shines and defeat Bowser, you'll return back to Fur Step Island. Head over to the large ship and you'll find a question mark on the middle of the upper deck. Get Bowser Jr to paint over it with his paintbrush to get the Shine.
Fury Shadow on Deck
Head towards the shipwreck and you'll see Shadow Luigi. Chase after him and hit him three times to defeat him and get the Shine. If you can't catch him, just bring up your cursor with R (or the touch screen) and select him to get Bowser Jr to batter him instead.
Fur Step Island Cat Shine Shards
You can find the Fur Step Island Cat Shine Shard locations here:
Standing at the cat arch at the start of the area, look up and to the right. You'll see the first Shard on top of the stone wall on the right.
The second Shard can be found right as you step onto the shipwreck from the island. There are two long pieces of wood making up the ship's broken mast: walk up one of these and you'll find the Shard high in the air.
The third Shard is in the water, to the right of the shipwreck. You'll find it in a small alcove under the ship itself.
When you reach the front of the shipwreck, instead of stepping onto the section where the lighthouse is, head right and walk across the long wooden part at the front of the ship. Look down and you'll see the fourth Shard on a Bowser head underneath you.
 The final Shard is on a stack of Goombas right in front of the lighthouse. Take them out to get it.
Blast the Fury Blocks
The Fury Blocks can be found at the bottom right corner of the island, just before you reach the ship. Wait for Fury Bowser to appear (or use a Bowser amiibo to summon him) and make him breathe fire on them to break them and reveal the Shine underneath.
Related Products
Other Products
Some external links on this page are affiliate links, if you click on our affiliate links and make a purchase we might receive a commission.