Best Warzone Loadout guide – Season 4 Reloaded
How to build the best Warzone loadout and win matches in Season 4 reloaded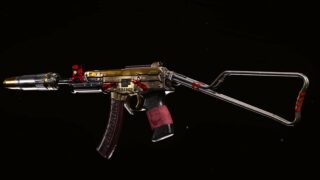 In this guide for the Best Warzone Loadout during Season 4 Reloaded we'll help you assemble the best guns for Call of Duty Warzone and Black Ops Cold War.
Raven Software has steered Call of Duty: Warzone into a good direction for weapon balance over the past few seasons, with no weapons feeling truly overpowered, and plenty of viable options for players to choose from, whatever their playstyle. From run and gun SMGs, to snipers, and everything in between, Warzone feels like it's in a great spot.
However, there are still some guns that are preferable to the rest. These "meta" Best Warzone Loadout weapons are ones that most skilled players will use to dominate Warzone matches. Though they aren't necessarily the most popular, you'll find meta weapons to be statistically better than the rest.
According to our testing, there are 12 meta guns in total, with plenty of options for all playstyles. These are the current Best Warzone Loadout weapons, with recommended builds for each as of Season 4 Reloaded.
---
Warzone guides:
Best Warzone loadout | Warzone Red Doors | Warzone best sniper | Warzone best SMG  | Warzone best Stoner 63 | Warzone best AK-47 | Warzone best Bullfrog | Best FARA Warzone loadout | Best AMAX Warzone loadout
---
BEST WARZONE LOADOUT SEASON 4 RELOADED
The best Warzone loadout setups for Season 4 Reloaded are:
KRIG 6
FARA 83
AK-47 Cold War
C 58
AS VAL
PPSH-41
MP5 MW
OTS 9
KAR98K
SWISS K31
ZRG 20MM
STONER 63
---
BEST WARZONE LOADOUT: ASSAULT RIFLES
KRIG 6 (long range)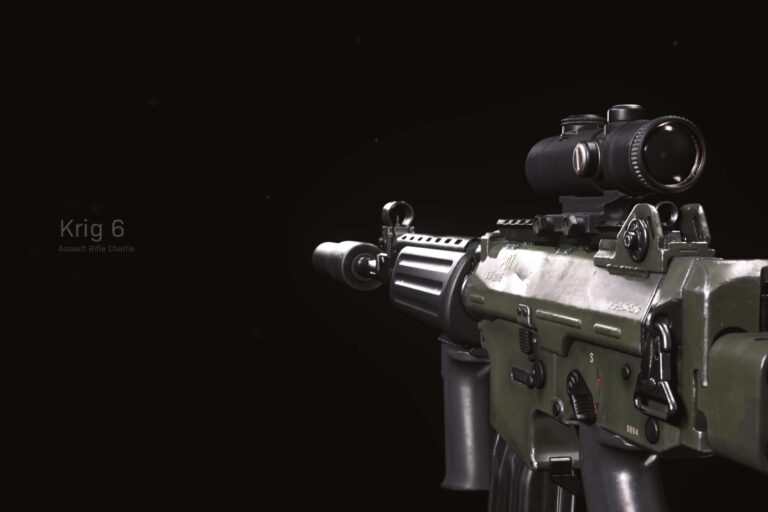 Muzzle:

Agency Suppressor

Barrel:

19.7" Ranger

Optic:

Axial Arms 3x

Underbarrel:

Field Agent Grip

Ammunition:

STANAG 60 Rnd
When it first debuted, the Krig 6 used to be a poor option, but it was improved greatly in 2021. Since then, its recoil has been reduced a lot, making it far easier for players to control. Since the improvements, Krig 6 is highly accurate, has competitive time to kill (TTKs) at range, and is overall an easy weapon to use, allowing players to stick to your target from afar and pull off long range eliminations.
If you opt for this, keep in mind that this weapon is basically only usable at medium to long-range, so make sure you've got an SMG or shotgun to keep yourself covered up close. If you try to compete with someone who has an SMG up close while you're running the Krig, you'll likely lose the gunfight, so stick to the long range battles when using this one.
---
FARA 83 (sniper support)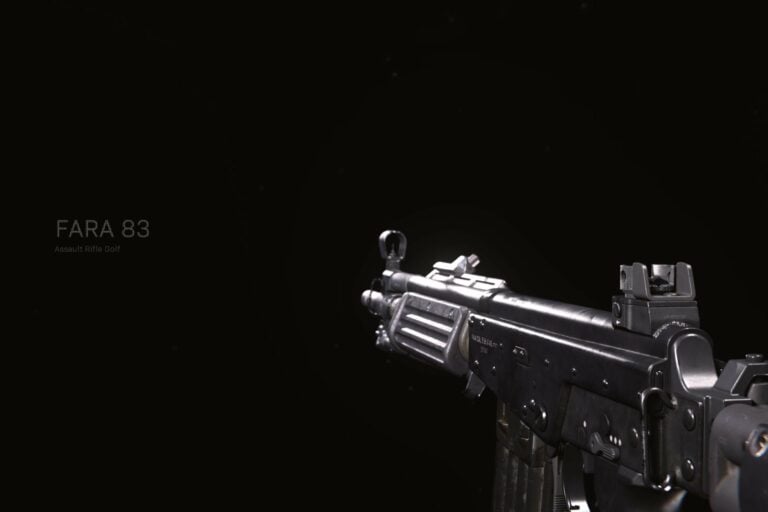 Muzzle:

Suppressor

Barrel:

18.7" Spetsnaz RPK Barrel

Stock:

KGB Skeletal Stock

Ammunition:

Spetsnaz 60 Rnd

Rear Grip:

GRU Elastic Wrap
FARA 83 is a versatile weapon, but our favourite build is geared towards sniper support. This AR hits hard, is quite accurate and easy to control, so a lot of Warzone players have naturally gravitated towards using it. While you can (and should) use this weapon at long range, we highly recommend building it almost like an SMG.
With this build, you'll want to prioritize ADS speeds, while still maintaining decent stats for range. The one thing you should keep in mind with the FARA is that its reload speed is pretty bad by default, though, this is a small price to pay for a weapon with very few flaws. The nice thing about the FARA 83 is that it works well as a long range option, too, so you have a few different ways to build it.
---
AK-47 Cold War (versatility)
Muzzle:

GRU Suppressor

Barrel:

Spetsnaz RPK Barrel

Underbarrel:

Spetsnaz Grip

Ammunition:

45 Rnd

Rear Grip:

GRU Elastic Wrap
Once again, the AK-47 (CW) comes out on top for a wide variety of reasons. From medium range and beyond, it has one of the best TTKs in the game, and although its recoil seems intimidating, it's not too difficult to control. But aside from its competitive TTK, the AK-47 (CW) is versatile and can be used in a variety of ways. 
You can practically build it as an SMG, sniper support, or even long-range machine. We're fond of this weapon's iron sights, as well, freeing up a precious attachment slot. But either way, there's a ton of versatility with the AK-47 (CW), so give it a try based on your play style. Thanks to its slower rate of fire, you can get away with smaller mags, especially to preserve ADS speed. 
---
C58 (high damage)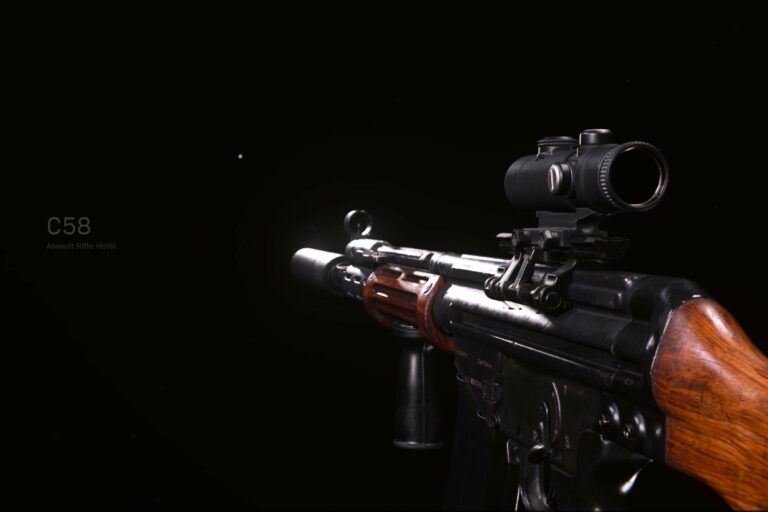 Muzzle:

Agency Suppressor

Barrel:

18.5" Task Force

Optic:

Axial Arms 3x

Underbarrel:

Field Agent Grip

Ammunition:

STANAG 55 Rnd
At first glance, the new C58 assault rifle might not seem particularly special, but after spending a little time with the weapon, it's clear it's one of the very best. This is due to a number of reasons including its fast TTK, competitive rate of fire, fast reload times, and low recoil. In practice, the C58 can melt your opponents and is relatively easy to use.
You can also deck this weapon out to have a high bullet velocity, which makes pulling off those long-range kills much easier. Even though the C58 might not have the best stats in the game, the fact that it's so easy to use makes it a top choice. Being able to keep your crosshairs on your target is an important factor with assault rifles – and fortunately, this is easy to do with the C58. 
---
AS VAL (time to kill)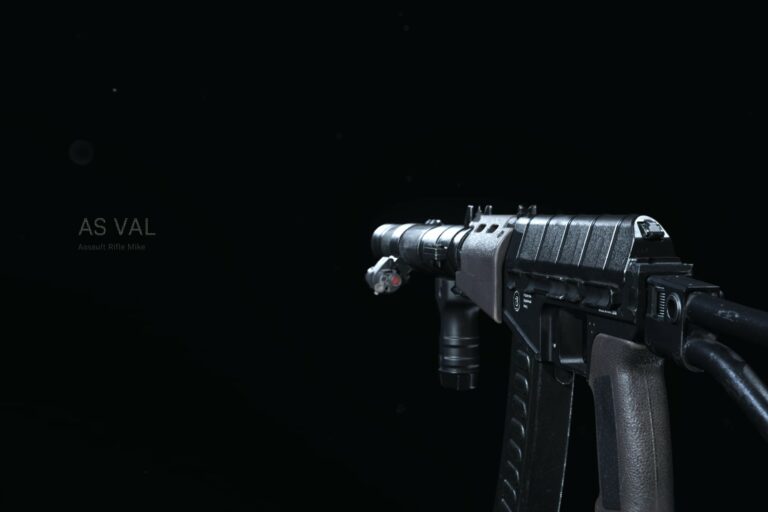 Laser:

5mW Laser

Underbarrel:

Operator Foregrip

Ammunition:

30 Round Mags

Rear Grip:

Stippled Grip Tape

Perk:

Sleight of Hand
Full stop, the AS VAL is ridiculous, especially in smaller team modes like Solos and Duos. It has one of the fastest times to kill in the game and feels like an SMG even though it's an assault rifle. Because of this, it's lightweight, has fast ADS times, and a quick reload speed. Though, it actually does well even in mid-range battles.
Of course, the main thing holding it back is its low magazine size of 30. This is the highest magazine size you can have with the AS VAL, though, if you equip the Sleight of Hand perk, you'll be in a significantly better spot with it. Its fast rate of fire will allow you to absolutely shred through your opponents. Just make sure you don't try to rush more than two players with it because you'll probably run out of ammo fast. Aside from that, the AS VAL is a beast of a weapon, even with its shortcomings.
---
BEST WARZONE LOADOUT: SMG
PPSh-41 (fast ADS)
Muzzle:

Sound Suppressor

Barrel:

15.7" Task Force

Stock:

Raider Stock

Underbarrel:

Spetsnaz Grip

Ammunition:

55 Rnd Drum
PPSh-41 is still part of the Warzone meta, thanks to a buff from last season. There are actually a few ways you can build the PPSh-41, but we prefer running it as a close to medium range weapon, rather than something meant for longer distances. Surprisingly, it works well from afar compared to other SMGs, but ideally, you'll want to keep it up close with this one. 
The build described above will keep you off the minimap (take note of the new Sound Suppressor buffs), while preserving accuracy, speed, and damage range. There's something so immensely satisfying about being able to down multiple players thanks to its high magazine count.
---
MP5 MW (close range)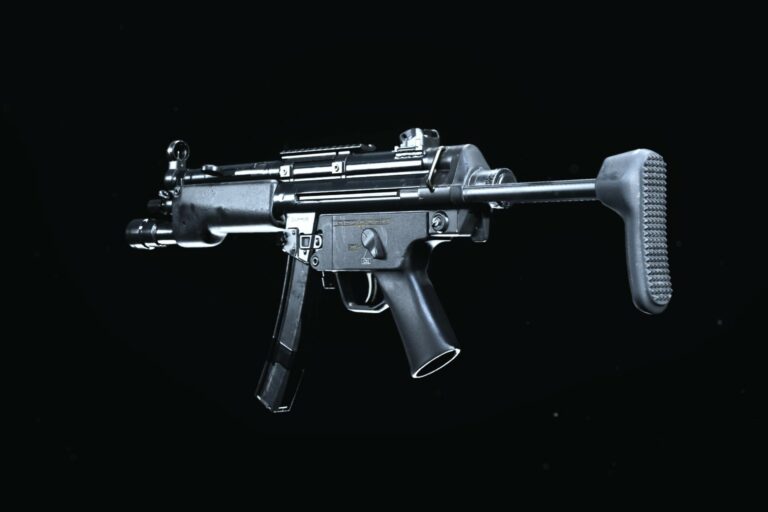 Barrel:

Monolithic Integral Suppressor

Laser:

Tac Laser

Optic:

Solozero Optics Mini Reflex

Underbarrel:

Commando Foregrip

Ammunition:

45 Round Mags
Following the recent Season 4 Reloaded update, the Modern Warfare MP5 has made its way back into the meta, specifically at close range. Previously, it was widely accepted that the Cold War MP5 was better, but up close, the Modern Warfare MP5 has a faster TTK. As long as you're using this weapon at up to 10 meters or so, you'll likely win most of your gunfights with it.
One of the great things about the MP5 (MW) is the fact that you can get more mileage out of its attachments. This is due to the Monolithic Integral Suppressor, which serves as two attachments in one. You can then build the weapon to function well at medium range, since range is one of its weaknesses by default. Give the MP5 (MW) a spin on Rebirth Island just to see how effective it actually is. 
---
OTs 9 (fast rate of fire)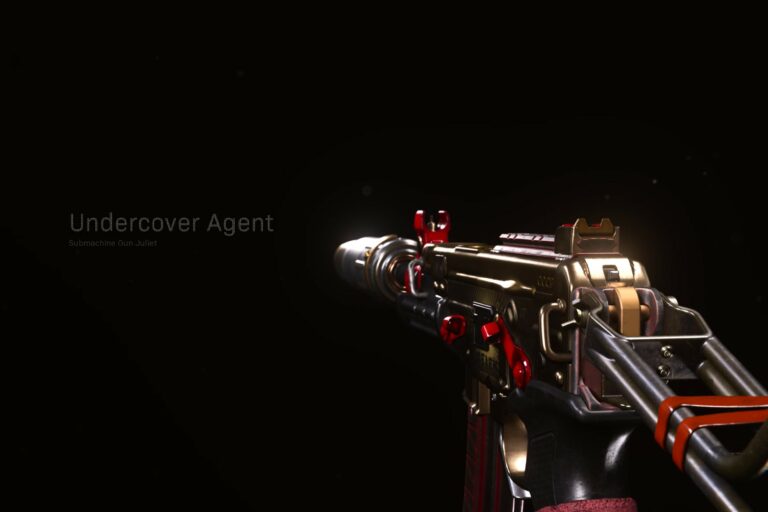 Muzzle:

Sound Suppressor

Barrel:

8.1" Task Force

Laser:

Tiger Team Spotlight

Stock:

KGB Skeletal Stock

Ammunition:

Spetsnaz 40 Rnd
It's not surprising the new OTs 9 SMG is excellent, but we weren't expecting it to be this good up close. In fact, it's actually noticeably better up close than the MP5 (MW), though it does have a few limitations to balance it out. Like the AS VAL, the OTs 9 has a fast rate of fire, making it ideal up close. 
The only reason this isn't overpowered is due to its smaller magazine size that caps out at 40, and its inability to perform at any range past 20 meters or so. But within 10 meters, the OTs 9 is a machine and is easy to use. We highly recommend sticking to Solos, Duos, and possibly Trios with this weapon. Quads might be too much to handle, due to its lower mag size and fast rate of fire. You'll find yourself blowing through ammo with this weapon, but if you land your shots, you'll likely win most of your gunfights.
---
BEST WARZONE LOADOUT: SNIPER RIFLES
KAR98K (fast ADS)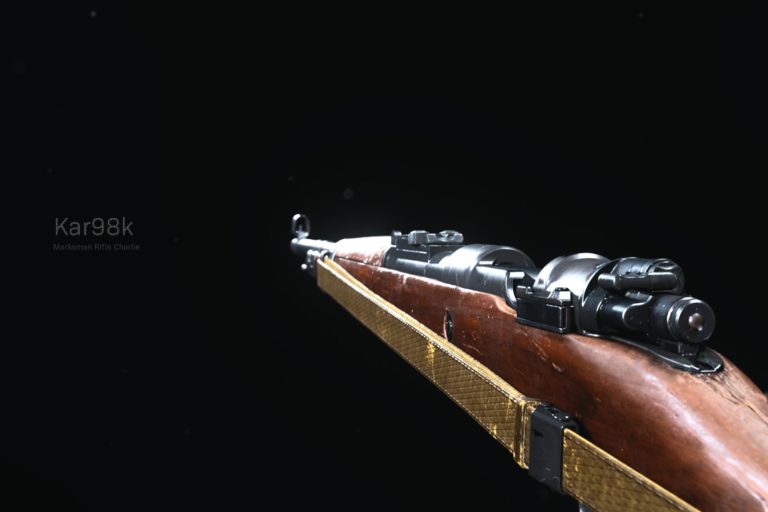 Muzzle:

Monolithic Suppressor

Barrel:

Singuard Custom 27.6"

Laser:

Tac Laser

Optic:

Sniper Scope

Rear Grip:

Granulated Grip Tape
Whether you're playing on Verdansk or Rebirth Island, having a rifle that can quickly take down an enemy at long range is highly recommended. For that, we recommend the Kar98k, a marksman rifle that has high damage, fast aim down sights (ADS) speeds, and plenty of mobility. 
You'll find it to be extremely effective as a main weapon, while utilizing something like an SMG for close quarters situations. With the Kar, you'll be able to down a player instantly with a headshot, and can crack (deplete all shields) with a chest shot. It doesn't work as well in longer range scenarios, but at around 100 meters or less, you'll do just fine with the Kar. Following the Season 4 Reloaded update, the Kar98k remains one of the best fast-paced rifles. 
---
SWISS K31 (aggressive build)
Muzzle:

GRU Suppressor

Barrel:

24.9" Combat Recon

Laser:

SWAT 5mw Laser Sight

Ammunition:

Vandal Speed Loader

Rear Grip:

Serpent Grip
Previously, no weapon could compete with the Kar98k in terms of aggression, but thanks to recent updates, the Swiss K31 might very well be the best. The stats between the two using their meta builds are similar, but the Swiss actually comes out on top in more categories than one. For instance, the Swiss deals more damage to the chest than the Kar98k, and has slightly better mobility.
Also, much like the MP5 (MW), you can preserve an attachment slot with the Swiss K31, since it comes with a sniper optic by default. This means you can equip something like the Vandal Speed Loader, which greatly improves your reload times. And speaking of which, the reload times on the Swiss are better than the Kar98k's, as well. So, both are still fantastic, but we wanted to give the Swiss K31 a shoutout because it's better than the Kar in multiple ways.
---
ZRG 20mm (velocity and ADS)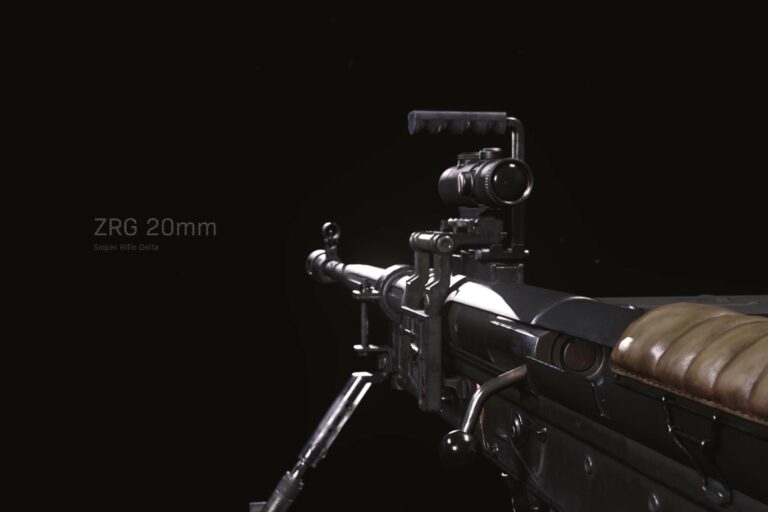 Muzzle:

Agency Moderator

Barrel:

43.9" Combat Recon

Optic:

Royal & Kross 4x

Ammunition:

5 Rnd

Rear Grip:

Serpent Wrap
Following recent Warzone updates, the ZRG 20mm has slowly made its way into the meta. At first glance, it might not seem appealing due to its base ammo count of 3, but in nearly every regard this sniper has top-end stats. For starters, it has the best bullet velocity of all the high power snipers, even beating the HDR. 
On top of that, its ADS speed is better than the HDR's as well. If you use the Royal & Kross 4x Optic as suggested above, you can get high magnification without sniper glint, which is yet another plus. The only things that hold it back are its low ammo count (which can be increased), and its zoom. Still, the ZRG is a practical sniper rifle that is grossly overlooked. 
---
BEST WARZONE LOADOUT: LMG
STONER 63 (accuracy)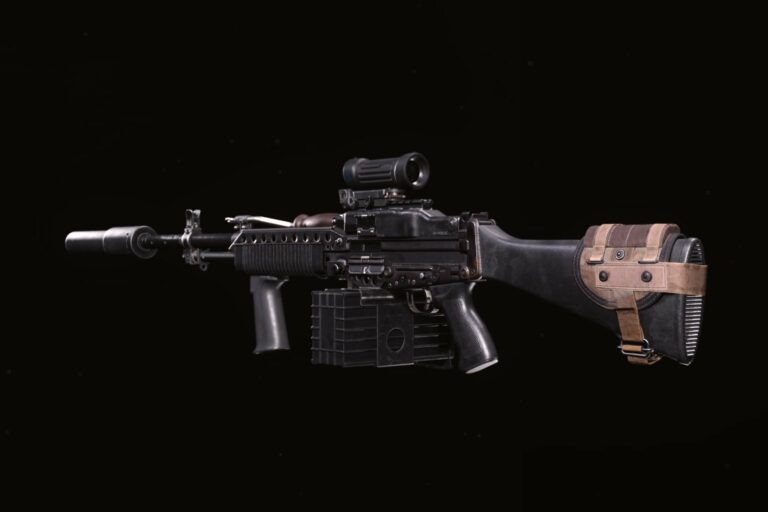 Muzzle:

Agency Suppressor

Barrel:

21.8" Task Force

Optic:

Visiontech 2x (or something similar)

Stock:

Raider Pad

Underbarrel:

Field Agent Grip
We actually detailed our thoughts on the Stoner 63 in our loadout guide here, but the short version is that it's one of the best weapons in all of Warzone. If not for its low mobility, this weapon would border on being overpowered, but thanks to it being an LMG, its weight keeps it in check. Nonetheless, you'll find this weapon to be highly accurate from afar. Its high accuracy and low recoil make it super easy to control, even at 100+ meters away from your target. 
Of course, it's an LMG, so it will slow you down, but the build above is designed to preserve some mobility, while allowing it to excel from afar. Raven Software has implemented so many new tweaks recently, that you'll have a wide variety of attachments that work well with the Stoner. Though, the above loadout is best for medium to long range battles. 
---
Honorable Mentions
Since the recent update rebalanced so many weapons, it has made many of them much more viable. With that in mind, we wanted to give a shoutout to a few honorable mentions including both versions of the MP5 (CW), LC10, AK74u, XM4, QBZ-83, and Streetsweeper. Some of these weapons weren't changed following the update, but due to the rebalancing of other guns, these are more viable than before.