Anime Adventures codes September 2023
Codes for gems and summon tickets can be found here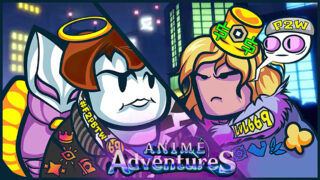 Anime Adventures codes can be used in the much-loved Roblox game to get gems, summon tickets and more.
Anime Adventures is a Roblox game inspired by anime series like Naruto, Dragon Ball and One Piece (though it's not official, so character names have been changed slightly).
Created by Gomu, the tower defense game was originally released in July 2022 and has become extremely popular.
In the game, players can also redeem codes in order to acquire free gems, summon tickets and other rewards. These codes are often reset, so you should check back here regularly to find out which Anime Adventures codes are working, and which have already expired.
If you found this article useful, be sure to check out our other Roblox codes guides including those for Project Slayers codes, Shindo Life codes, Blox Fruits codes, King Legacy codes and YBA codes.
Latest update
We've added two new Anime Adventures codes (at the top of the list). Keep checking back regularly– as new codes are added to the game we'll add them to this page and update it.
---
New Anime Adventures codes (September 2023)
MORIOH: Gems
UNBREAKABLE: Gems
NEWCODE0819: Gems
OVERLORD: Gems
SuperTierMagicSoon: Gems
SUMMER2023: Gems
ANNIVERSARY: Gems
TOURNAMENTUIFIX: Gems x250
AINCRAD: Gems x500
BILLION: Gems x 2,500, World Jumpers
MADOKA: Gems x500
subtomaokuma: Summon Ticket
SubToKelvingts: Summon Ticket
---
How to redeem Anime Adventures codes

Redeeming an Anime Adventures code is very straightforward.
Once you start the game, head for the park area with the three. There you'll see a bunch of different stalls.
Find the stall that says 'Codes' above it, and walk over to it. A text box should automatically appear in the middle of the screen.
Choose this and enter your code, then choose 'Redeem'. If it doesn't work your code may be expired.
---
What are Anime Adventures codes?
Anime Adventures codes help unlock useful items in the game, such as gems, summons and world jumpers.
Players can redeem the codes above to get rewards. However, they don't last forever, so it's worth checking the page often to find new codes, because the game's developer releases them often.
---
Where to find more Anime Adventures codes
New Anime Adventures codes are often found on the game's official Twitter account, where regular updates are added daily.
However, the easiest way to find more Anime Adventures codes is to let us do the work for you and keep checking back on this page daily.
More Roblox guides:
Roblox codes | Project Slayers codes | Shindo Life codes | Blox Fruits codes | King Legacy codes | Anime Mania codes | YBA codes | All Star Tower Defense codes | Pet Simulator X codes | Bee Swarm Simulator codes