Why Mario Bros. Wonder is Nintendo's most exciting 2D entry in over 30 years
Wild invention meets classic familiarity in Mario's first new major 2D Mario in years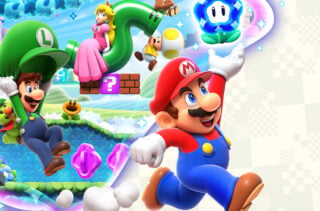 Back in 1990, Nintendo released the perfect 2D platform game.
Super Mario World is a tightly designed masterpiece that got everything right. There have been excellent 2D Mario games released since, but nothing has quite matched the SNES classic. After all, how do you top perfection?
The 3D Mario series had suffered a similar challenge. Nintendo nailed 3D Mario games at its first attempt in 1996. How could the developer possibly better Mario 64? The answer has been to embrace chaos. Give Mario a water jet pack, sling him around a planet, and then put him in the world of Dark Souls and make him fight a dragon. The more surprising and unexpected, the better.
The reveal trailer for Super Mario Bros Wonder in June hinted at a 2D game with some of the madness of its 3D cousins. After playing four levels (and a bonus one) at Nintendo Live in Seattle, I can say that this is shaping up to be the wildest 2D Mario games to date, but one that still holds true to that classic Mario Bros formula.
What's clear from the start is that this is not the Mushroom Kingdom. Mario and friends are challenged with saving the Flower Kingdom, and that comes with a new style. The slightly clinical look of New Super Mario Bros has been replaced with something far more expressive.
The animations are particularly noteworthy, Goombas will run screaming, Yoshi will peek out from warp pipes, flowers will dance and chant… there is a whole host of animations, both large and small, that make the world feel alive.
The world will also react to who you are, and by that, I mean who you've transformed into. The main group of characters in this game – Mario, Luigi, Peach, Daisy and various Toads – actually play the same. But your experience will change when you grab the elephant power-up, and start charging at enemies, smashing through blocks and watering everything with your trunk (if you've managed to suck up some water). And it changes again when you grab the drill, which allows you to burrow into surfaces, avoid enemies, unearth coins and fit through small gaps.
The experience also changes depending on the badge you have assigned. Players can unlock badges throughout Mario Bros Wonder, and these badges unlock certain abilities, such as improved wall jumping or floating or the ability to magnetically attract coins. These badges are unlocked in bonus levels, and the one we played was a short wall-jumping mini-level, which also acted as an introduction to the new wall-jumping ability.
But the headline addition is the Wonder Flower. Once you've found one, the level will warp and transform for a brief period. The trippy transformations I experienced involved being showered with superstars, riding a stampede of bulls, warp pipes coming to life, and a giant block trying to crush me while I smashed through glass blocks. These situations continue until you locate a Wonder Seed (the game's primary collectible), which brings the craziness to an end.
For me, this is Wonder's most exciting feature. Each level will feature its own unique surprise and challenge, and I cannot wait to play the full game and discover what else Nintendo's designers will throw our way. And it's here that Mario Bros Wonder appears to match the throwaway inventiveness and gimmicks that have defined modern 3D Mario games.
Outside of the new power-ups, badges and flowers, Mario Bros Wonder also offers a deep multiplayer mode. I did two play-throughs of the demo with three other players, and the results were mixed. There is already a lot going on in each level, and when playing with less experienced people, there was a bit of confusion and frustration, especially after grabbing a Wonder Seed.
However, things are made infinitely more manageable by the fact that, unlike previous multiplayer Marios, you can't physically get in each other's way, with players ghosting through one another. The second time around, it worked a lot better, as we worked together to hunt out secrets, and one of my fellow players selected Yoshi, which I could ride and use to reach new heights.
Yoshi, alongside Nabbit, are the two characters that differ from all the others. Both cannot take damage, making them the easier option, however, they will still fall through gaps, and they cannot use power-ups, either.
They're not the only change that makes the game more appealing to less seasoned players. Rather than simply going from one level to the other, batches of levels are unlocked at a time, and players can choose the order they want to approach them. Each level also displays its difficulty level, so you can choose to avoid the ones that might be too tough.
And Mario veterans are still catered for, of course. As with past games, there are those optional coins that can be found in hard-to-reach (or find) places, which are designed to test the more skilful Mario players.
Wonder is shaping up to be a wild ride.
Yet, for all its gleeful invention and new concepts, the tried-and-true 2D Mario formula hasn't been messed with. At least, based on the early levels I was allowed to play. There are still things to jump on, shells to throw, a flag to reach, secrets hidden in plain sight, and items to unearth. There is a reason this is called Super Mario Bros Wonder, and not just Super Mario Wonder. It's very much a Mario Bros game.
But that's not really a criticism. After all, Nintendo created the perfect 2D platform game in 1990. And taking that formula and throwing in all levels of madness promises to make for the most exciting 2D Mario adventure in over 30 years.
Other Products
Some external links on this page are affiliate links, if you click on our affiliate links and make a purchase we might receive a commission.