WarioWare: Move It! is low-key the year's best exercise game
The series' return to motion controls delivers bonkers action and, inevitably, strained muscles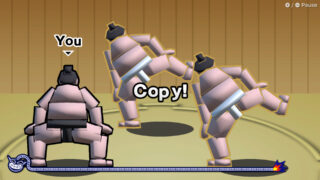 Nintendo sees WarioWare: Move It! as a spiritual successor to Wii's Smooth Moves, which according to Metacritic was the series' best-reviewed home console version ever.
What that means is you'll be completing mini-games in the usual convoluted narrative fashion of the series, either alone or with up to 4 players, with motion controls as your main mode of play.
It also means, for a series famous for its frantic action and demanding reaction times, that anyone who picks up Move It! in November should be ready for a serious workout.
In a recent demo of the game, we were able to play three modes; Paty Mode, which is multiplayer; Story Mode, which sees Wario and friends battling to escape a mysterious foe on a tropical island; and The Museum, which lets you play increasingly tough versions of the mini-games you've unlocked.
As with most WarioWare games, the Story Mode looks to be the main interest for solo or co-op players, with the over 200 mini-games grouped into specific levels spread across a world map, each with a unique boss fight.
Like the Wii entry it takes inspiration from, Move It!'s mini-games each require the player to hold the Joy-Cons in a specific way. These 'forms' are called out before each game, and you're required to get into position before the action commences.
For example, the first form is 'Choo Choo', which requires you to hold your arms bent at your side, as if spinning the wheels of a train. In this form, one mini-game has you ringing a pair of bells to a beat, while another – yes – has you moving a train to a station.
Another form, 'Ba-KAW', has you holding one Joy-Con on your noise and another on your back, like a chicken, after which you'll be challenged to peck worms as a bird, or wag Mario's Tanooki suit tail from Mario Bros. 3 until he safely crosses a gap.
The forms appear to become increasingly demanding as you progress, with 'Squat' likely inspiring stressful flashbacks for anyone who's gone the distance with Wii Fit Adventure. One mini-game has you squatting and lifting your legs in sequence with a pair of sumo wrestlers, while another has you drawing patterns with your buttocks.
From our brief play session, it's clear that Move It! has a lot of what makes the WarioWare series loved by fans: it's energetic, unique and utterly bizarre. Unsurprisingly, since its returning to motion controls, it also appears to suffer from some of the same issues Smooth Moves did back in 2006.
With all the different forms, it looks like it will take a while for newcomers to get to grips with. And games which required the controllers to be placed in more obscure positions occasionally felt inconsistent, which is an expected bugbear of motion-controlled games.
It's not a deal breaker, but it could mean that Move It! isn't quite as accessible and pick-up-and-play ready as some of its predecessors. However, if that doesn't discourage you, then this looks set to deliver yet another unique WarioWare instalment to fans. Get practising your squats.
Related Products
Other Products
Some external links on this page are affiliate links, if you click on our affiliate links and make a purchase we might receive a commission.