Ubisoft's Avatar game is stunning, but in need of some yellow paint
Getting lost in Frontiers of Pandora is easier than you think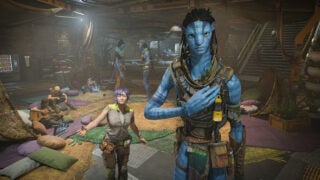 There are few fictional locales as ripe for a video game adaptation as Avatar's Pandora.
Part alt-universe Attenborough documentary, part Jurassic Park, Pandora's luscious fantastical plains are littered with all manner of fascinating alien fauna and flora . From flying bat dinosaurs to snarling plants ready to devour you at a moment's notice, James Cameron's beloved setting is one simply begging to be turned into an interactive playground. And who better to bring this smurfy vision to pixel perfect playable life than Ubisoft.
From the snow capped mountains of Far Cry 4's Kyrat to the temple littered domain of Assassin's Creed: Odyssey, It's not hard to see why the house of Mouse chose AAA's open world experts to make playable Pandora a reality. Curiously, rather than enlist the main AC or Far Cry teams, however, Frontiers of Pandora is helmed by the creators of The Division, Ubisoft Massive, who's time co-developing Far Cry 3 has seemingly been the main inspiration on their open world reimagining of the Navi's struggles.
The first thing that strikes me about Frontiers of Pandora is its breathtaking vistas. From the expectedly dense jungle to breathtaking floating land masses towering over you from atop the clouds, It's a shining example of what can be done when freed from the shackles of last gen hardware. Yet while the studio's expertise at crafting is leveraged to a tee, the shiny next gen visuals give way to a distinctly 360-era approach to game design. Let loose on the abundant planet a few hours in, I'm initially tasked with finding some magical nectar in order to create an ancient Navi elixir.
As I sprint and leap my way across wooded plains, rushing rivers and trickling waterfalls, I duck and weave between poisonous plants and grazing dinosaur-esque creatures, tapping the shoulder button to use a pulsing avatar vision that attunes me to its world. For the first twenty minutes, I'm having a great time simply picking up flowers, murdering hapless creatures and then sticking it to the unlucky marine forces scavenging the remnants of the forests' overgrown outposts.
The problem, however, comes when I realise that I still cannot locate my objective. In the first time in an open world game in recent memory, finding story objectives is bafflingly difficult, with zero objective markers a 'Navi sense' vaguely guiding players to an unhelpfully massive area. With little help on what your given plants look like or where exactly they might reside in Pandora's gargantuan map, my initial wonder at exploration becomes a tedious journey without purpose – a hapless tourist lost on a jungle trek.
Thankfully, Pandora is at least a gorgeous place to get lost. Flora and fauna bustle with life, lush forests give way to flowing rivers and clambering across the jungle as you're sucked into the treetops via living tendrils feels enjoyable enough to stand out from its open world peers.
Once you eventually make your way to the scripted main story quests ( it took me and my peers direct intervention from ubi PR to eventually reach said quests) unfortunately, the same problems persist.
Where the internet maligned Capcom for Resi 4 remake for its incredibly clear yellow paint signposting, Ubisoft Massive has seemingly gone the other way, chucking you into vast plains and arduous platforming sections that offer zero visual clues on where your objectives are located or which parts of the environment are actually climbable.
The result is hugely momentum destroying, and I found myself ripped out of some genuinely cool story moments due to the sheer frustration of not knowing which parts of the mountain to scale as part of the mission and which would send me clambering in a completely different direction.
It's a shame, as when you're eventually on track, these Navi-focused vignettes feel wonderfully authentic to the source material. The moments that really shined were when Frontiers of Pandora truly embraced the Navi and their otherworldly culture and traditions. From clambering across mountains in order to tame your first Ikran to gathering under a giant tree to hang with the blue homies, the moments where you embrace the Navi's traditions and unique culture feel quite unlike anything else in video games.
"The moments that really shined were when Frontiers of Pandora truly embraced the Navi and their otherworldly culture and traditions."
Flying the Navi's iconic Ikran feels solid enough too, the camera switching to third person as you swoop across the treetops and soar into the clouds, ducking and weaving between incoming helicopter fire a-top your dragon-like mount.
A later base infiltration mission, however, fares less well. Tasked with pulling a bunch of levers to halt production of a factory polluting the region, it's your classic mix of stealth and action, with so-so combat making taking out the plethora of marines a disappointingly blandand workman-like experience. The coolest thing about these films for this writer, is the Aliens inspired power suits that the humans ride. Unfortunately these mechs feel disappointingly easy to take down, crumpling to their knees with a well placed arrow or a smattering of machine gun fire.
Ultimately then, my two and a bit hours with Avatar felt a lot like playing Far Cry: Blue People Edition. It's undeniably an ambitious and beautiful game, with a surprising amount of visual variety. Yet for a game due out in December, Avatar feels worryingly half-cooked.

Terrible objective markers ( or a lack thereof) and visual signposting make what should be awe-inspiring fantasy fulfilment a slightly arduous task. After fans lamenting Ubisoft's reliance on towers for an entire console generation, Frontiers of Pandora feels like a wild overcorrection, a snarling "oh yeah? Well good luck finding your way around without them!"
While there is still feasibly time to solve the myriad of interface issues that plagued my demo, readable map markers and objective points are usually something Ubisoft studios handle with aplomb. As it stands, then, for those that love Cameron's Dances With Smurfs franchise, there is a wealth of potential fun lurking on the Frontiers of Pandora, but without some last minute tweaks, actually locating it might prove too frustrating for many to see it through.
Related Products
Some external links on this page are affiliate links, if you click on our affiliate links and make a purchase we might receive a commission.