Hands-On: Triangle Strategy is a slow burner with lots of promise
Square Enix's tactical RPG is taking a while to get going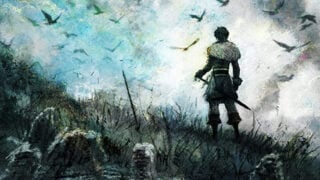 Octopath Traveler was a shining example of how a ridiculous title won't necessarily derail the success of a product if it can still deliver where it counts.
Seemingly not convinced that this message had been driven completely home, Square Enix is doubling down with a spiritual successor to Octopath Traveler that boasts a similarly absurd moniker.
Triangle Strategy may sound more like a genre than a specific title, but as with Octopath the focus here should very much be on what's stored in the game's code rather than what's written on its box. And from what we've played of it so far, it could be another winner.
Whereas Octopath Traveler was a traditional turn-based RPG, Triangle Strategy (as the name suggests) is more of a tactical affair which may appeal more to fans of the Fire Emblem or Final Fantasy Tactics series.
The game puts players in the boots of Serenoa Wolffort, a brave young fighter who, at the start of the game, is made Lord of House Wilffort in his home country of Glenbrook by his father, who was the Lord but is giving up the title due to ill health.
As the game's opening chapters play out, not only does Serenoa have to get used to the idea of being in charge of a community, he also has to meet Princess Frederica Aesfrost, who he's due to wed in an arranged marriage designed to improve relations between Glenbrook and its rival nation Aesfrost.
The whole thing takes place in the continent of Norzelia, where three nations have agreed to an uneasy alliance after years of conflict.
Glenbrook has huge rivers through which trade flourishes, Aesfrost is a land of ice that holds rich supplies of iron, and Hyzante is a holy state whose rivers create the salt that's essential to life in the land.
So far, in the few chapters we've played, each nation's representatives have shown a willingness to entertain the truce but there's also a clear wariness there too, with plenty of snarky comments dotted around here and there.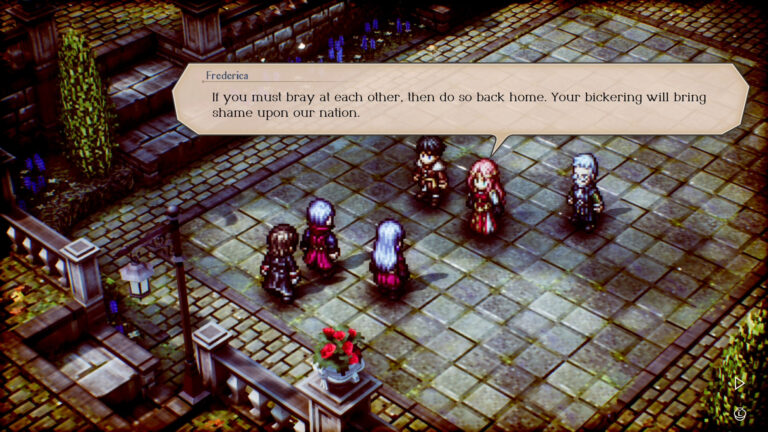 If we were the betting sort, we'd imagine this alliance won't last until the end credits, and its seemingly impending breakdown could end up being one of the game's central plot points.
Before you find out, though, you're going to have to play through quite a bit of exposition. Triangle Strategy could definitely be considered a slow burner, and after three full chapters of gameplay taken in around 3-4 hours, we'd only actually taken part in a few battles.
The meat of these early chapters is taken up with lengthy chats where the complex relationships between each of the nations are established in great detail.
"The meat of the early chapters is taken up with lengthy chats where the complex relationships between each of the nations are established in great detail."
For those into deep lore it should be an engaging start, but anyone who struggles with dialogue like "the Ministry I oversee is committed to the preservation of life, I personally believe that salt should not be a luxury reserved for the privileged few" may need to be patient with this one.
Thankfully, by the time we had reached the third chapter and were travelling to different lands, things had picked up a bit and the conversations taking place had become significantly more engaging, to the extent that we're now really keen to see where the story goes.
The area you visit first in the third chapter is addressed in one of the game's more unique mechanics, the Scales of Conviction. Serenoa is determined to make sure that House Wilffort will not be a dictatorship, to the extent that he puts important decisions in the hands of his fellow party members instead of taking them on himself.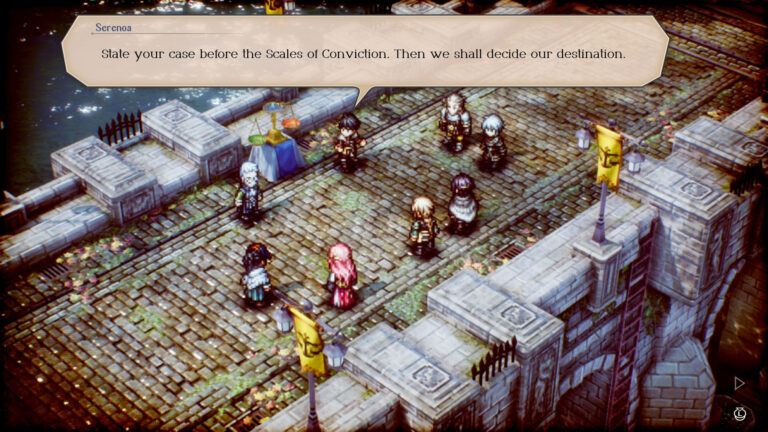 This makes for an interesting scene in which the group has to decide which area to visit first – Hyzante, where reams of information on medicine and magic can be found, or Aesfrost, which is Frederica's mother's homeland, but Frederica has never been there before.
Being a typically awesome husband-to-be, we wanted to head to Aesfrost, but that wasn't our call. Instead, Serenoa has to chat with all the party members, each of whom already has their own opinion, and try to convince those who want to go to Hyzante that perhaps the other option might be a better shout.
Success depends on how much each character trusts Serenoa, which in turn is based on how the player has given answers to the various multiple-choice dialogue options throughout the game (so we hope you were paying attention during all that salt chat).
Ultimately, in our playthrough Serenoa's sway wasn't influential enough at such an early stage in the game, and so the party set off for Hyzante, presumably with a grumpy missus in tow.
There's one major aspect of the game that still has to show its full hand at this stage, and that's the actual battle system. Three chapters in we've only really scratched the surface of what's on offer, and so far things seem solid, though it can occasionally be difficult to determine which characters are in our party and which are enemies.
"Three chapters in we've only really scratched the surface of what's on offer."
That said, it would appear that there's still an extremely long way to go before our journey with Triangle Strategy comes to an end, and it's clear that so much still remains to be seen, both in terms of plot and play mechanics.
So far so good, then, but don't take our word for it. Nintendo has just announced a Prologue Demo, so even though the game's still a month away that should give you a good idea of what it offers. Just be sure to play the whole thing, because it may take a while to get going.
Related Products
Other Products
Some external links on this page are affiliate links, if you click on our affiliate links and make a purchase we might receive a commission.