The Last Worker's warehouse dystopia is perfect for PlayStation VR2
This satire of 'end-stage capitalism' is best experienced through a headset, even if it doesn't utilise all of PSVR2's features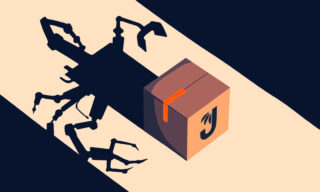 The Last Worker's satirical themes strike a particularly raw nerve as technology continues to advance amidst economic recession.
Just the last week, Microsoft announced it was laying off 10,000 of its workforce across various divisions (including its gaming studios) while also investing billions in OpenAI, the tech firm behind ChatGPT and DALL-E. If you're to imagine this scenario also happening in the not-so-distant future with retail giant Amazon getting rid of its workers in favour of automation, then that would sum up the premise of this narrative-driven adventure from Oiffy and Wolf & Wood Interactive.
You play as Kurt (voiced by Ólafur Darri Ólafsson), the last human worker at mega-corporation Jüngle where you spend your days transporting and delivering packages inside the Jüngle Fulfilment Centre (or JFC-1). Evidently, he's good at his job, as an opening montage shows us he's managed to survive in the corporation for decades while co-workers have come and gone, one by one made obsolete.
That isolation is only reinforced by working inside a massive underground warehouse, though we feel it even more by not just seeing it through Kurt's eyes but by experiencing it in VR.
First revealed at the Venice Film Festival in 2021 as the sole game competing in the festival's VR category, The Last Worker was developed initially for Oculus Quest 1 and 2. The plan, however, was always to bring it to non-VR platforms as well as for high-end VR platforms.
Although we had a chance to play a PC build of The Last Worker last summer at Gamescom, replaying the same opening tutorial as well as a later stealth section this time on PlayStation VR2, it's hard to deny that this is by far the definitive experience. With the headset's 4K HDR resolution and wide field of view, we really do feel like we're deep inside a warehouse the size of the sunken city of Manhattan.
That's not to say that this is necessarily a next-gen VR experience though. Rather than advanced locomotion on your feet in the style of Half-Life: Alyx, The Last Worker is a seated experience, though you're also neither rooted to the spot nor a rail experience prevalent in first-gen VR titles.
The action takes place with Kurt seated in a vehicle, not unlike a futuristic forklift truck, used for getting around JFC-1, as our left hand reaches for a lever and we hold the trigger to move forward, while the Cross and Circle buttons on the right elevates its height so that we can reach packages stored as high up as on a skyscraper.
Although The Last Worker's hand-drawn style from renowned 2000 AD comic artist Mick McMahon gives it a look that works on a variety of platforms, including the low-end of Quest and Switch, a VR1 version was skipped (as is a 2D version for PS4), though we can understand why.
With VR2's Sense controllers, we could keep our hand on the lever, but it quickly gets tiring since we're actually just holding our hand out in the air. Instead, we can simpy keep our hand to the side and control Kurt's vehicle with the control sticks, which would have been impossible using the old Move wands.
"It's not perhaps the best showcase for all of VR2's features. Because even though it does look incredible, the developer has opted not to make use of every feature exclusive to the hardware"
There's also a device we pick up with our right hand, akin to a gravity gun that makes picking up packages of all sizes easy. While sending packages to various chutes (with defects needing to be labelled as such and then sent to recycling) seems rather basic work for Jüngle's sole human employee, this is because our assistant bot Skew has suffered a malfunction, causing him to run us through a tutorial session as if Kurt's a fresh-faced employee, instead of the middle-aged bearded fellow we can see in the mirror.
Fortunately, Skew's annoyingly cheery corporate voice is also part of the malfunction, so when he's back to normal (or at least the setting Kurt gives him), he actually sounds more like a cynical and sweary old man. This voice is played by none other than Jason Isaacs, the Liverpudlian actor no doubt relishing the opportunity to go full Scouse in the role.
As intriguing as The Last Worker is, we're especially taken in by the banter between the central duo, like a couple of pensioners getting on with the daily grind. It's not perhaps the best showcase for all of VR2's features. Because even though it does look incredible, the developer has opted not to make use of every feature exclusive to the hardware.

For instance, there's no use of eye-tracking, so we still have to turn our head in order to look around us. Without eye-tracking, there's also no use of foveated rendering, whereby the hardware is able to concentrate more processing power and effects on just what your eye is looking at. But given the flat-textured, hand-drawn aesthetic, evidently there was no need for additional rendering power to make it already look great.
It does, however, make subtle use of the haptics in both the Sense controllers and the headset. For the latter, we feel a light jolt in the tutorial when we go through a gate that quickly closes down just as we boost under it.
In a stealth section later in the game, we don't sense any extra haptics to heighten the tension, as just trying to navigate the labyrinthian space without being caught by the intimidating patrolling robots is enough stress on its own. The developer nonetheless promises us that haptics do get more intense in the story, from races to boss fights.
Ultimately, although The Last Worker is set to be the most premium experience on VR2, we shouldn't be expecting any deliberate exclusive gimmicks to set it apart from other VR versions. It's perhaps why the game is also releasing in March after Sony's headset is already out, providing just enough distance from a launch day line-up that's under more pressure to prove what the hardware is capable of.
Instead, this is a narrative experience that should be able to stand on its own as we get lost deep in the Jüngle.
Related Products
Other Products
Some external links on this page are affiliate links, if you click on our affiliate links and make a purchase we might receive a commission.