Payday 3 wants to be Ocean's Eleven: The Game
A brand-new stealth system fuels Starbreeze's third heist-em-up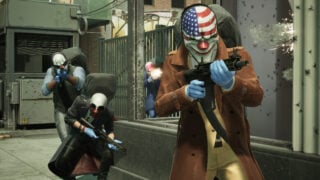 Plenty of games are influenced by film and television, but it's rare that you find developers so willing to explain the exact influence that gave their game life.
"It's Oceans 11," was the refrain when we sat down with some of the team behind Payday 3 on a recent trip to Starbreeze in Stockholm.
Starbreeze has been working away at the sequel to the hugely popular Payday 2 for some time, and while Payday 3 will see you doing a lot of the same crimes that made its predecessor such a hit, the way in which you do them has changed (and, if you can do it correctly, is a lot quieter too).
Payday 3 is a heist game. You and three other friends pick a loadout then attempt to steal something from a series of locations, all while trying to avoid, or gun down, all the security forces that stand in your way. Escape with the money and use that to upgrade your character for your next attempt.
So far, so Payday, but it was when we got into the game's stealth system that new options really opened up, and brought to mind the generation's very best stealth game, Hitman, developed by fellow Scandinavians, IO Interactive.
In Payday 3, areas will have several different levels of security, each of which will incur a different reaction from the guards.
There are public spaces where you're free to walk around and not arouse suspicion. The next level of security will see guards ask you to leave and walk you back to public areas. The last level of security will see the game enter the shootout phase should you be caught.
Starbreeze said this is to encourage a level of de-escalation during the casing phase, to avoid the binary situation of calm normalcy vs instant firefight.
This stealth system means that there's a real incentive to get most of the objectives done before you ever need to put on one of those iconic clown masks. There's obviously the inherent difficulty of four autonomous players trying to be stealthy at the same time, but when it comes together, it really does evoke that Ocean's 11 synchronised precision that the team wants to emulate.
"The stealth system means that there's a real incentive to get most of the objectives done before you ever need to put on one of those iconic clown masks."
We got to try out two different maps. The first was a bank, which is very much the bread and butter of the Payday franchise, but it was the perfect way to get our bearings with the new systems of the game.
You could always sneak in the back and parkour your way up some dumpsters to get into the secure chambers of the bank, but what if you simply walked in the front door, closed all the windows and blinds, and then calmly started the heist?
Doing everything stealthily is certainly difficult, but there's a much more cinematic feel to earning yourself some time via stealth than just kicking the front door down and shotgunning the bank teller against the back wall.
The second map we played was set in an art gallery and was far more objective-based. We had to determine which painting was legitimate, which would then lead us to our objective, all while trying to avoid suspicion in a bustling art show. While there isn't the social stealth system of the modern Hitman games, this does feel like a natural progression that the franchise could go down.
The two levels we played were highly detailed, packed full of small rooms and side entrances that you're not going to see until your fourth, fifth, or sixth time through.
Obviously transitioning from the huge amount of heists in Payday 2 to the eight of Payday 3 will mean that there's less for players to see, but from what we've played, the maps themselves feel far more dense with opportunities, especially with the new stealth system.
We can foresee getting the perfect stealth heist on the game's highest difficulty to be a Sisyphean challenge for some friend groups, but for others, it's a whole new level of replayability for the game.
Payday 3 seems like it has all of the ingredients necessary to pull off its lofty goal of emulating the classic heist films of Hollywood, but the question remains whether its new stealth systems will be fully embraced by a player base that has gotten so used to the 'shoot first, ask questions later' action of the previous games.