Preview: Metal Gear Solid Master Collection Vol 1 promises to be a treasure trove for fans
We go hands-on with the Switch version of the upcoming retro compilation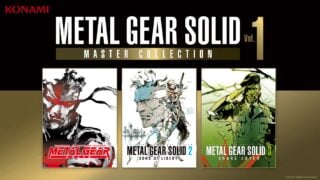 25 years later, Metal Gear Solid remains a landmark in video games, as much a pioneer in 3D stealth action as it was in elevating cinematic storytelling.
Its blocky PS1 textures may look dated but it has lost none of its atmosphere, with the opening Irish vocals of 'The Best Is Yet to Come' still sending chills down our spine when we first arrive at Shadow Moses Island.
It's also apparent that an hour of hands-on is simply not enough time to appreciate this classic title, let alone everything else that Konami has packed into the first volume of this Master Collection. It's certainly the most significant though because – with the exception of a PC release via GOG – the first Metal Gear Solid hasn't been available on a modern console platform until now, and by popular demand will also be getting a PS4 version at a later date.
It also arrives virtually unchanged, as this is an emulated version of the 1998 game, lacking widescreen display or up-ressing, which may come as a disappointment for players hoping to play MGS1 on their 4K TVs.
But when considering the complications of the series, from David Hayter being dropped as the voice of Solid Snake to series creator Hideo Kojima's own messy departure from Konami, we imagine emulation was the wiser option to ensure the original experience would be intact rather than compromised by, say, a missing voice actor or credit, even if that may prompt some confusion (as some notable voice actors such as Jennifer Hale were credited under different names).
This also includes the additional VR Missions that were added later in the Japanese expanded release, Metal Gear Solid: Integral, which had a standalone release in the US and PAL territories.
Given that we went hands on with the Switch version of the collection, it might have also been a more intriguing proposition had it been a port of the GameCube-exclusive Twin Snakes, rather than the PS1 original.
But as a definitive collection, which also includes the original 8-bit Metal Gear titles, as well as Snake's Revenge – a non-canonical NES sequel made without Kojima's involvement – it makes the most sense to include the first three MGS titles in this first volume, even if prequel Snake Eater throws a spanner into the series' chronology.
While having a whirlwind tour of each part of the collection means we can't yet go in-depth into how each title feels to play, it's still interesting to appreciate the series' evolution, going from the PS1 debut to PS2's Metal Gear Solid 2 – an obvious leap graphically but also in terms of gameplay options, such as the ability to aim and fire your weapon in first-person mode.
Meanwhile, the Cold War-based third game, Snake Eater, developed more complex systems such as camouflage and having to hunt and eat, which laid the foundation for survival games. The version in this collection is based on the Subsistence version, which showed what a difference having a controllable third-person camera on par with most modern third-person games can have.
Besides the ability to play in handheld mode (arguably in better circumstances than 2012's Snake Eater 3D on 3DS), the Switch version does feel like the more attractive and novel option, devoid of the baggage of the other HD ports already existing on the platform in some form.
After all, the HD remasters of Metal Gear Solid 2 and 3 can be played on Steam and Xbox (via backward compatibility), even if those versions have since been delisted owing to expired licensing around the use of 'historical archive footage'. But even for disgruntled fans who feel like they have to buy a copy again, there's still lots of generous bonus content that makes this feel like a definitive collection.
For example, you can access the screenplays and Master Books for all three games, which feels like a dream for any Metal Gear nerd to pore over in detail, preferably while sticking on a playlist of the game's soundtrack.
Then there's also the digital graphic novels, also known in Japan as Metal Gear Solid: Bande Dessinée. These feature sound effects, animations, and music, but in their highest HD quality also have large file sizes.
Indeed, when you take into account that it's also possible to install different regional versions of each of the games, the Master Collection comes in at around 80 GB in total – in other words, more than a base Switch or even the OLED model can hold without a Micro SD card.
It's because of this that the Master Collection is deliberately compartmentalised, not just on the Switch but other platforms too – there's an app icon for each MGS game, an app for the first two 8-bit Metal Gear games together and then one for all the other bonus content.
Essentially, instead of having the whole collection as one 'game', everything is installed as an individual title with its own game icon on the Switch, which makes sense given that it's going to be possible to buy each game individually as well. We're also told that the physical Switch game card will come with the first Metal Gear Solid and bonus content such as the 8-bit games, but the other titles will need to be downloaded.
"Essentially, instead of having the whole collection as one 'game', everything is installed as an individual title with its own game icon on the Switch, which makes sense given that it's going to be possible to buy each game individually as well."
Naturally, bonus materials like the Master Books and screenplays are also accessed in the menu of each respective game, but to keep storage sizes down, the game it installs is for your default region. This means PAL users can still experience the Japanese or US versions of the games, but these versions have to be downloaded as free DLC.
While this sounds a bit messy having to navigate through multiple game icons rather than going through the collection as one package, it's a practical compromise for Switch users constantly budgeting storage space who may not need to have everything installed on their console.
While this may be looking like the definitive package in terms of the wealth of content on offer, there's still the caveat that you're not going to get a completely modern, improved experience across the board. The first Metal Gear Solid still runs at 30fps, while we encountered frame drops in Snake Eater the moment we ran through a grassy section of the jungle.
In any case, we're pleased that you still have to manually save via the Codec, because if you're not stopping to listen to Mei Ling give you advice through proverbs taken from Lao-Tze or Shakespeare, have you really played Metal Gear Solid?
One question Konami didn't answer for us was just how Switch players will be able to defeat Psycho Mantis in handheld mode. In any case, with the Master Collection arriving on October 24, we won't have too long to find out.
Related Products
Other Products
Some external links on this page are affiliate links, if you click on our affiliate links and make a purchase we might receive a commission.