Preview: Is EA Sports FC 24 a career resurgence or a farmer's league cash-grab?
New name, same game? VGC goes hands-on with the FIFA successor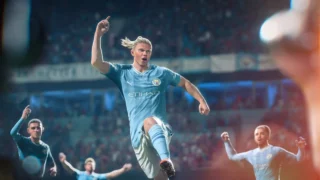 FIFA is dead, long live FIFA.
While the iconic footballing series will likely live on in a Gianni Infantino-led fashion that's sure to be "the best e-game for any girl or boy," the EA Sports take on the franchise which has routinely topped the charts and destroyed the controllers of millions is done.
Enter the publisher's new football brand, EA Sports FC, which is bringing a lot of what made the FIFA series the household name it is, but isn't shy of trying a few new tricks in what is sure to be a difficult first season at a new club.
Our demo featured a match between PSG and Manchester City, two of the world's most star-studded clubs. Fresh off a historic treble-win and a record-breaking first season, Norwegian Viking-come-striker Erling Haaland takes centre stage as the game's cover star.
The first thing we noticed is that EA FC is primed to show off exactly what EA has always nailed, regardless of how you feel about the on-pitch action – the off-pitch theatrics.
The presentation is excellent, featuring all the pomp and circumstance of a big Champions League match accurately recreated (apart from City fans booing the Champions League anthem.)

So far, EA FC 24 feels fast, frenetic and exciting. There's a real snap in the players' momentum when a ball breaks and a counterattack is mounted. Just like when you watch the real sport and you see the entire team lock into a sprint, one they've practiced billions of times, that's been recreated.
When we got the ball with Kevin De Bryune in the midfield, just like in real life, Haaland broke into a ridiculous sprint, shouldering away the world's top defenders, waiting for that perfect through ball.
Mbappe was causing absolute chaos down either flank or in the middle, giving our City center-backs a full-time job trying to keep him even slightly at bay. The excellent players felt excellent.
There's been a tendency in previous titles to dull the shine of the world's greatest so that they can compete with their less-than-talented opponents. But from what we have played, that's gone.
It doesn't seem like Harry Maguire will be catching Mbappe in EA FC 24, basically.
Hypermotion technology, which was introduced into FIFA in its transition to the current generation of consoles, returns under a new form. This animation system has always been a sore spot for the community.
While the advantages it gives to the way the game looks are unquestionable, in FIFA 23 there were serious issues with it causing input delay. This leads many in the professional scene to play the PS4 version of the game, such are the fractional margins that high-level FIFA operates on.
We're in two minds. Football is a clumsy game. It's imprecise. Take Erling Haaland's obscene volley/drop kick from the Champion's League earlier this year.
That kind of thing only really happens when you build a system where players have essentially endless animations to react to situations like that. While the canned animation system of the old games is probably better for a fully arcade experience, the additions to Hypermotion do make the players look and react far more realistically.
EA is well aware of the skepticism around the responsiveness of its previous football title. During a producer presentation for the game, the responsiveness of shots was described as "a high priority". In a comparison shown between EA FC 24 and FIFA 23, there was a large difference in the time between an input being registered and a shot being taken.
This is something we felt in action while playing the game. Those all-too-familiar moments when a striker would be barreling down toward goal, only for the keeper to scoop the ball up before the animation for shooting could register are gone. That alone is maybe the biggest gameplay change to the franchise in 30 years.

It feels strange writing a preview for a game with such a gaping hole at the center of it, that being the ever-present Ultimate Team, which will return in EA FC 24. From a fundamental standpoint, however, the game seems to be on the right track.
There is some sense that this year will see a huge amount of transition, with a significant number of mechanical changes that'll be refined in a year's time, but it's a great start from what we've played. It both feels like FIFA 24 and doesn't at the same time, which feels like the perfect balance to us.
But the real question is, with the reins now off and FIFA's control over the franchise gone, what does EA have up its sleeve to breathe new life into gaming's cornerstone sports franchise?
Related Products
Other Products
Some external links on this page are affiliate links, if you click on our affiliate links and make a purchase we might receive a commission.