Forza Motorsport has the potential to be this generation's best racer
Full impressions from Microsoft's latest preview version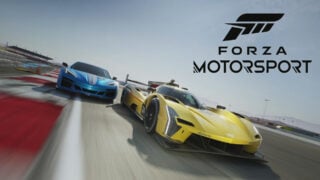 The Forza Horizon games make it easy to forget that it's been some time since the so-called 'main' Forza series has had a new release.
Although the brand always feels present and accounted for, the Forza Motorsport series used to get a new game every two years. It's now been six since the last entry, Forza Motorsport 7, arrived on Xbox One. In that time we've had two new Forza Horizons, two Gran Turismos and a bunch of other realistic racing titles, all competing for pole position.
Next month, after the largest gap between games by far, developer Turn10 will return with the eighth in the series, which is simply called Forza Motorsport. It's a title that suggests permanence – we almost certainly won't see another one in two years, and there's a chance this may be the only Forza we get this generation, one that will be continually built upon with regular car, track and feature updates.
As Halo Infinite has shown, plans like this can take a serious dent if the initial reception at launch is underwhelming. Ever since the first Forza was released back in 2005, however, there hasn't been a bad game in the series, and after playing the opening section of the latest instalment we doubt this will change.
The preview code we've had access to opens with an intro that lets us play through two tracks – the picturesque mountain course in Maple Valley and the cherry blossom themed Hakone circuit in Japan – followed by a three-track Tour.
While that first part only happens once (meaning we only got a single crack at those two initial courses), we're able to keep restarting the Tour, meaning we've been able to put in a few hours, albeit slightly repetitive ones.
Video preview (with gameplay footage):
Obviously, one of the first things that struck us about the new Forza is just how good it looks. This is a serious contender to the title of best-looking racing game of all time, and while we have no doubt the Forza vs Gran Turismo arguments will swamp social media upon the game's October 10 release, on its own merits the Xbox exclusive looks extraordinarily detailed.
The Xbox Series X version offers three different graphics modes. Performance is the default and the one most players will likely use – it promises 60 frames per second at 4K resolution, and though we're not the type of publication that counts individual frames we've seen nothing during our playthrough to suggest this wasn't being achieved at all times.
Performance RT is the second graphics mode, and as the name suggests it turns on ray tracing – whereas Gran Turismo 7 doesn't feature ray tracing during actual gameplay, Forza does, and at 60fps too. Naturally, there has to be a compromise somewhere, and in this mode it's resolution. The game will dynamically drop down from 4K to a lower resolution when it all gets a bit too much, ensuring the frame rate at least remains consistent for a smooth race.
If, on the other hand, you want the most beautiful racing game around and don't care so much about frame rate, the third graphics mode – simply titled Visuals – is the one for you. This turns on ray tracing and keeps the resolution at 4K, but drops the frame rate to 30fps to make sure the game remains stable. We'd recommend one of the other two modes: frame rate is very important in a racing game, and the resolution drops in Performance RT mode really aren't noticeable at 180 miles per hour.

Naturally, the Series S version doesn't quite boast the same level of graphical fidelity, but it's still certainly no slouch. There's no ray tracing here, meaning you get just two graphics modes, which will be more familiar to most players: Performance gives you a solid 60fps with variable resolution, while Quality locks the game at 30fps and maximum resolution. We'd recommend Performance mode on Series S, because during our time with it the frame rate was a solid 60fps with no meaningful drop in picture quality.
Although we were only able to play a single Tour with three races in it, we were still able to get a rough idea of how Forza's single player career mode, Builder's Cup, will work. Levelling up is the order of the day here, and each car starts at Lv 1 when you get it. By using each car in races and practice laps you can level it up which, in turn, unlocks new tuning parts for that specific model.
If you're a petrolhead you can tweak these manually, and if not you can get the game to automatically pick what it thinks is the best setup for your car. Either way, the result is the same – the more you level up your car, the more oomph you can get out of it.
The decision to let players unlock tuning parts through gameplay will certainly strike a chord with Gran Turismo 7 players, who know all too well the hell of spending all their hard-earned credits in the Tuning Shop.
"The decision to let players unlock tuning parts through gameplay will certainly strike a chord with Gran Turismo 7 players, who know all too well the hell of spending all their hard-earned credits in the Tuning Shop."
Car XP isn't just gained from winning races, it's earned through your actions on the track too. Each turn you take is graded out of 10 and earns you XP, meaning if you approach it with a solid racing line and accelerate and brake at the right moments, you'll get a higher score and earn more XP as a result.
As such, even though the Cup we played forced us to drive some practice laps before each race, the fact that every corner in these laps is grading you and earning you XP means these don't feel like meaningless filler, but instead are excellent opportunities to level your car up quicker without other opponents getting in the way and putting you off your racing line.
Once you do get on the track, the XP system should also (in theory) do a good job of eliminating one of the most common complaints about games like this, the fact that dangerous driving often goes unpunished. If you go off the track during a turn you'll instantly get a rating of 1/10 for that section and earn no XP, meaning players who want to level up their cars quicker will want to play by the rules.

Although most of the game is greyed out in our preview code, we can at least see 20 separate Tours in this Builders Cup career mode at launch, with the game's tutorial voice assuring us that we should "check back regularly, as new tours with new rewards are released on a regular basis". Although we couldn't choose any to see what they entail, some of their names – German Rivals, Super Sedans, Retro Tuners – should give you some idea of what to expect.
It remains to be seen how long this Career mode will last in full, but given that you can replay Tours and level up each car. It seems that the game is designed with replayability in mind – we're already part excited and part terrified at the prospect of trying to level up each of the game's 500+ launch cars before we consider the game fully complete (and that's not taking the inevitable procession of DLC vehicles into account).
It's not yet clear if cars can be levelled up during online multiplayer races too – our preview code is single-player only – but that would help if so.
With a month to go, then, the signs are promising. This has been three times longer than Turn10 has ever spent between Forza Motorsport releases, and the short taster we've had so far has us itching to get our hands on the final product to see how that extra development time has been spent. This could just be the racing game of this generation – time will tell.