Xbox is in its best-ever fighting form, but its opponent didn't show up
It might suit Sony, but the E3 no-show doesn't help gaming's larger war for mainstream attention
Jeremy Peel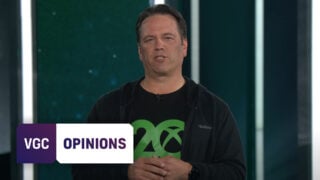 One of the less seismic consequences of Microsoft buying Bethesda has been a consolidation of E3 shows.
Where once each company was responsible for a highlight of the event's presentation calendar, the pair now share a slot. In summer blockbuster terms, it's as if Marvel and Fast & Furious pooled their talent for a crossover movie: fewer hours of fun overall, but you're guaranteed stars from start to finish.
Any worries that Bethesda's second billing would mean a more muted showing from Pete Hines and co. were quickly dispelled. Microsoft gave its new acquisition the top and bottom of the show, with Starfield and Redfall respectively, knowing that these slots are the ones that stick disproportionately in viewer memory.
This was no act of charity: Bethesda is that rare publishing label with a roster of studios recognised and beloved by players and critics alike. Even a brief cameo from Todd Howard, sporting an executive-level sweat jacket rather than the customary leather, triggered a wash of classic E3 announcement memories. Xbox is more than happy to unfurl that nostalgic elder scroll for its own benefit.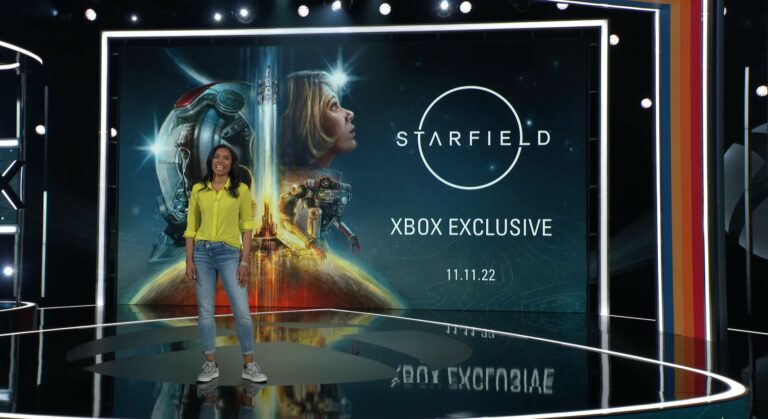 Yet there's also a fitting thematic throughline here, of bruised companies fighting for their comeback. As nobody needs telling, Xbox is now emerging from its toughest period since the launch of the brand.
Having tripped at the starting line with the Xbox One, it's had several years to analyse its mistakes and learn humility. While Sony has built its walls higher, hoarding its riches, Microsoft has embraced cross-play and affordable ways to access its game catalogue. In short, it's made a virtue of second place, setting itself up for the future.
It's a narrative Bethesda Game Studios will be hoping to mimic. Fallout 4 might have been an extraordinary success, but it was built on rotten beams, reliant on creaky old mechanics from the noughties. The foundations finally crumbled with Fallout 76, where underbaked online systems met series fatigue, resulting in an embarrassing launch, and a Metacritic average stuck at 52%.
"While Sony has built its walls higher, hoarding its riches, Microsoft has embraced cross-play and affordable ways to access its game catalogue. In short, it's made a virtue of second place, setting itself up for the future."
The grounded, tea-stained 'NASA-punk' of Starfield's trailer – as well as the introduction of Creation Engine 2 – suggests BGS is finally laying fresh concrete. Its next game will be rooted in hard sci-fi and the deep character roleplay Fallout has progressively left behind, a move that could see the studio earn back the trust of hardcore RPG fans (Howard told The Washington Post to expect "Skyrim in space").
The rough road BGS has to walk is nothing compared to the pockmarked Pripyat streets Stalker 2 has travelled to release. Few developers can claim to have completely disbanded during the course of development, as GSC Game World did back in 2011. Famously, the core team of the original Stalker went on to form 4A Games and make the Metro series.
When GSC started again from scratch, nobody dared to hope for results. And so seeing actual footage of a player facing down monsters and anomalies – as opposed to the pie-in-the-sky CG trailer shown at last year's Xbox showcase – is frankly a shock. It's confirmation of a working game where before there were only aims and assurances.
In the wake of Starfield and Stalker's reveals, a parade of would-be comeback kids followed: Turtle Rock, still hurting from the server-death of Evolve and looking to reclaim Left 4 Dead's legacy; Battlefield, working up a weather front of sufficient noise and fury to challenge Warzone; Halo Infinite, still battling the backlash of 2020's showcase.
After Halo fans bounced off Infinite's toy-like aesthetic, Microsoft installed Bungie veteran Joseph Staten as a new public figurehead. We suspect Staten hasn't actually found much to change in his role as Halo Infinite's head of creative – he played through its campaign twice during his first week on the job, and was "stunned in the best possible way".
But simply putting Staten on stage, and not Craig the Brute, has turned out to be enough – the infusion of classic Bungie cred and a moodier lighting treatment silencing the haters. It helps that the vertical mobility of Halo's multiplayer slots nicely into a shooter zeitgeist shaped by Apex and Doom.
It wouldn't be accurate to say that Arkane, too, is fresh from failure. The Dishonored and Prey studio has never put out a game that wasn't critically acclaimed. But Bethesda has been patient amid financial underperformance, knowing that it has one of the world's most talented developers on its payroll, and that a mainstream crossover hit would surely come.
---
Xbox and Bethesda E3 2021 news
---
Redfall may well be that hit – and its placement during the final five minutes of the show says plenty about Microsoft's own commitment to Arkane. There's clear commercial potential in the game's premise of co-op vampire disposal, its wisecracking team dynamic, and Fortnite-friendly look.
Yet the muttering of the cast's resident lorehound, cryptozoologist Devinder Crousley, hints at academic depths more in keeping with Arkane's tradition of meticulous worldbuilding. It's a shrewd balance – though an Arkane creative director recently described its work as cuisine rather than fast food, Redfall appears to be coated in ketchup.
The Xbox and Bethesda showcase, then, fought a battle against public opinion; the deep-seated perception that Xbox isn't quite capable of turning all that brand loyalty and studio talent to its advantage. And in that struggle, it seems to have finally won.
Notably absent, however, is Sony. Microsoft's old enemy is rumoured to be holding its own showcase in a few weeks' time. It might suit the belt holder not to show up to the bout, but the no-show doesn't help gaming's larger war for mainstream attention.
E3 only works when the whole industry shouts at the same time, turning the heads of the mainstream and bringing new audiences to the medium. Without that collective effort, it's simply the background mumble of restaurant noise. Let's do it again properly next year.
Related Products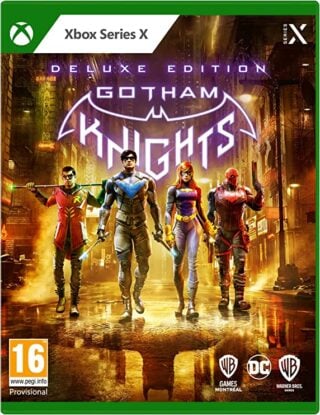 Gotham Knights - Deluxe Edition (Xbox Series X|S)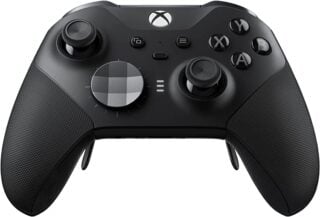 Xbox Elite Series 2 Wireless Controller
God of War Ragnarök (PS5)
Other Products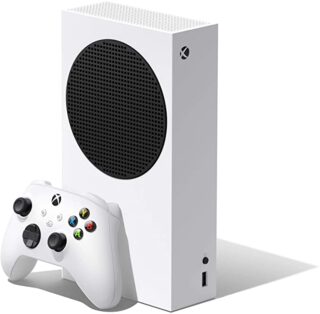 Xbox Series S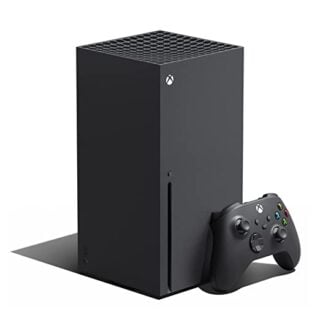 Xbox Series X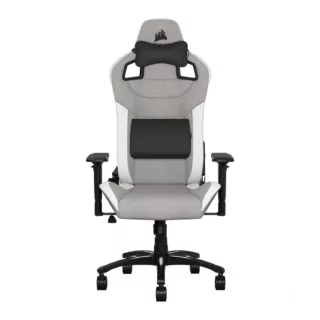 Corsair T3 RUSH Gaming Chair

£249.98
Some external links on this page are affiliate links, if you click on our affiliate links and make a purchase we might receive a commission.