Remembering the time I met Shigeru Miyamoto on the Tube as a teenager
How a fake ID, oversized shirt, and a chance encounter changed my professional life
Andy Robinson
The time I met Shigeru Miyamoto on the Tube is undoubtedly my strongest dinner party anecdote.
It's also the moment that undoubtedly rubber-stamped my commitment to working around games, as a 14-year-old meeting their hero on the Circle Line tends to do.
And so none of my dinner guests have to suffer through this story ever again, here it is in black and white.
The background is this: The European Computer Trade Show (ECTS) was an annual games industry event in London, which ran between 1988 and the early 00s. The event was only open to industry professionals… and teenagers who knew how to grow stubble and register a website domain.
The 2000 event, which took place in September of that year, featured an irresistible line-up from Nintendo in particular. The Game Boy Advance, fresh from its global reveal at Tokyo's Space World a week earlier, was playable for the first time outside of Japan.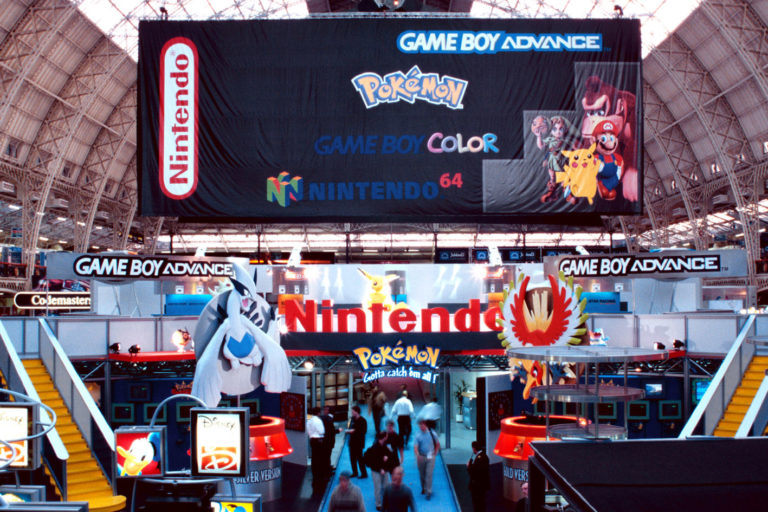 Nintendo's giant booth also featured playable demos of big first-party games including Conker's Bad Fur Day, Zelda: Majora's Mask, Dinosaur Planet, Banjo-Tooie, Mario Tennis and Pokémon Gold and Silver.
Basically, if you were an adolescent N64 owner who fancied their ability to print a business card and purchase an oversized shirt, it was definitely worth a punt trying to get in (which I did).
For a boy, the experience of being around a professional games trade show was overwhelming. Not just because of the exciting unreleased games lined up to play, by also the mystique of behind-the-scenes offices and the unseen work required to bring Conker and co to life.
The experience profoundly affected my desire to pursue a journalism degree and cover games professionally. But little did I know, the journey home would be even more impactful.
Now. Imagine you're 14. You have posters of everything vaguely Nintendo related plastered on your bedroom walls – even Buck-bloody-Bumble – and regularly share Zelda theories on various Geocities gif-holes. And then you turn right down the train platform to see this: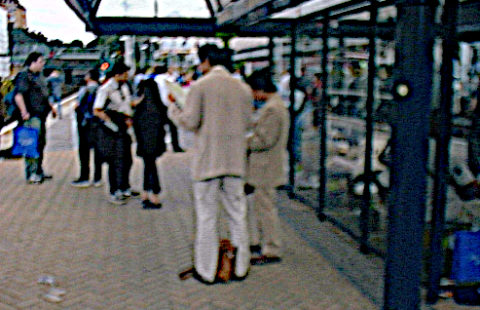 (Yes, I had an awful camera even for the year 2000).
In all honesty, I think it was pure luck that my interaction with the man behind Mario didn't end there. There's no way this awestruck teenager had the courage to approach him – especially because of the small risk he might grass me up to the ECTS registration team.
Luckily London Olympia operates on a sort of offshoot Tube line which requires a change of trains after just a few stops. After several minutes of gawping at Miyamoto-san, we were soon booted from the carriage and onto the platform where – incredibly – it was virtually only me and the Zelda designer left waiting for the next Underground service.
Even his travel partner, Nintendo's legendary communications director Yasuhiro Minagawa, bid his colleague farewell and departed the station.
Noticing my attention (probably not the first time: my stare was that of a wild animal at this point), Mr Miyamoto asked if I'd been to the show. I don't remember what I said, but I seized the opportunity to have him scribble on the only thing I had on hand at the time, and in my excitement smudged it a bit.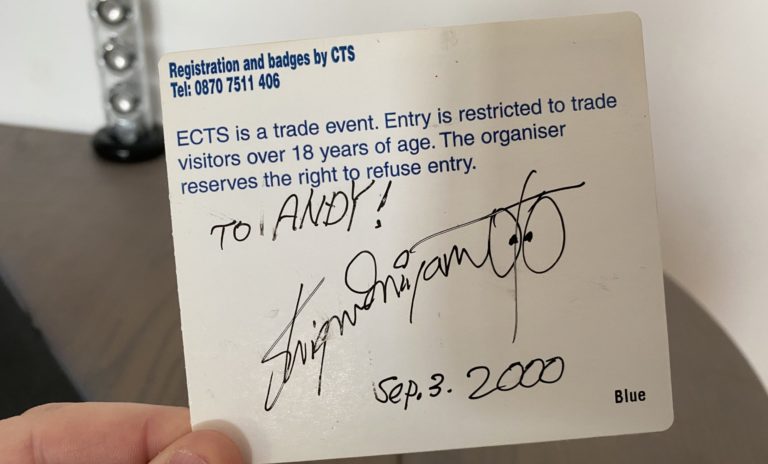 At this point, I was simply satisfied to have met the man and minted the world's most valuable fake press pass. But the experience became even more surreal when an utterly empty train carriage rolled up, and I was effectively sealed in with the guy who made all the things I love for over 10 minutes.
For those old enough to buy cigarettes it wasn't, in all honesty, a riveting conversation but I cherished the exchange anyway. Miyamoto asked me about the Game Boy Advance, which was being promoted for the first time that week, and if I'd played its Mario Kart demo (I hadn't: the queues were enormous).
I remember asking about the GameCube console, which had been unveiled a week earlier, and if he'd completed work on a Mario title for the console (no software had been announced as yet). He said he hadn't, and the small talk continued until we commemorated the meeting with the world's blurriest photograph and Miyamoto-san said his goodbyes.
I wouldn't be surprised if he was switching to the train behind.

In the following decades, I've been fortunate enough to have encountered Miyamoto-san a few times during my career as a reporter – and thankfully I'm a bit more professional these days. Or so they tell me.
It would be a cheap thrill to one day ask Miyamoto if he remembered that exchange in London 20 years ago. However, I imagine bumping into awkward fans on transport networks isn't exactly a novel experience for the legendary games designer.
But who knows, maybe I'm one of his lower tier dinner party anecdotes. Stranger things have happened.
Related Products
Other Products
Some external links on this page are affiliate links, if you click on our affiliate links and make a purchase we might receive a commission.