Analysis: Game Pass's day one content is building, but third-party giants are missing
Certain types of day one games are particularly suited to Game Pass, and some remain out of reach
Piers Harding-Rolls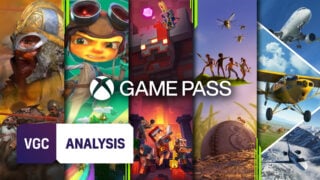 Ampere is a market-leading data and analytics firm focusing on TV, video-on-demand, games, telecommunications, as well as content production and distribution.
Xbox Game Pass is the spearhead of Microsoft's growth strategy for its Xbox business as it seeks to expand beyond the console. To maintain engagement and grow the service from 20 to 50 million subscribers, it needs to have a constant flow of fresh and appealing content in the pipeline.
A large majority of Xbox Game Pass subscribers are console players, but as the service scales beyond consoles, it increasingly competes for wallet share with other mainstream entertainment subscription services, and mobile and PC games not available on Xbox.
Microsoft has grown its internal studio count and is targeting a new first-party release every quarter which will go straight into Game Pass, but it still needs to rely on signing appealing games from third-party developers and publishers. This will help diversify the content offering, broaden its appeal, and maintain the rotation of new content entering the service.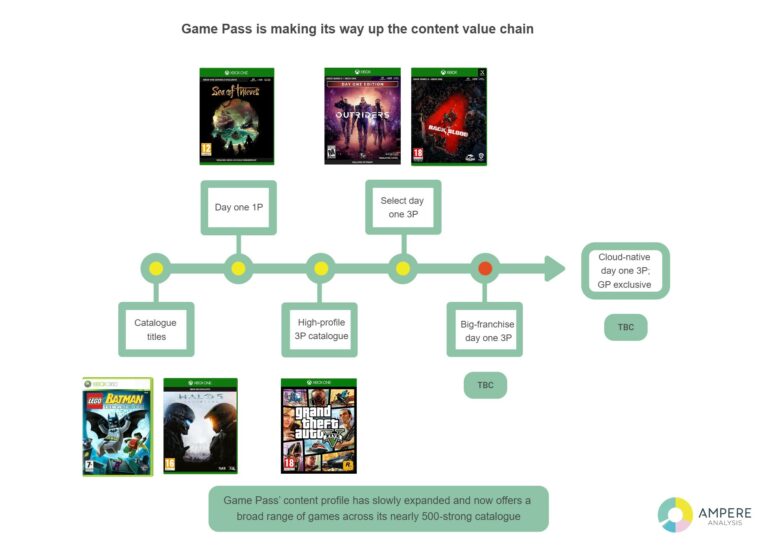 At present, Microsoft is successfully pursuing a Game Pass catalogue strategy that combines older titles, all the new releases from its internal studios, and select day one releases from third-party publishers. Most interesting is how day one (inclusion on the day of release) third-party games are being selected and increasing in number as the service has scaled.
Microsoft's E3 showcase revealed not only an increasing volume of day one third-party releases coming in 2021 and 2022 but also an impressive cross-section of games. Most of the day one releases in the pipeline come from smaller developers and publishers, those that are likely more swayed by up-front payments that are on offer.
Microsoft's efforts to convince third-party developers and publishers to commit new releases to Game Pass have been gathering momentum, partly due to the scale of the service, but also because of the work the company has done to track premium sales performance of games included in Game Pass.
"Certain types of day one games are particularly suited to Game Pass – generally, those that benefit more from a ready-made audience compared to just competing with other premium releases in the Microsoft Store"
Additional work on understanding the buying behaviour of Game Pass subscribers is also adding credence to the day one release strategy. Alongside an engaged audience, Microsoft has other benefits it can offer to third-parties including co-marketing arrangements to drive additional premium or in-game sales outside of Game Pass.
Certain types of day one games are particularly suited to Game Pass – generally, those that benefit more from a ready-made audience compared to just competing with other premium releases in the Microsoft Store. These include games based on new IP, smaller independent titles, those that are service-based and monetise in-game, online multiplayer titles, or those that might struggle to gain exposure versus the biggest AAA games.
But according to Ampere's scale of content evolution within Game Pass, there are still types of games that remain out of reach for Microsoft. These are the biggest AAA titles that are either too expensive to sign or are not considered candidates for games subscription services by the publishers in question.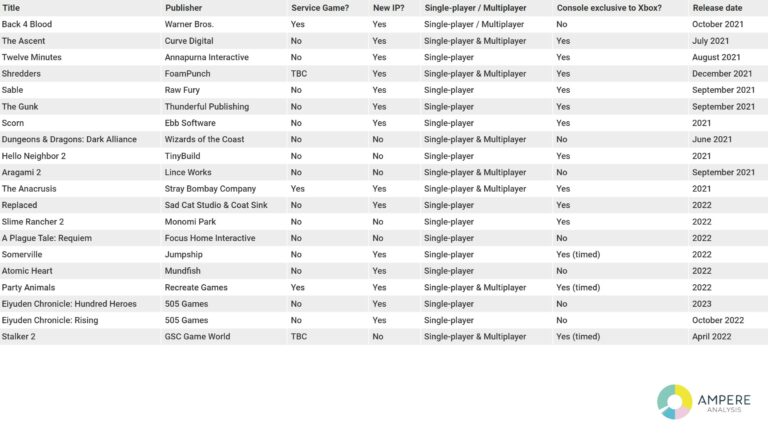 The inclusion of MLB The Show 21 is arguably the closest Game Pass has come yet to having a day one, big-budget game based on an established franchise enter the service.
But there were specific conditions that made the inclusion of this live service game make sense. Having been exclusive to PlayStation platforms in the past, this is the first time MLB The Show has come to Xbox, so exposure to a broad audience at launch was very appealing especially with included in-game monetisation.
It could be that a combination of AAA, day one releases from Microsoft (including Bethesda) and 'lesser' third-party games will be enough to maintain engagement and drive interest in Game Pass.
Looking to the future, as Microsoft builds out its plans for cloud-native games, this could emerge as the next major milestone for the company as it seeks to maintain momentum and scale Game Pass to much higher numbers.
Related Products
Other Products
Some external links on this page are affiliate links, if you click on our affiliate links and make a purchase we might receive a commission.