By default, Ubisoft won this week's best 'live' conference
The in-person showcase added a welcome human touch to an increasingly sterile digital landscape
Tom Regan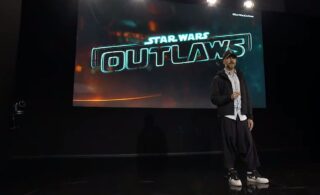 For those of us who look forward to the traditional E3 period, it's been slightly gutting to witness gaming's summer festivities wither over the Pandemic-induced stresses of recent years. Yet if you've just started tuning into 2023's Summer Games Fest, you might not have noticed.
Following Thursday's predictably unhinged Devolver Digital direct and a refreshingly old-school conference from Microsoft on Sunday, Summer Game Fest began to feel a little bit more like the E3 we all know and loved.
Today the conference baton was passed to Ubisoft, who decided to look to the future with its own Direct-style address, Ubisoft Forward. The result? Something that felt like a bizarre blend of previous Ubisoft E3 showings, for better and worse. Still, there's one category that Ubisoft wins by default this year: the best properly live conference.
Unlike the endless green screens and trailers pouring out of the void, Ubisoft continued its tradition of hosting its announcements in front of an LA audience, adding a welcome human touch to an increasingly sterile digital landscape.
It was a pleasing throwback to the days of yore, even if the cheers from the crowd couldn't save the quite odd live stream experience, which didn't seem to capture the full context of what was happening in the room (I couldn't even tell if the Just Dance troop were performing in the room or not).
Things started off promisingly enough, kickstarting the hype machine with an impressive showing of Avatar: Frontiers of Pandora – complete with an unexpectedly stern-faced monologue from none other than James Cameron.
Following the Oscar-winning director mumbling about the importance of this game he probably hasn't played, we were swiftly treated to an extended demo of Avatar, showing off a truly gorgeous open world adventure that felt distinctly like the films it draws from, but also naggingly like your classic Ubisoft open world.
No matter how you feel about the intriguing collaboration though, what I am lovingly calling 'Blue People Far Cry' was given a surprise end-of-the-year release date, making it comfortably the biggest post-Starfield release of 2023. Kudos to Ubisoft.
Next up was arguably the biggest underdog of the event. Following an impressive trip to Pandora, The Prince of Persia game that took a kicking from seemingly the entire internet last week defiantly returned to meet its bullies. Despite Summer Game Fest's icy response, today the reboot from Rayman creators Ubisoft Montpellier fared far better.

While its clearly traumatised demoer appeared to brace himself for the criticism to come, this showing suggested a sidescroller with far more personality than its debut, with some intriguing time travel mechanics and combat nuances redeeming it significantly. Sure, the art style is still a little bland, but considering the undeniable quality of Montpellier's two Rayman titles, The Lost Crown has surely earned a gaming leap of faith.
Speaking of which, Ubisoft's hooded heroes were also predictably back with a vengeance. From a pre-rendered tease of an all-new VR experience, and a lengthy Mirage demo to a mobile Assassin's Creed set in China, the Animus was alive and well, if not exactly in exhilarating form. We're sure the shareholders are pleased, at least.
The rest of the conference felt akin to a muddled fever dream. Where once Ubisoft represented the bold face of a new generation, today's showcase saw its previous lust for new IP dissolve into a safe parade of familiar faces.
From a middling-looking new entry in The Crew franchise, to a Division mobile title, what could have been an exciting reintroduction to a painfully delayed console generation instead felt more like a box-ticking exercise.
Still, Ubisoft did its very best to convince the world that two of its longest-running projects are still real. Over the past decade, Ubisoft has also slowly established itself as the master of vaporware, being the publisher behind both Skull and Bones (first revealed in 2017) and Beyond Good And Evil 2 (2008).
While I'm pretty sure that Beyond Good and Evil 2 is actually some kind of government psyop, Skull and Bones half-heartedly raised its tattered flag and sailed its way onto the stage.
Reintroduced by an eyebrow-raising live band – seemingly fronted by an out-of-work Leonardo Dicaprio – a bizarre five minutes of folk, awkward smiling and faux Mongolian throat singing eventually led to the big date reveal… of a closed beta arriving in August.

Thankfully, Ubisoft saved its best for last, debuting the gameplay of the title it kindly lent Microsoft a day earlier. Star Wars: Outlaws' Xbox reveal was followed here with a lengthy look at the heist 'em up in action, ending the show on a hyperdrive-burning high.
Featuring stunning visuals and an authentically Star Wars UI, the winning original trilogy era setting and fan service locations lend fans a New Hope that this can deliver the first truly great open world Star Wars adventure. It certainly looked the part, with the Snowdrop-powered adventure providing some of the most impressive visuals of Summer Games Fest so far.
So, there were some real highlights during Ubisoft Forward, but overall it left the company feeling like one still in search of a new identity. In recent years it was, of course, embroiled in an alarming sexism scandal that seemed to tarnish the entire company, doubled down on its biggest existing IP, and hungrily chased genre fads (we're looking at you, battle royale).
The result is a publisher that feels like a Far Cry from the days when it frequently kicked off new console generations with confident original IP reveals like Watch Dogs and The Division. If there was ever a chance to show the world what a 'next gen' Ubisoft looks like, it was today. Yet in 2023 Ubisoft feels like a publisher still somewhat stuck between console generations.
Related Products
Other Products
Some external links on this page are affiliate links, if you click on our affiliate links and make a purchase we might receive a commission.