Analysis: PSVR 2 needs to reach the broader PlayStation audience
Sony's next-gen headset continues its existing VR strategy, but will launch into a different landscape with Quest 2 selling well
Piers Harding-Rolls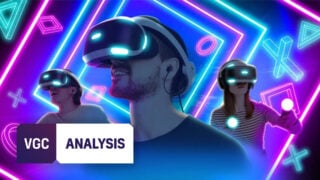 Ampere is a market-leading data and analytics firm focusing on TV, video-on-demand, games, telecommunications, as well as content production and distribution.
During its CES 2022 press conference, Sony revealed the specs of its upcoming PlayStation VR successor, the PlayStation VR 2 (PSVR 2).
The headset continues the same console-connected product strategy as the original PSVR but will offer inside-out tracking, 4K resolution, and an enhanced sensory experience enabled through 3D Audio, headset feedback, Sense controllers and eye-tracking.
At Ampere, we expect a launch window in Q4 2022, although with the unpredictable component supply chain environment at present, a 2023 release wouldn't be a surprise.
With PSVR2, Sony is continuing its existing VR product strategy. This peripheral is built to support the PS5 ecosystem in the same way the original PSVR supported the PS4.
While the original PSVR has seen less than 5% penetration of the PS4 installed base, the slowly growing popularity of VR means that PSVR 2 has a good chance to overhaul this performance.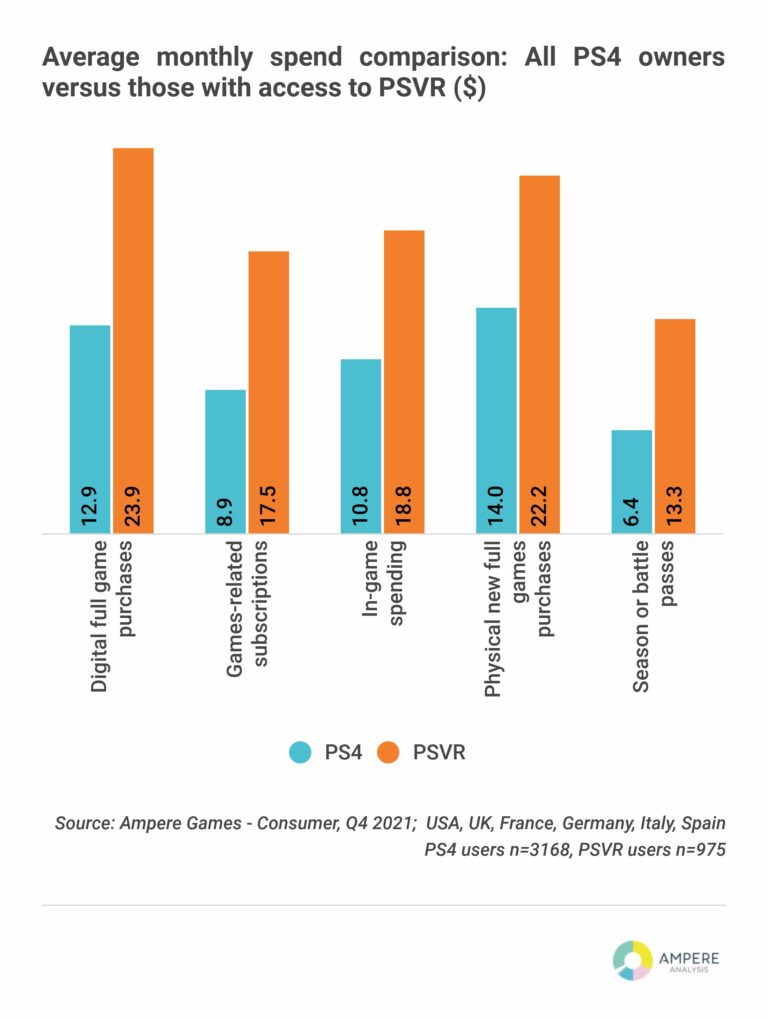 Ampere's consumer research shows that PSVR users tend to be more engaged and spend more than the average PS4 user (see above), so Sony will need to put together a package with PSVR 2 that reaches beyond this niche audience into the broader PlayStation user.
VR remains a worthwhile competitive differentiator versus Microsoft, which has yet to commit to VR with its Xbox consoles.
However, PSVR 2 will launch into a post-Quest 2 landscape, where the convenience of a standalone VR headset has driven noteworthy consumer adoption. While Sony aims to position PSVR 2 as a high-spec VR experience, by the time it hits the market there may already be a Quest 3 available.
Specs are comparable to market leaders
In terms of specs, the PSVR 2 will take advantage of the PlayStation 5's powerful hardware and looks set to compete with the leading headsets.
Compared to the Oculus Quest 2 – the current best-selling VR headset – the PSVR 2 is a step up: it has higher resolution, an OLED screen, and an improved field of view at 110 degrees.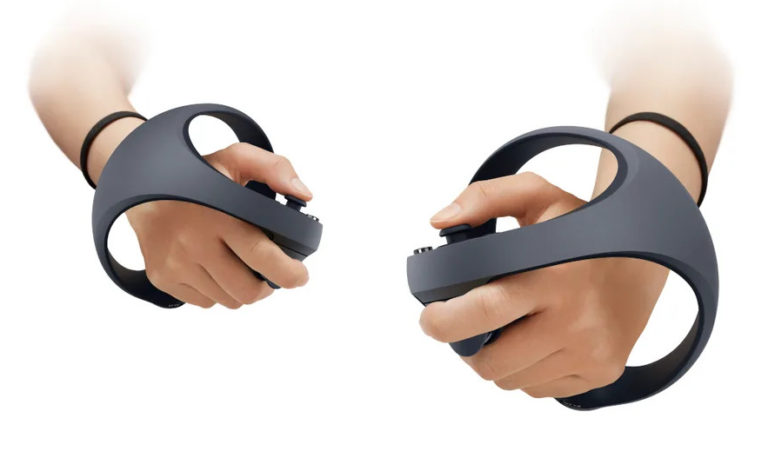 Although, with potentially a year or more until its release and competitor devices surely on the horizon, its specs needed to impress.
There is currently no indication of price – the PSVR launched at $399 and was deemed expensive considering its limited content library. It is likely that the PSVR 2 will carry a similar or higher price tag.
Rather than the high-end PC-based VR manufacturers, Sony's primary competition is Meta, whose headsets are competitively priced at around $300-400, and target the mass market.
Sony has a plethora of strong IP to leverage
Quality content has long been a pain point for VR enthusiasts.
Valve successfully tackled this with the release of Half-Life: Alyx, a critically acclaimed VR entry in the ever-popular Half-Life series that proved to be a huge hit among fans. It was a game-changer for many who played it, and used the VR medium to its absolute advantage.
The PSVR 2 ideally would have a similar system-seller; a familiar franchise to entice players in, and a transformative experience to cement the technology's merit.
Sony has already committed to bringing the world of Horizon to PSVR 2 with Horizon Call of the Mountain from Guerrilla and Firesprite. The game will be built from the ground up for PSVR 2 and will capitalise on the sensory capabilities of Sony's new technology.
Directing Sony's internal studios towards VR content will help support PSVR 2 sales but may also hand an advantage to a more competitive Microsoft in terms of non-VR first-party releases for their respective new consoles.
Sony's VR strategy helps ensure a seat at the metaverse table
The games industry has been rapidly engulfed by the grand notion of the metaverse and its various associated concepts. VR is often considered a key facet of the metaverse, as it acts as a facilitator of our individual representation in the virtual world.
Beyond simply browsing the internet, VR provides a level of immersiveness that could serve to replicate the 'realism' of our experiences in the physical world.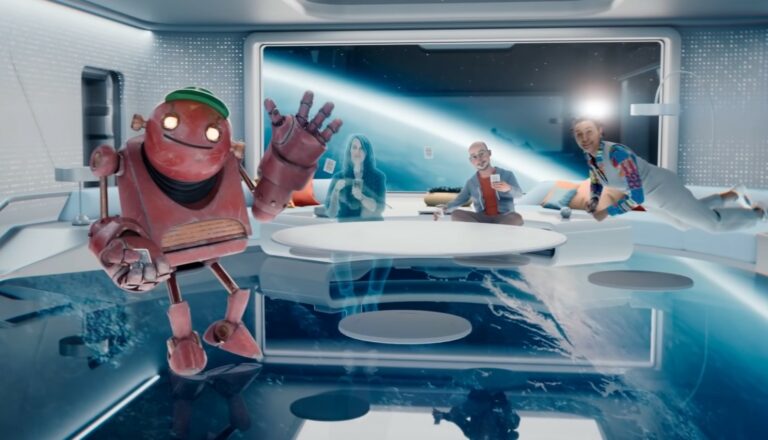 Many of the features of the upcoming PSVR 2 are designed to enhance the user immersion via multiple senses: predominantly hearing and touch. This focus on sensory experiences resonates with the concept of being able to live out our physical lives in a virtual universe; adequately and compellingly.
As such, in a world striving towards the metaverse, Sony may be perceived as positioning itself as a notable pillar in its realisation.
Related Products
Some external links on this page are affiliate links, if you click on our affiliate links and make a purchase we might receive a commission.