Hands-On: Metroid Dread shine(spark)s on the new OLED Switch
Footage and impressions from the first two hours of the game, played on the upgraded Switch hardware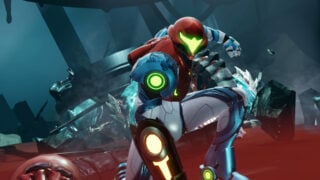 While everybody was focused on the seemingly endless wait for Metroid Prime 4, the decades-long absence of a new 2D Metroid instalment somehow got lost in space.
Thankfully, Metroid Dread feels like it will satisfy both fans of the 3D and classic series entries. Its cinematic presentation, which sees close-up camera angles merged with the traditional side-scrolling gameplay, is a level above anything we've seen in 2D Metroid before and the cut-scenes could be lifted straight out of Retro's first-person series.
Dread is set after the events of 2002's Fusion – which, incredibly, was the series' last new 2D instalment – and has Samus dispatched to the mysterious planet ZDR. The bounty hunter is here to investigate reports that the X parasite – the focus of Fusion – has re-emerged, and that a robot unit sent to investigate has since disappeared.
We recently played the first two hours of Dread and for those worried about spoilers, virtually everything we'll discuss and show here has already been featured in official trailers and demos.
Like Mercury Steam's previous attempt, 2017's Samus Returns, Dread feels great to play thanks to a slicker, more agile Samus. On top of her standard items and abilities, Samus can now slide, melee counter and manually aim her arm-cannon on the fly.
At first, balancing all of these abilities can be tricky, but once mastered navigating environments becomes a zen-like flow as you slide through gaps, punch through enemies and precision-shot blocks of scenery like it's second nature. This will feel instantly familiar to Samus Returns players, but it feels even smoother at 60fps and HD.
The key addition in Dread is the EMMI, the near-indestructible robots who gatekeep much of the game's unlockable abilities. The EMMI patrol certain areas of the map, indicated by special doors which they can't bypass themselves.
Once inside these zones, the EMMI will hunt you down in response to any noise you make, either by shooting or jumping, and if they spot you, a chase ensues. Being caught by an EMMI results in instant death (unless you can perform a VERY tough-to-time counter-press) and the only way to escape them is to somehow make it back into hiding, either by sprinting out of range or using a cloak ability.
The EMMI feel like a novel addition to the Metroid structure and are genuinely entertaining to evade. We only encountered two in our play session, but it's suggested that each EMMI will have a different style and ability, which should in theory keep them from growing stale.
The ultimate objective is to evade the EMMI long enough until you're able to obtain a temporary Omega Cannon ability, which can be used to aim in third-person and take them out permanently.
Our Metroid Dread session also marks the second time we've been able to play the new OLED Switch. Mercury Steam's game doesn't show off the new hardware's upgraded screen quite as well as the colour tour de force of Mario Kart 8 Deluxe or Zelda: Breath of the Wild, but it remains a striking upgrade for portable players.
Anyone who's upgraded their television to an OLED set will know what a significant improvement this kind of display is compared to a standard model, and Switch OLED represents a comparable upgrade over the original. If you're an avid Switch player who mainly plays in portable mode, quite simply you'll be wanting to upgrade to this.
Whether you actually will, considering the hefty $349.99 / £310 asking price and limited improvements beyond the screen, is a different matter. But it certainly feels like a meaningful improvement over the original model when it's in your hands.
Related Products
Other Products
Some external links on this page are affiliate links, if you click on our affiliate links and make a purchase we might receive a commission.