Interview: Respawn on how Jedi: Survivor expands on Fallen Order 'in every possible way'
VGC speaks to the game's lead producer and UI designer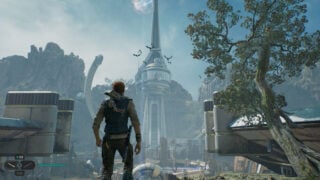 Star Wars Jedi: Fallen Order was EA finally getting Star Wars right.
Having acquired an exclusive license for console games set in the galaxy far, far away for a decade, as the terms of that deal began to elapse the monolithic publisher had little to show for it.
Two games in the Battlefront reboot series (the second of which was met with fury over microtransactions so industry-shaking that the company was forced to U-turn before the game was fully released) were joined – or rather, weren't – by a string of cancelled projects, including some from industry veterans, such as Uncharted lead Amy Hennig's Project Ragtag (which would also mark the death of EA's Visceral Games).
Enter Respawn – EA's premier studio, fresh off the success of its massive battle royale hit Apex Legends, which managed to stay the course in a market already oversaturated with unimpeachable giants like Fortnite. That's not to mention the Titanfall games, the second of which, despite conservative commercial success, was lauded for its extraordinary single-player campaign.
Jedi: Survivor poncho location | Jedi: Survivor blue battery doors | Jedi: Survivor green gates | How to change lightsaber color in Jedi: Survivor | Star Wars Jedi Survivor new game plus  | Star Wars Jedi Survivor bounties list
---
Led by God of War veteran Stig Asmussen, Respawn's Star Wars Jedi: Fallen Order was the story of Cal Kestis. A young Jedi who managed to escape Order 66, a mass slaughtering of all but a few Jedi by Emperor Palpatine in an effort to assume control of the galaxy.
Now a junker on a remote planet, Cal's latent powers reveal themselves to him, and the sinister Sith Inquisitors, who chase Cal across the galaxy in their quest to hunt down the last remaining Jedi.
A solid critical success and a massive commercial one, Star Wars Jedi: Fallen Order gave EA the Star Wars win that it had been looking for since it first took up the license after the Disney acquisition.
Now, four years and a global pandemic later, Respawn is back with Star Wars Jedi: Survivor, the continued story of Cal's journey to discover his place in a universe that has firmly rejected his kind.
Recently we had the chance to play around four hours of the game, our impressions of which you can read here. Soon after our demo concluded, we sat down with principal UI visual designer Daanish Syed and Paul Hatfield, lead producer at Respawn, to talk about all the ways Jedi Survivor evolves on Fallen Order's building blocks.
---
"I think Jedi Survivor is just an expansion of Fallen Order in every possible way," Syed told us. "In terms of the story and gameplay exploration, everything that we did and established in that game, it's blown out to the extreme."
Hatfield added: "Starting out the project, Stig (Asmussen, director of Jedi: Fallen Order and Jedi: Survivor) was very clear about the pillars that are important for the game.
"For the first game, it was more about the team mastering what we set out to do and building the team from scratch. We were learning and building the game as we went.
"So for the second game, it was like, 'okay, we learned a million things, we've heard so much feedback, we have internal feedback and player feedback. Let's put that all together and put a bow on it for the second go around'.
While Fallen Order was met with positive reviews upon launch and performed well commercially, some first-game awkwardness and missing quality-of-life features were near the top of fans' wishlists for the second entry.
We asked if there were specific pieces of feedback that stuck with the developers from the first entry.
"The concrete example is the map," Syed replied. "That was something we heard a lot of feedback about, so we put a lot of time into the new map, which is something I worked on closely. I think that's something people are really going to like."
Hatfield laughed. "There was so much [feedback], it's hard to really pin down. Fast travel is something that you guys have seen, and it's something we talked about a lot for the first project but ended up not using.
"Everything is a mix of player feedback and developer feedback. There were also some comments about the length of the first game and while for the second game, we didn't really set out to make the game 'X' hours long, we knew we wanted more. There's just so much stuff in there, it kept getting bigger and bigger."
"For the second game, it was like, 'okay, we learned a million things, we've heard so much feedback, we have internal feedback and player feedback. Let's put that all together and put a bow on it for the second go around'."
And bigger it is. In our preview, we noted how the game feels more like the third entry in a series, rather than a sequel. We wondered if there was any danger of Respawn attempting too much at once.
"I don't think so," Syed answered. "We had so many great ideas left over from the first game in addition to the new ideas that we came up with for this game. We wanted to make it as big as possible. All the things we could do, we want to do."
"Each department had its bucket list, things they left on the table from the first game that they wanted to expand," Hatfield added. "In terms of something like combat, we wanted to make that bigger and better and more polished. That was a big thing for the combat team.
"We use the term 'jank' internally for stuff in the first game that doesn't work perfectly like we want to, for this game, we wanted to kill the jank and make it polished.
"It's always a balance of making sure your scope is in check, and that you can polish everything, but also making sure that everyone gets to execute on their bucket list. It's hard to strike that balance, but I feel really good about where we ended up with it."
"Stances are a good example of that," Syed explained. "I think Stigg mentioned that a full dual stance was planned for the first game, but we ran out of time, so in Survivor the five stances are so integral to the game, and they were something we really wanted to do."
Our demo took place around an hour into the game, and even that early it felt like there was a huge amount of content and side stories opening up to us, a far cry from the first game's linearity.
We asked how Respawn intends to make sure that players are gently funneled and introduced to all of the game's concepts without it feeling like one long tutorial.
Syed replied: "I think the key is to make it integral to the flow of the story. So you've seen that in the demo we have the grappling hook. That's introduced in a very organic way in the narrative, so it doesn't feel like a tutorial, it feels like the natural progression of the story.
"I was going to say the exact same thing," Hatfield concurred. "Like in the first level, there's stuff constantly happening. It doesn't feel like a demo level, it doesn't feel like a checkbox thing, you're dropped into this area and the whole world opens up to you, you have to naturally get through it and survive."
Jedi Survivor takes place a few years after the first game, and while our demo didn't feature Cal with every single unlockable customisation style we'd acquired in our first trip around the Mantis, one popular collectible in the first game was entirely unlocked from the start – lightsaber colours. We asked if this was an intentional change.
"One of the reasons we did that was because there are so many cosmetics that putting a crystal in a chest doesn't really feel as good as finding a mullet or something a little more fun," Hatfield explained.
"We made the decision that if people want to get in and they love green lightsabers and they want to play it with a green lightsaber, it wouldn't feel good to lock that behind something."
"We made the decision that if people want to get in and they love green lightsabers and they want to play it with a green lightsaber, it wouldn't feel good to lock that behind something."
"We were definitely cognizant of not taking things away from players from the first game," said Syed. "For example, the double-blade and single-blade are things you start the game with because you had them in the first game, so that was also part of our reasoning."
The pair tell us that customisation was a pillar of the game's creation, a huge focus for the team that takes the "What colour of poncho do you want?" choice from the first game and blows it wide open with clothing pieces, haircuts, and even beards.
The ponchos are fun," Hatfield smiled. "The team loves them, and the players love them, but at the same time, we have so much more to offer customisation-wise, and it was a big player fantasy to make your own Jedi, so that was a big motivation for us. We wanted to build it into something totally new."

Speaking of new, Jedi Survivor dips its toes into an area of the Star Wars canon that has thus far been largely unexplored, The High Republic. This is an era of Star Wars stories that take place around 350 years before the Skywalker Saga.
And while we couldn't get Respawn to spill too many details about the largely untapped area of Star Wars canon, the relationship between Respawn and Lucasfilm does seem to be a symbiotic one.
"It's challenging when you're working parallel with another company, and we're essentially developing something at the same time," Hatfield tells us.
"What's exciting is that we can bounce ideas off each other, which I think is a great strength of the partnership with Lucasfilm. If we have an idea for something, we can go to them, they'll give us feedback, and vice versa."
Related Products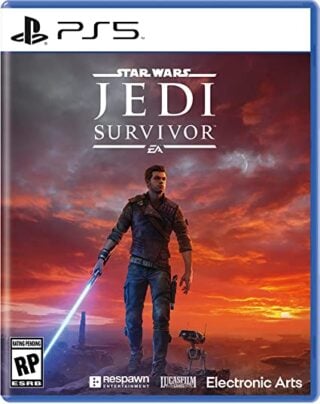 Star Wars Jedi: Survivor (PS5)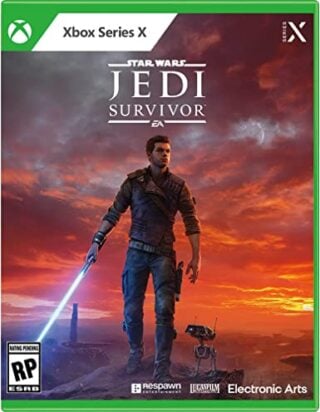 Star Wars Jedi: Survivor (Xbox Series X/S)
Some external links on this page are affiliate links, if you click on our affiliate links and make a purchase we might receive a commission.