Interview: Wonder Boy creator Ryuichi Nishizawa explains why he's returned after 27 years
Asha in Monster World is coming to PS4 and Switch soon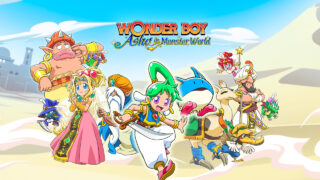 Ryuchi Nishizawa has been away for a long time.
After co-founding Westone in 1986, Nishizawa become popular for designing and directing the classic arcade game Wonder Boy.
The Wonder Boy series was popular enough to spawn a number of sequels, the majority of which were directed by Nishizawa. In 1994, though, after Monster World IV was released, a line was drawn under Wonder Boy and the series seemingly went into retirement.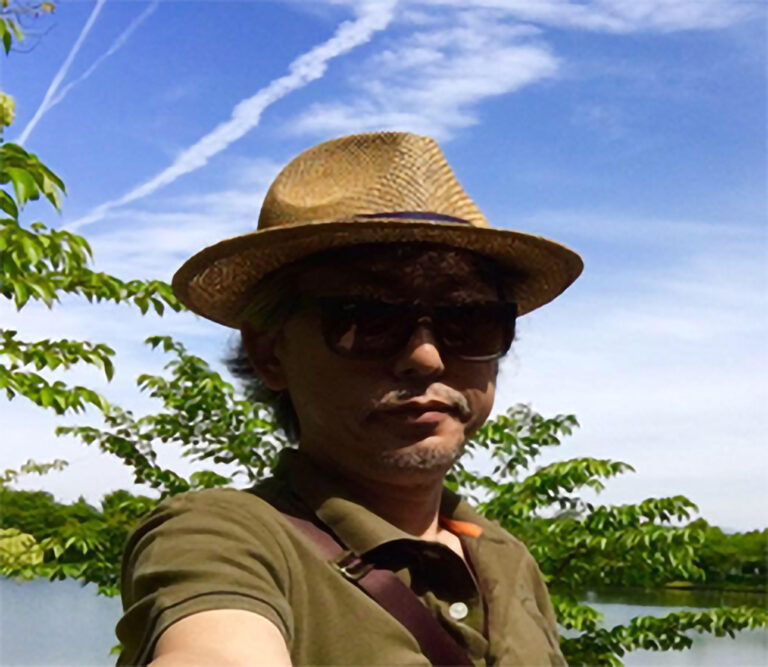 Westone continued to work on console games and mobile titles until it eventually went bankrupt in 2014, but in recent years Nishizawa turned up again to give his support to two new Wonder Boy projects.
The first was a 2017 remaster of 1989's Wonder Boy III: The Dragon's Trap. The remaster was developed by Lizardcube and published by Dotemu, but with Nishizawa giving his blessing and acting in an advisory role.
The following year, a spiritual successor called Monster Boy and the Cursed Kingdom was released by French studio Game Atelier, with Nishizawa again giving feedback during development.
After seemingly acquiring the taste for Wonder Boy again while collaborating on these two projects, Nishizawa has properly returned, stepping into the director role on a Wonder Boy game for the first time in more than a quarter of a century.
The game in question is Wonder Boy: Asha in Monster World, due for release this summer. It's an important game for Nishizawa, not just because it marks his return to the series after a long period, but because it's a remake of Monster World IV, the last Wonder Boy game he directed.
We spoke to Nishizawa about what made him return to the series after all this time.
---
Although you were involved in an advisory role in both the 2017 remaster of Wonder Boy: The Dragon's Trap and Monster Boy and the Cursed Kingdom a couple of years ago, this is the first time you've returned to a director role on the Wonder Boy series since Monster World IV in 1994. What made you want to direct another Wonder Boy game after 27 years?
I think I was inspired by Wonder Boy: The Dragon's Trap and Monster Boy in a big way. The passion of [Dragon's Trap remaster director] Omar Cornut, [its artist] Ben Fiquet, [Cursed Kingdom director] Fabien Demeulenaere and others influenced me with their passion.
Since they had proven the potential of the Wonder Boy series, I wanted to respond to that. I would be happy if the games I loved playing as a kid were developed in a modern way and made easier to play.
Sometimes I want to play games I have played in the past again, but in HD. It's also better to use a controller that you are familiar with. I'm sure I'm not the only one who would like to play the games from the past in a modern environment. I thought there must be a demand and I wanted to provide something that would meet it.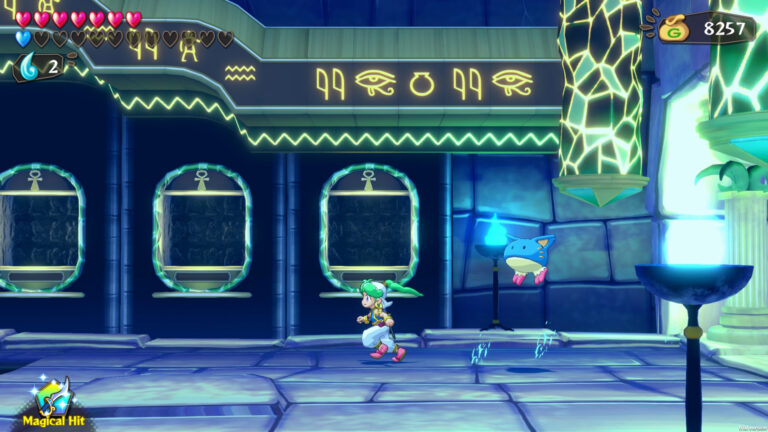 Monster World IV was initially only released in Japan. Although there was an English translation eventually released on the Wii Virtual Console, this will be the first time many western gamers will play a version of the game (albeit a remade one).
Are you more interested to find out what new players think of the game in general, or is your main priority to make a remake that fans of the original will enjoy?
Both. We wanted to make a game that would appeal to fans of the original as well as those who don't know the original.
Platform action games are a style that was established before 3D technology was introduced to game consoles, so people tend to think that 'platform action = 2D games'. I think that platform action is possible in 3D space as well. It could be said that this game is an optimisation of this platform action game genre with the framework provided by the latest game consoles.
When I actually tried it this time, I felt that the jumping action was much easier to play from the side camera angle. Platform action has its own unique gameplay that cannot be expressed through the camera perspective of first-person or [over the shoulder] third-person. I was able to realise that once again.
At the same time, I feel that I have acquired a knack for expressing the enjoyment of jumping action in 3D space and I would like to create a platform action game that more boldly utilises 3D space in the near future.
"I'm sure I'm not the only one who would like to play the games from the past in a modern environment."
Other than the enhanced graphics, what else is new in this remake? Can players expect a like-for-like retelling of the original Monster World IV or are there surprises in there that mix things around a little?
While we have focused on faithfully reproducing the original game, we have also made bold improvements in areas where we feel players would benefit more from changes. The biggest change we made was to change the movement of the main character Asha.
Since this is an action game, it is important that it feels good to play. Because the screen size and controller specifications are different between the original and this game, we decided on a new movement speed and jump height for Asha, and redesigned the size of the dungeon and the logic of the enemies based on that.
In the original, Asha's default movement was walking, but in this game it's running. The [definition of what constitutes] 'feel-good' controls changes with time, so we are working on improving that first. There are many other improvements that have been made, and I think it will be fun to look for them as you play.
What do you remember about the time the series went to Hudson Soft as Adventure Island and Wonder Boy was replaced with Takahashi Meijin? Did you like the Adventure Island games that followed, or were you upset at how Hudson Soft basically took Westone's series and turned it into its own popular series?
That's an interesting question. The Wonder Boy series has been ported not only to SEGA's consoles, but also to Nintendo's NES and NEC's PC Engine [as Adventure Island].
Westone was not involved in the development of these console ports at all and did not even supervise the finished products. This is because our Westone members were only interested in developing new original games, and not so much in ported products. We were all still young, in our 20s and we were really into making games, not into business.
So we were grateful to SEGA and Hudson for developing and selling the ported games and paying us licensing fees, we never felt negative about it.
Both companies knew how difficult it was to develop games and I think they had a corporate culture to respect the creators of original games. Because of this friendly atmosphere, I think we were able to work together for a long time to develop the ports.
"We were grateful to SEGA and Hudson for developing and selling the ported [Adventure Island] games and paying us licensing fees, we never felt negative about it."
The game uses cel-shaded polygonal graphics, whereas the Dragon's Trap remaster and Cursed Kingdom had a more flat 2D look. Why was the decision made to go with polygonal characters?
In a nutshell, it was because we believed that we can achieve higher quality in 3D. Conversely, it is difficult to ensure high quality when creating in 2D. Today, 3D is the mainstream game development environment, and it's more difficult to create a 2D game.
The reason why the original Monster World IV was created using 2D techniques is because 3D wasn't an option at the time, not because 2D was actively chosen.
Some retro game fans may be disappointed when I say this, but I know from experience that it is extremely difficult to make a game, so I think it is important to make the best choice to make it [as] high quality [as possible].
When I thought about when, who, and in what environment would be the best way to create the game, I chose to use 3D.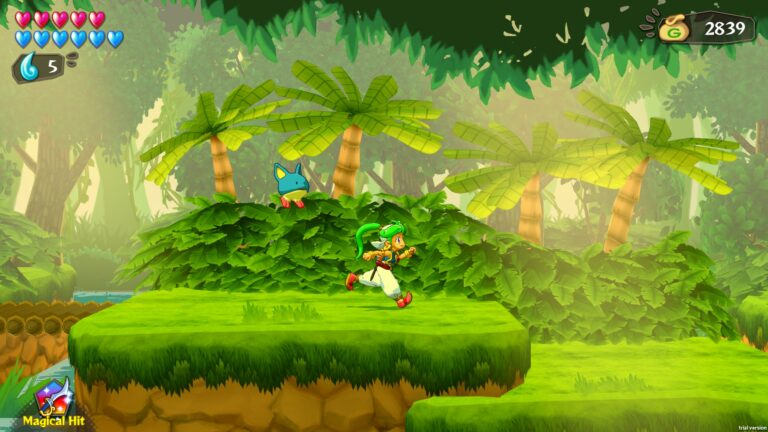 It's been 35 years since the original Wonder Boy game was released. What special qualities do you think the series has that means there's still an interest in new Wonder Boy and Monster World games after all this time?
I can think of several reasons, but I assume one of the reasons is that they can see the faces of the creators.
Most games in Japan are created within the framework of a company, so it is difficult to know who created the game. There is very limited exposure for individual creators.
However, the Wonder Boy series was developed at a small game studio called Westone, so we had a lot of freedom. In large companies, it is difficult for individual creators to speak freely in public, but there are no such restrictions. It's a title that's in the same league as indie games today, so I think that makes it more accessible to Western game fans.
Finally, do you have any messages for the long-time Wonder Boy and Monster World fans who are eagerly looking forward to Asha in Monster World?
From June 2019, it took me 20 months to create this game. During the development process, the COVID-19 pandemic occurred and we were forced to develop under a special environment, but we managed to complete the project.
We have made various improvements with the goal that original fans will say, "this is the best version!". If this game is commercially successful, it will help us to develop sequels and remakes of the series, so please continue to support us.
Related Products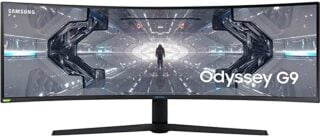 SAMSUNG 49-inch Odyssey G9 Gaming Monitor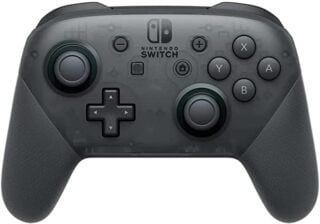 Nintendo Switch Wireless Pro Controller
Other Products
Some external links on this page are affiliate links, if you click on our affiliate links and make a purchase we might receive a commission.