Interview: Starbreeze says Payday 3 is an evolution but 'it's still f**king Payday'
VGC chats with the game's lead producer and global brand director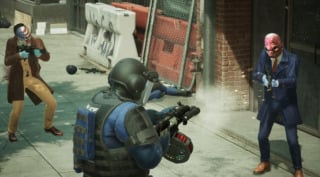 It's been a long road for Payday 3.
After Starbreeze first mentioned the game in 2020 then spent some time searching for a publisher, the pandemic saw Payday 3 largely going dark for three years, outside of a few static images.
However, after keeping Payday 2 alive with well over a dozen DLC heists, the team at Starbreeze is finally preparing to release the third game in the series, familiar clown masks and all.
After getting a chance to play Payday 3 for a few hours, we sat down with lead producer Andreas Hall-Penninger and global brand director and head of community Almir Listo to find out what makes this third entry stand out from its predecessor.
---
What are the biggest changes that set Payday 3 apart from Payday 2?
Almir Listo: For me, Payday 3 is the evolution of the Payday franchise. The biggest change is to the improved stealth. There are things you can do in stealth to complete the heist.
We've also made going around much more interesting thanks to the improved AI – not only in terms of law enforcers, but in terms of how they act and behave.
They move as a proper SWAT unit now and hide behind shields. They care about civilians, so if you have a bunch of civilians around you, they won't throw grenades. The civilians also act in a much more human-like fashion now. There are 100 different skills too that you can use to build your character in different ways.
Andreas Hall-Penninger: I also think evolution is such a good word. When we started developing Payday 3, we hadn't necessarily looked for that specific key innovation.
We were looking from the perspective of: 'What works in Payday 2? Is it fantasy-fulfilling? What else can we add to the game to really enhance that core fantasy of being the ultimate criminal heist?'
How have the Payday 2 players that have played Payday 3 reacted to the changes to the game? 
AHP: The Payday 2 players we've had play the game feel at home pretty quickly. Not necessarily that they understand all the mechanics and features, but the game, the universe, and the game rules are fairly similar.
For new players, we think Payday is pretty hard to learn, but easy to master. There are a lot of things going on, but as soon as you start to get a gist of it, especially together with your friends, then you get into these moments where it's like 'oh, we can do that'.
What is the onboarding process like for new players?
AHP: There are going to be four different tutorials at launch for players who haven't played Payday at all – one focused on combat, one focused on mask-off stealth, one on mask-on stealth, and one for crowd control.
We're looking to teach the players the fundamental mechanics and features to get them started.
Do you ever worry that the game can be a bit too intimidating for new players? 
AL: I think the way Payday 3 is built, it's not a horde shooter in the way Payday 2 was, it's much more refined. There are fewer law enforcers, but they're more deadly. They're much more serious and more clever, and they take longer to strike down. The system is different.
I think that ties back to my main feature of the entire game, it's made in the Unreal Engine. It's built from the ground up in this new technology. That offers us so many opportunities, and creates this completely different experience in my mind.
Are there any other video games that have influenced the game's stealth? We were reminded of the recent Hitman trilogy while playing the game's stealthier sections. 
AHP: To be honest we haven't really been looking a lot at other games, more at Payday as a franchise and what we can do to refine and evolve it. In many cases, we're starting from a fantasy perspective, in terms of whether our heists fit into the core fantasy of Payday. We're trying to capture a Hollywood heist film more than anything.
AL: Exactly – emulating a Hollywood heist film, that's a term we've used a lot during development, what it means to encapsulate those Hollywood heists. We want players to share that feeling of being a career criminal, someone who's dedicated their entire life to crime, and is an expert at getting away with it.
Look at the stealth aspect, it's much more layered than it ever was before. In the Bank for example, most players go in through the back, but you can now walk into the front of the bank, pull down the blinders, shut the front door, and start the heist from there.
"Look at the stealth aspect, it's much more layered than it ever was before. In the Bank for example, most players go in through the back, but you can now walk into the front of the bank, pull down the blinders, shut the front door, and start the heist from there."
What's a piece of feedback from Payday 2 players that has stuck with you in the development of Payday 3? 
AHP: No more collabs.
AL: (Laughs) What the community members mean when they say that is that they don't want us to dilute the integrity of the game. They love the original cast, they don't want to see us add, in their mind, unnecessary additional characters from other IPs and other worlds. They want us to expand on the world of Payday and do our own thing.
How many heists are in the final game? 
AL: It's going to be eight at launch. Payday had six at launch, Payday 2 had twelve, although they were much smaller, and Payday 3 has eight.
What are the post-launch plans for the game? 
AHP: We'll talk more about the post-launch roadmap as we get closer to launch, but what I will say is that although we're going to do more heists and characters and weapons, for us it's more about being additive from a core perspective as well. Who knows, whole new features? New game modes?

What is the mood in the studio in the lead-up to the launch? 
AL: I feel great. It's all coming together like a good heist. It's been such a journey, not only for Payday 3 as a game but for the whole franchise. I mean each of us has been working on the game for a collective 24 years of our lives. This feels like our Godfather moment, getting to wrap up a trilogy. And that doesn't mean it's the end of anything for us, it's just the beginning.
AHP: I'm feeling more and more calm actually. Usually, it's the other way around when you're going to launch a game.
I think for me, the biggest worry has always been 'what if we don't please our fans, what if the game doesn't feel like a Payday game', but I think we've managed to maintain the integrity and DNA.
That's so important and so fundamental to the first step of launch. If you don't nail that there are so many things you have to redo fundamentally, but I think everybody who's played Payday, they're going to feel at home. They're going to say 'it's still fucking Payday'.