Interview: How Sonic Superstars was born from a Zoom drinking party
Sonic creative officer Takashi Iizuka explains why the next sidescrolling game needed to leave 'retro' behind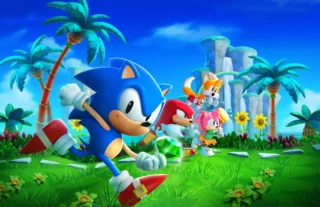 For years Sega seemed to struggle to figure out what Sonic the Hedgehog games should be in the modern era.
The tussle between trying to appeal to hardcore fans, and expand to a new, younger audience, led to countless awkward compromises as the blue hedgehog attempted to please everybody at once, speeding through familiar courses in one moment, then transforming into a werewolf the next.
In comparison, recent games feel far more assured. Sonic Mania is the mascot's best sidescrolling game since the 90s, while Sonic Frontiers did a largely successful job of bringing the template to a large open-world 3D environment for the first time.
By alternating its 'casual' and 'hardcore' games, Sonic Team seems to have found a rhythm that works.
This year's game, Sonic Superstars, attempts to take the classic feel of Sonic Mania and update it with modern visuals and drop in, drop out co-op. Crucially, it's also the first game in over 20-years attached to Sonic's original character designer, Naoto Ohshima, who is leading development with his studio Arzest.
At Summer Game Fest, VGC sat down with Sonic creative officer Takashi Iizuka to discuss the new entry, and hear the story of how it was conceptualised during a Zoom drinking party.
---
Who's working on the game? Sonic Team appears to be partnering with Arzest, but are you collaborating with Headcannon or Christian Whitehead/Retro Engine at all?
When we were making Sonic Mania and the game was finished, and Chris was done, we had a conversation with Chris and the team about what the next 2D game we make should be. We had some concepts and ideas laid out between the teams, but we couldn't kick off the project. And so it disappeared for a while with Chris and the team.
I'm friends with a lot of my old co-workers, and I was having a conversation with Ohshima-san about how we should make a Sonic game together and if he'd be interested. He's the original creator of Sonic the Hedgehog, and so we had a conversation about whether his company Arzest would be interested in working on a Sonic game.
So there were ideas with Chris and the team that fell through. Sonic Superstars is really all developed by Arzest, but Sonic Team in Japan is working with them on design and some other elements. Arzest and Ohshima-san are 100% developers of the game.
The physics in Superstars – like in Mania – feel incredibly authentic to the original Sonic games. How challenging was implementing that classic feel in a sidescroller with 3D elements?
When making a new classic Sonic game, what the team felt was most important was recreating that classic experience. So yes, the team would be creating 3D assets for the game, but they needed to have the physics and feel of the game to be just like the classics. That's what we had Ohshima's team do at the very beginning: we said, 'if we can't execute on that feeling, then we shouldn't be doing this project'.
That was really the turning point for the project. The team at Arzest were focused on looking at the classic gameplay and recreating that with 3D assets. When they were able to do that, that was the starting point where we said, 'OK, we have a game that plays and looks like the classic games… how can we add new features on top of that?'
Sonic Team seemed to struggle for years to recreate that classic feel with its modern 2D games, until Mania nailed it. Does Superstars share any technology?
No, it's completely built from scratch. The team at Arzest are really, really good at making 2D games. They've previously made 2D games for Nintendo, so that's where their core competencies lie. When Ohshima-san took on the classic Sonic game idea, their team started looking at the classic games side-by-side to nail the exact movement of the characters from scratch in their own development environment.
Why did you ultimately decide to make this game after your conversations with Christian Whitehead, rather than a Sonic Mania sequel?
Sonic Mania is one of those games that's built with that classic design, and I was personally working closely with Christian, Headcannon and everyone involved with that. The whole idea behind Mania was to make a game for the core fans – that's why it's called Sonic Mania, because it's for the mania fanbase.
For people who are hardcore fans of that game, they're fine with how it is in pixelated graphics, but when we looked outside of that group, they might look at it as a retro game or a rehash. Even though it was brand new content, some people put it in the 'retro' box.
I didn't want the 2D Sonic to just be 'retro' gameplay, I wanted it to appeal to a new audience. So it really needs to look unique and like something like a modern casual person would see and say, 'oh, that's a new game'. It also needed content that a non-hardcore fan would expect from that sort of title. We're taking what people liked from the classic games in the series, putting a new look on top, while still keeping the same feel.
You've spoken before about how you feel you needed to split Sonic into 3D and 2D games to appeal to two sets of fans. Could you explain how those two sets of fans differ, and how that affects your approach?
You're understanding exactly how we're creating content. When we think about Sonic Frontiers, that's the modern game format with a story you can get into, a huge world and gameplay for hardcore gamers… it's really an evolution of the original format. It's something you can sit down with as a solo player and really focus on.
But on the flip side, when we think of Sonic Superstars, it's part of the classic series of games, but it has these elements that make it very unique. You don't need to read a manual in order to understand how to play the game. We don't have story sequences where you need to sit down and watch in order to understand what to do next.
You can hand the controller over to a very young child, and they can immediately figure out how to play the game and how to get to the end. Storytelling is done via character interaction, so it's easy for them to understand. Classic Sonic fans are going to love Sonic Superstars, but what's also new is this is very suited to families and children too. That's where it's very different from Frontiers, which is a game for hardcore fans.

Naoto Ohshima is back for what appears to be his first Sonic game since Sonic Adventure over 20 years ago. What did he bring to the project?
During the coronavirus lockdown Ohshima-san reached out and we set up a Zoom drinking party connecting America and Japan. We decided to get together and just have some fun. During this conversation, I mentioned that I wanted to make a new 2D Sonic game, and Ohshima-san replied, 'You know what? Met too. That sounds like a really great idea'. So what started out as a really casual conversation ended up being executed on.
What Ohshima-san really brings is his classic Sonic experience, having worked on Sonic 1 and Sonic CD. He has an understanding of how to make a true classic Sonic game. Christian Whitehead and his team are all fans and love the series so much, which is why they were able to make a great classic game, but that's also one of the things that Ohshima-san brings to the table: he knows how to make a classic Sonic experience.
I wouldn't feel confident or comfortable just having some other developer with no experience [working on this]. That would be like a hurdle that wouldn't come out feeling like a classic Sonic game.
So it sounds like Ohshima-san is far more involved than just designing a few new characters?
A lot of people think Ohshima-san just came in and thought about what Sonic would look like, drew the character, and that was it. But he was also doing level design on Sonic 1 in addition to drawing and creating the character. So he has that experience of making a Sonic game because he did level design for the original game.
"What Ohshima-san really brings is his classic Sonic experience, having worked on Sonic 1 and Sonic CD. He has an understanding of how to make a true classic Sonic game."
Will any other classic Sonic devs return?
When we talk about people who are still around who worked on the classic Sonic games, there are not a lot of people who are actively creating games leftover from that really small group.
But there are three people; myself, Ohshima-san and the third is Jun Senoue at Sega, who did music for Sonic 3 back in the day. He is also participating in the development of Sonic Superstars. Jun is the music director on the game and is really focused on making it sound like a classic game.
But obviously, he's not sat around creating all this music himself: he's working with internal teams at Sega to create music in that classic Sonic vibe and he's also working on some external teams such as Tee Lopes who helped out on Sonic Mania.
Superstars is a full-priced title. Could you give us a sense of how much content is planned for the game?
We can't really speak to all of the features at this point, because we only just announced it, but stay tuned as we will be revealing more about the game this year. But from my perspective, thinking about what a 2D Sonic game should be, it's definitely hitting the level of content that 2D Sonic games should be.

You're introducing co-op multiplayer with this game. How does the experience differ between solo and multiplayer, and did you have to tweak the classic gameplay to cater for multiplayer?
4-Player cooperative multiplayer is like the core base that the game can be played in. It's not like you have to play with four players to get the most out of it or beat certain modes; it's literally that if friends come over to your house while you're playing, they can jump right in, and you can continue together. The game will never change; it really is just jump in and jump out co-op.
To dig down even deeper into your question, the level design doesn't change when you have more players in the game, but the game experience will change depending on which characters you're playing with. So for example, Tails and Sonic, just like in Sonic 3, Tails can carry Sonic to different locations. Or, because we have Emerald Powers now as well, you can use each others' powers to get each other out of a tight spot.
Why did you decide for local play only, and could online be added in the future?
Because the gameplay is so fast. Even in one frame you can move so far in the level. We didn't want to put this feature in where there would be lag, and then people wouldn't have fun because of the technical requirements. So we wanted to keep it to that local, shared experience.
"To dig down even deeper into your question, the level design doesn't change when you have more players in the game, but the game experience will change depending on which characters you're playing with."
Why did it take so long for Amy to be playable in a 2D Sonic, and how did you go about deciding how she should play?
Having classic Amy be a playable character was something we always wanted to do. Even during the Sonic Mania development days, there was talk about how we could put her in, but we couldn't get it done in time. However, we have worked on putting her into the Origins Plus release, which is something we worked with Headcannon on.
For Superstars, we really wanted to work on a unique moveset for Amy and to make her different from the other characters. For example, if there's an enemy with spikes, even if you're in a balled-up state when you hit them, you're going to take damage. But Amy uses an object – she's not touching the enemy herself to destroy it; she's using her hammer. So she can defeat enemies that other characters can't. So there are elements of Amy that are unique to her, and maybe players will have an easier experience with her.
With Samba de Amigo and 2D Sonic making a return, what are the chances of Sonic Team's other franchises coming back to life, such as Nights: Into Dreams or Burning Rangers?
I can't say yes to anything right now. These days I'm the creative officer for Sonic the Hedgehog, so I'm totally focused on that side of the business. So I can't really speak for anyone else, but Sonic Team in Japan has been ramping up and hiring lots of people recently – they have more people than ever. So there may be some future where you'll be hearing about these kinds of titles.
Related Products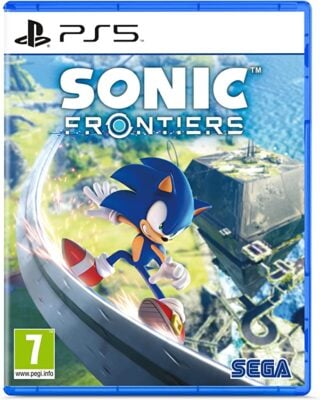 Sonic Frontiers (PS5)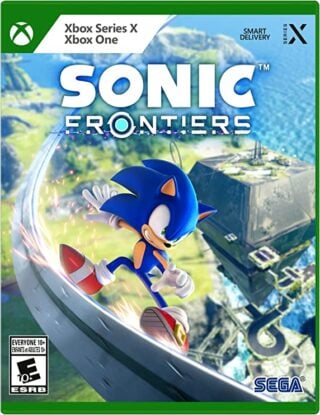 Sonic Frontiers (Xbox Series X|S)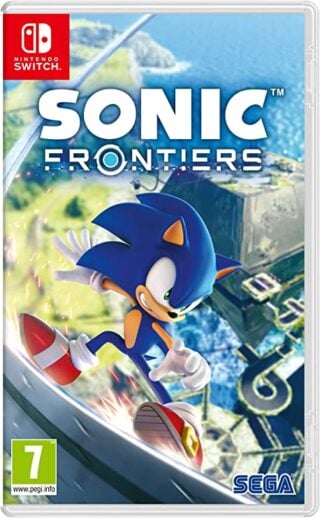 Sonic Frontiers (Switch)
Other Products
Some external links on this page are affiliate links, if you click on our affiliate links and make a purchase we might receive a commission.