Interview: 343 explains how it's 'rebooting' Halo with Infinite
AI, cross-gen, weapons and more discussed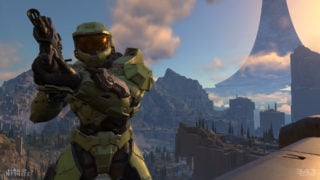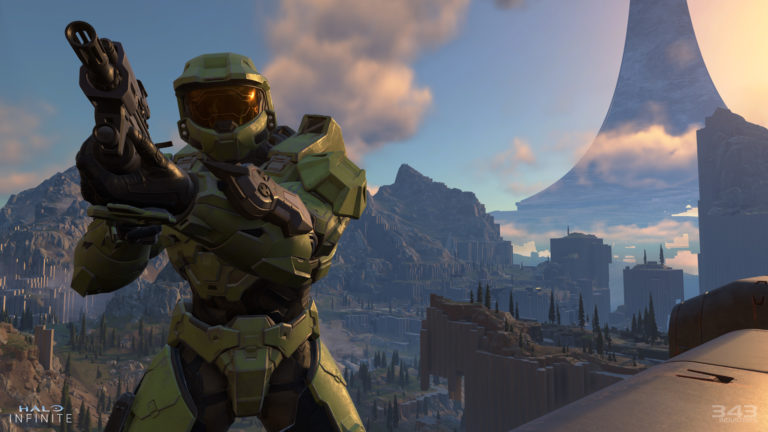 Xbox premiered the first Halo Infinite gameplay during its Games Showcase on Thursday, with a demo that was more than partially evocative of the classic games.
And that's no mistake: In a follow-up interview, the game's development team told us – along with a group of other media outlets – that Infinite was built from the ground up as a "spiritual reboot," designed to evoke the feelings of the original Halo games while introducing new twists such as the grapple hook and open world.
"We really approached this whole thing as a love letter to Halo," associate creative director Paul Crocker said.
"We want people to feel the way they did when they first played Halo: Combat Evolved and got into the universe. That has been our goal and our direction ever since we started this, so I really hope everyone likes it when they play."
Crocker was talking to press alongside studio head Chris Lee and head of design Jerry Hook. The questions below were taken from a group of journalists from different media outlets.
---
Did we hear correctly that Infinite has a larger map than the last two Halo games combined? Is it a true open world?
Chris Lee: The campaign in Halo Infinite is several times larger than the last two campaigns we've created put together. It's this new open, expansive experience and I think maybe Paul should talk more about what that means for players.
Paul Crocker: We wanted to present an amazing ring for players to explore and bring back all those memories they had when they first played Halo all those years ago. We wanted to really focus on the wonder, mystery and the beauty of that space, and then drop in Chief as the universe's greatest soldier going up against this dangerous enemy in the form of The Banished, and just allow that to flow over the player and give them this great experience.
What state is the version of the game we saw today? Will the visuals improve?
Lee: Halo Infinite is still very much in development. The team is very focussed on bringing the best experience possible to fans and we still have a ways to go. So this is definitely a pre-release version of the game that folks are seeing today.
Is the setting supposed to be evocative of the classic Halo games? Are you targeting lapsed players?
Lee: We really started this game with the concept of the spiritual reboot, which you heard in the narrated version of the campaign demo. That spiritual reboot was really about thinking through what we've learned from building Halo 4 and 5 and really looking across the whole history of Halo to grab the most iconic parts.
That was an important thing that we wanted to capture, to embrace those elements and bring them forward for gamers today, so that when they're playing there's something that's really exciting for folks that have been around for a while.
Jerry Hook: One of the greatest things that we tried to do with this pillar of ours for a 'spiritual reboot' is to take a look at every system that we have in the game from weapons, to characters, to the art and story, and to bring back that sense of wonder and gameplay experience that our sandbox has traditionally brought to fans.
And that's where it becomes really, really critical where the players grab a battle rifle or these weapons that they've loved in the past and they can feel it. As Chris said, there's a bunch of new things there as well and we're all trying to stay within how the tradition has moved forward, while still respecting the great things that we know Halo has brought to our fans title after title.
Why did you choose The Banished as the main enemy force? Was it to introduce new archetypes alongside the established Halo enemies?
Crocker: The simple answer is yes, that's exactly why we did it. We know that The Banished had quite a large following from Halo Wars 2 and again, as part of the spiritual reboot and trying to be familiar but different, we wanted to take a thing that people know and change it up in different ways so that the experience is always different but exciting.
The Banished and specifically, the Brutes, bring this visceral, violent component back to the game. You saw them chasing down Chief in the demo today and they just provide a different feeling on the battlefield.
Hook: At least for me, the biggest thing you get with the Brutes that you don't generally see is that they pick up Grunts and throw them at the player. Could an Elite do that? No! A Brute could definitely do that.
Will there be new weapons and abilities in the game?
Hook: Yeah. One of the things that I hope everybody was able to see in the demo was the different abilities and equipment that Chief is able to bring into the sandbox, and that's going to be all under the player's control. That's something that I think the sandbox is really trying to bring: when you enter an encounter you have a lot of options.
Do you use the grapple hook to move? Or do you use it to grab the power coil? Do you use it to sling yourself at an enemy? Do you throw down a Shield Wall to block off a whole bunch of combatants while you take down another set? We haven't exposed it all, but as you get your hands on the game you'll see more equipment come into play for the player.
"The Grunt toss is one of the key elements where you see the AI starting to take advantage of the sandbox that you haven't seen before… Don't be surprised if you see an AI go grab a different weapon to take you out."
With respect to the 'ten year plan' 343 has talked about, can we expect the game's story to evolve over time and if so, will this happen as live updates or additional expansions?
Lee: Halo Infinite is the continuation of Master Chief's story in the saga that we started in Halo 4 and Halo 5, and then we're going to tell more stories. Infinite kind of kicks off telling news stories in continuing Master Chief's saga for years to come. Those will be coming online in the future and we don't have specific plans for how we're going to tell those to share today, but we have lots of great ways for how we're going to bring those online for fans as Halo Infinite grows over time.
Who is The Harbinger guy mentioned in the gameplay demo?
Crocker: Well, first of all, you're making an assumption it's a guy, and the second part is we're not going to explain that today! But we are building new stuff for the game and we really look at this, as Chris was just saying, as the stepping stone to the future. We have a lot of references to the past but we're trying to build new stuff as well. What the Harbinger is, you'll have to play the game to find out.
Does the addition of the grappling hook mean there will be more exploration, or is it just a tool for fighting enemies?
Hook: Part of our spiritual reboot and having that experience of landing on the ring for the first time is the fact that you can look across vast vistas and know as a player that you can go and visit them. You can meet The Banished where they're at: you will have player choices through combat itself or through just getting to places that you want to explore. And there are plenty of secrets that you'll find on the ring.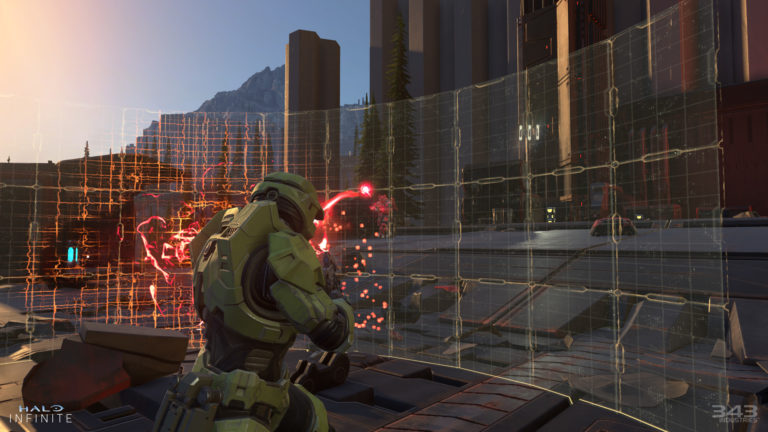 Halo is known for the scale of its environments. How do you balance the size of the game world with the challenge of getting the same game to run on legacy Xbox One hardware? Did you need to put in new geometry to adjust sightlines?
Lee: Without getting into the specifics, we've developed the game and built the Slipspace engine with supporting the entire Xbox family in mind from the ground up. So the team's been developing things in parallel and making sure that we'll have a great experience for our fans wherever they play.
One of the things that makes that really possible is the Xbox Smart Delivery technology, which is part of Xbox stuff going forward, where it will just grab the optimal version for you no matter what device you're on. It's going to be a great experience for our fans and we definitely have been developing with that in mind.
One of the main appeals of the Halo series has been its enemy AI. How has next-gen advanced the AI and is this still a priority for the series?
Lee: Bringing the different characters to life has always been such an important part of Halo, with the Elites, the Grunts… I think bringing the Brutes back into the mix was something we were really excited about, and we've invested heavily in really bringing these characters to life and making sure we maintained that strong core of what these characters were, while bringing them a lot of new elements along the way. The Grunt toss is one very fun example of that, but there's a lot of great stuff in there. The AI is definitely one of the things that I think is really core to Halo and important for our gameplay experience.
Hook: The Grunt toss is one of the key elements where you see the AI starting to take advantage of the sandbox that you haven't seen before. So you still have that great feeling of the AI taking advantage of shields and cover that was pretty critical to the Halo experience that we've had in the past, but we wanted to give them more. We wanted to give them more awareness of the sandbox itself and be able to use it. Don't be surprised if you see an AI go grab a different weapon to take you out.
What new opportunities or challenges does launching on Game Pass present to the team?
Lee: I think this is such a great opportunity for the team to be able to take the ambition of Halo Infinite, where we're building the most ambitious campaign, and this new open, expansive gameplay and then pairing that with the most powerful console for the launch of the next generation of gaming. It's something our team is just incredibly excited about: being able to push the boundaries of what has been obtainable for our Halo games.
Game Pass is really exciting. It has a ton of momentum with more than ten million subscribers and I really love that day one, Halo Infinite will be there for all those members to experience and explore. It's a great opportunity for people to come into Halo and learn about our franchise.
Is there anything in the game that's only going to be on Series X? Or is the full game going to be the same on all platforms?
Lee: We're building Infinite to be available across all of our platforms; the Xbox One family of devices, Xbox Series X will, of course, be the best place to play at the highest fidelity and then also PC. The whole game will be available everywhere.
"'Spiritual reboot' was the most important thing for us and that meant we wanted to build a Chief-focussed adventure. We wanted to get back to how Halo had been in the past and how players really embraced wanting to play as Chief."
Is Master Chief the only protagonist in the game and if so, is that a reaction to the reception to the last game?
Crocker: Chief is the only protagonist in the game. As we talked about before, 'spiritual reboot' was the most important thing for us and that meant we wanted to build a Chief-focussed adventure. We wanted to get back to how Halo had been in the past and how players really embraced wanting to play as Chief.
That was our goal from day one on this project: make a 'Master Chief adventure' and focus on all those emotional connections that our fans have to the character, and build something that's still surprising to them when they get to play it.
What are the biggest benefits of the Slipspace engine and how has it enabled you to shape the game in the way that you want?
Lee: The Slipspace engine we showed in 2018, last year, and I think we showed how it allows us to make these really personal moments previously with the pilot and Chief in the Pelican, and you get to see them again this year as well. This year we were excited to show the full ambition of the campaign, that we're creating this open, expansive, massive new Halo ring for players to explore. Slipspace really has been developed to power both of those experiences at a fidelity that we're really excited about, so we can immerse players in our universe unlike any way that we've done before.
Will you have splitscreen in co-op?
Lee: Yes, we will have splitscreen and we will have co-op when we launch Halo Infinite.
Related Products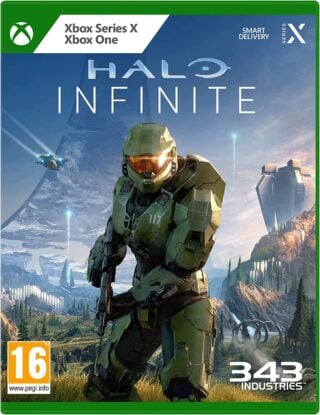 Halo Infinite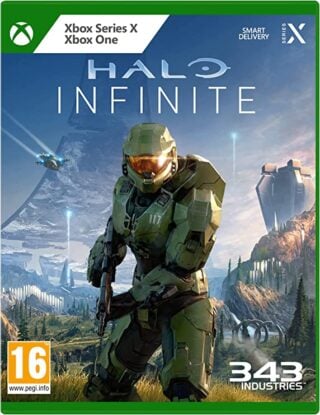 Halo Infinite (Xbox/PC)
Other Products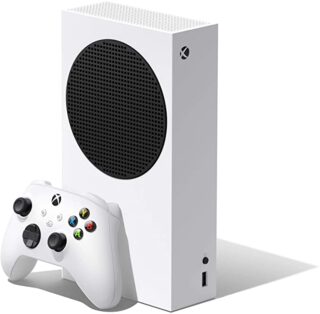 Xbox Series S
Some external links on this page are affiliate links, if you click on our affiliate links and make a purchase we might receive a commission.