Guardians of the Galaxy interview: 'There's no reason Marvel games can't be as exciting as the movies'
The senior creative director of Square Enix's next Marvel game talks character likenesses and licensed music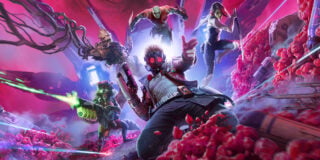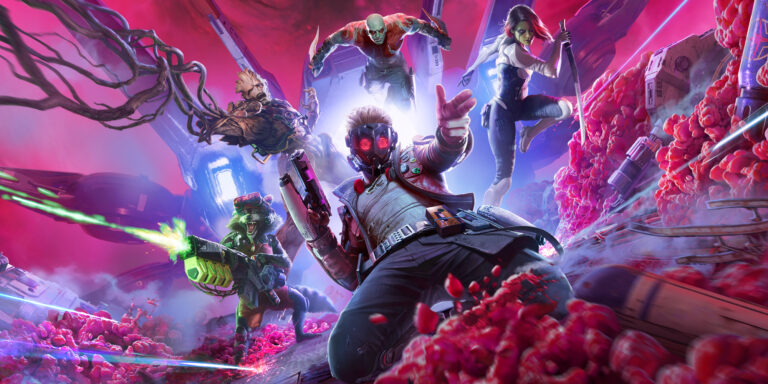 It may seem a little unfair to bring up the Avengers game when discussing Guardians of the Galaxy.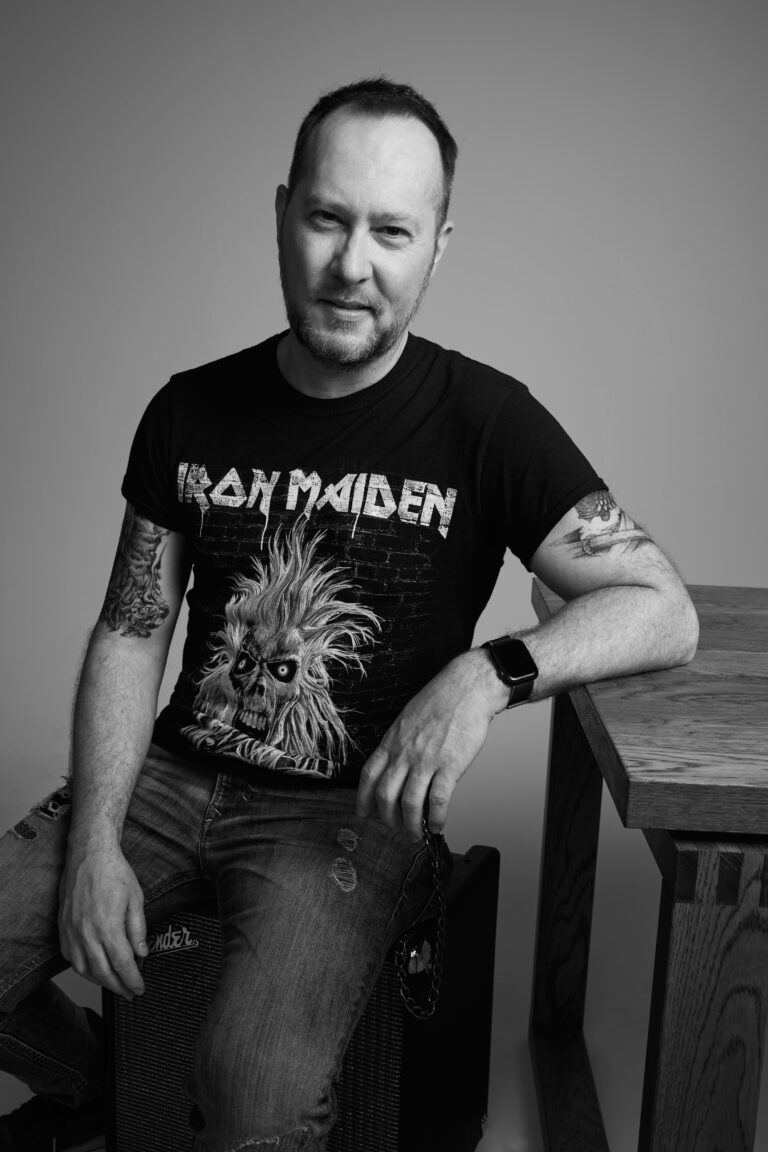 After all, Crystal Dynamics' 2020 release is a completely different product to Eidos Montreal's upcoming action adventure game, and we're sure its development team would be at great pains to stress that it should be judged on its own merits.
That said, there's clearly some pressure on Eidos Montreal to deliver an impressive Marvel game for Square Enix, pressure that's undoubtedly intensified due to the lukewarm reaction Avengers received.
Thankfully, at this stage things look positive, and when we had a chat with senior creative director Jean-François Dugas it was clear that he's got high hopes not only for the game itself, but what it means for the perception of Marvel video games going forwards.
---
Naturally, comparisons will be drawn between this and Crystal Dynamics' Avengers game, given that they're both Marvel titles published by Square Enix and developed by Tomb Raider studios. How does Guardians differ from Avengers in terms of overall feel?
Marvel's Guardians of the Galaxy is a very different game. It is a big single player narratively driven adventure from start to finish.
You assume the role of Star-Lord, the so-called leader of the Guardians. The team is constantly alive around you, participating in almost all the moments the game has to offer.
It is a wild adventure with tons of twists and turns. Humour is a big part of it too. It's a wild, action-packed ride in which you're going to laugh a lot and cry a few tears.
The movies were known for their extensive use of licensed music, to the extent that it's difficult to imagine some of their most iconic scenes without it. By the looks of the extended gameplay demo shown in June, this seems to have made its way to the game too: do you see this being a DMCA issue for streamers?
We actually included an option to switch the license music off, making streamers' life much easier. It was important to us to embrace the right vision for the game while understanding the needs of our community.
It's been stated that the game will not have any microtransactions or DLC. Was this in response to the reaction towards The Avengers, or was this something decided early in the design process?
When Marvel's Avengers was released, we were already deep in production. Those aren't calls that you can make at the last minute. It is something that is part of the vision or isn't. In our case, we made that decision during the early stages of the project.
It's said that the player's decisions (and their reaction to the rest of the team's decisions) will lead to different outcomes. How widely does this story potentially branch out? Is there scope for multiple endings, and if so, will they differ in a significant way?
The adventure will be the same thrill for all players. That said, how some of the adventure scenarios play out, will differ based on your decisions and reactions. Choice and consequence will play out on various levels. Sometimes, it will affect an immediate gameplay outcome.
For example, when you have the choice to throw Rocket on the other side of the chasm, your decision will have an immediate effect. He will either activate the bridge or you will have to find another way to cross. By throwing him, he will remember that. And if you encounter another similar scenario, he will make sure nobody throws him again, forcing you to find another solution.
Consequences will also play out on bigger scenarios. For example, without spoiling anything, selling Groot or Rocket will lead to two very different gameplay experiences. And there are some choice moments during the game that will also have an impact on how the climax of the game unfolds. There will be some pay offs beyond the credits as well.
What was important to us was to engage the players in living the story, being part of it, not just watch it unfold before their eyes. I believe the adventure is rewarding and worth seeing through to the end.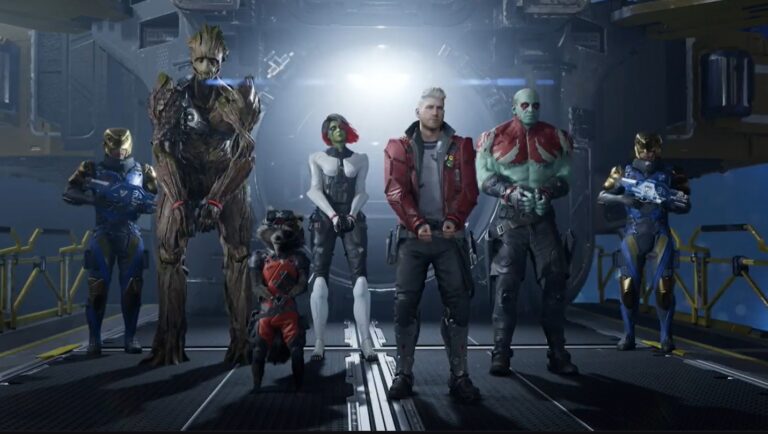 Many players will come into this game as fans of the movies, and will already have ideas of how some characters look in their mind. Obviously with characters like Rocket and Groot you're spared likeness issues, but did this have any impact on the character designs for the likes of Star-Lord, Gamora or Drax?
When we sat down with Marvel and discussed where to go with the Guardians, they made it clear they wanted a fresh take on the universe and its characters. We couldn't agree more. We all wanted to give the audiences something new, something unique.
The challenge resulted in striking a balance between creating something new, while remaining familiar. When you see our characters, you instantly know they're the Guardians. But on a second look, you realize they're different from the versions you know.
And that speaks to all the background work we did on the Guardians. You will discover totally unique storylines, new character background stories, and new version of the world they evolve in.
To design the characters, we were inspired by the background stories we created for them, from decades of Marvel comics, and by some aspects of the films. Like you mentioned, some designs are by nature closer to the films, while others are more inspired by the comics.
Since they are new versions of the characters, we focused on giving them an identity of their own, tapping into what makes them special in the first place; they're a bunch of misfits with big hearts, in search of a family where they belong.
In the past you've worked on numerous high-profile series like Splinter Cell, Deus Ex and Tomb Raider, but for the most part those IPs have been owned by the companies you were working for. How was the dynamic and the relationship when designing a game for a company as (understandably) protective of its characters as Marvel? Are there extra challenges there, or was Marvel happy to give the team a decent degree of freedom to see what they could come up with?
Like in any collaboration, you need to get acquainted with the people you are going to work with. What is really cool about Marvel Games is that they did what they said they would; support and help us from start to finish.
They wanted to work with us because of our creativity, and they let us be creative. What was important to them was to us as well; respect the core material, be true to the essence of the characters and universe. After that, the sky is the limit.
A great example of this collaboration was while we were developing our story. The Guardians were meeting a woman called Mama-Rosa and she was buying unique monsters. When we presented it to Marvel, they just said that they thought they have a great Marvel character who could play that part: Lady Hellbender.
We dug into the source material fully embracing their suggestion, and it ultimately gave life to Lady Hellbender for the first time ever outside of the comic books. I genuinely think that the final game is the result of a great collaboration between Marvel and Eidos-Montréal that just made the game experience better.
It goes without saying that the Marvel Cinematic Universe is a phenomenon in film, and each new release is a huge event in the movie calendar. What will it take to make Marvel one of the biggest licences in the gaming world too? Can we one day reach the stage where the next big Marvel game is anticipated in the same way as the next MCU film is?
This is a good question for Marvel Games but my take is that audiences want quality entertainment. The MCU built its reputation on that. I
f you give audiences great stories and adventures, I don't see a reason why fans would not be as excited for the next Marvel game as they would for the next Marvel movie. I know I will be.
Related Products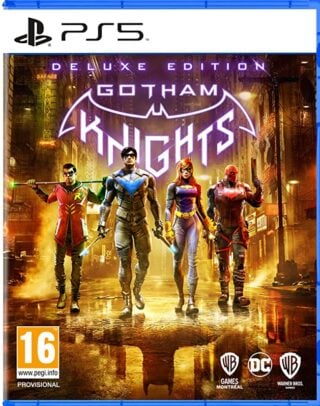 Gotham Knights - Deluxe Edition (PS5)
Other Products
Some external links on this page are affiliate links, if you click on our affiliate links and make a purchase we might receive a commission.