Lego 2K Drive's developer on aiming for IP collaborations and 'years of sequels'
Executive Producer Mark Pierce shares how his career of arcade hits inspired an old-school racer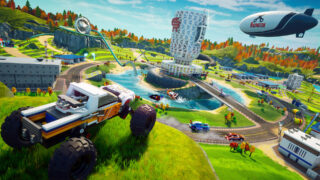 After almost twenty years of Warner Bros published licensed Lego games, a new kid has entered the playground. With 2K now clutching the keys to the Lego toybox, its first act as bricky baron has been to reveal an all-new arcade kart racer: Lego 2K Drive.
Part Sonic All Stars Racing, part Forza Horizon, this fun-filled racer sees up to four players tearing up the tarmac as they duke it out on Grand Prix mode, or alternatively, they can cruise around together enjoying sandbox shenanigans in the colourful world of Bricklandia. It's a surprising left turn after years of Traveller's Tales action platformers, yet for executive producer Mark Pierce, Drive's relaxed racing was the perfect fit for Visual Concepts' Atari and Midway pedigree.
"Five years ago, 2k and Lego approached our studio asking what games [ we] wanted to work on," he told VGC. "[We] pitched a number of things, but one of the things was that a core of our team has a rich arcade game driving game history.
"Steve Ranck, who was our general manager, and Bryan Silva, had been at Midway Games and made Hydro thunder, and then three of four driving games with raw thrills, including a Batman game. I come from Atari, which eventually got acquired by Midway, where I did a game called Road blasters that was popular in the late 80s, and Road Riot. "
Buy Lego 2K Drive
It's not hard to see the studio's arcade influence shining through. As you drift around Bricklandia's bustling streets, swerving past mini-figures and rounding up farmyard animals in suitably silly side quests, Drive feels like a modern love letter to retro gaming's pixelated past.
Aiming to capture the feel of a bunch of kids pushing their cars along a playmat, in a nice touch, your transforming vehicles are completely customisable. Dive into each location's garage, and you can build your transforming vehicle brick-by-brick, crafting all manner of weird and wonderful creations in one of the most fun and intuitive maker modes I've played.
What was the team's mission statement with Drive? To create a racing game that players of all ages would enjoy. "There's so many modern console games that are complex these days. I've been more recently involved with mobile and toys, where it's a much more casual world, and I think the whole world has become more casual now. Making [something] approachable and playful… a game that parents can play with their kids, or brothers and sisters can play together, it's just nice."
While Drive's long-term future will undoubtedly depend on its commercial success, for Pierce, Lego Drive has always been a franchise, not a one-off.
"We all want this to be a multi-year arc. We want there to be a Drive 2, 3, 4 and 5. There's several stuff that we have planned for post-launch that takes it to the levels that we knew we couldn't do within the launch game. We want to expand the creativity beyond just cars, right? We'd love to be able to build all sorts of things."
Yet there's one area where Drive arguably doesn't live up to its promises – in its expansive driving. Billed as an open-world racer, I was surprised during my preview to discover that Lego Drive isn't one seamless world, but instead made up of a series of standalone sandboxes called Biomes. Given its impressive brick destruction physics and high level of visual sheen, it feels like a surprisingly old-school concession, and one that Pierce hints may be due to the game's Switch version.
"Right now, you fast travel between the biomes. We went through a lot of work and discussions about all the different ways we could do [an open world] and we all really wanted to have [players] just travel from one to another. But on… some of the platforms it's just not… you can't make somebody wait for three minutes to load something in, right?"
"As you drift around Bricklandia's bustling streets, swerving past mini-figures and rounding up farmyard animals in suitably silly side quests, Drive feels like a modern-made love letter to retro gaming's pixelated past."
While older hardware may have hobbled its full-on open-world dreams, Pierce suggests that Drive's IP ambitions are just as broad as players have to expect from the world of virtual Lego.
"There's no announcements about that at the moment, but I wouldn't be shocked," he replies, in relation to IP collaborations coming down the line. "[Drive] is truly a AAA effort and we're at the pinnacle of all of these different brands and everything, and the commitment from these large companies is very high. We have a lot of stuff I can't really talk about now… But there are collaborations that are coming down the line, as we get to post-launch, that are very impressive. I think Lego fans are gonna love them."
Since his '80s racer heyday, Pierce has been working in consumer electronics designing and selling plug-and-play consoles to supermarkets and tech brands. His focus? Getting players quickly into simple and fun experiences.
"At my company, we designed and built a number of plug-and-play TV games. We did it all, with ten people, we went from concept to [ being in US retailer] Sam's Club in a year. That was quite an adventure, as it's a tough business. My heritage is in the arcade where we created not only just the software, but we made the hardware as well.

"And I was so fortunate to work at Atari for a long period of time where they invented force feedback steering, I was there and we got the patent and, and it's a fun area to play in the toy stuff. But consumer electronics is a super challenging business."
Now, after years of DIY dev, he's thrilled to be back in the big leagues, working with one of the most established and beloved toy companies on the planet.
"Now I'm at 2K and it's all top drawer. After being a scrappy, independent developer for like, 20 years, it's nice to be back in the major leagues again. I love it, and everybody on the team appreciates the opportunity as well. There was about 35 people on the team when we did the first playable, and we got the green light in early of 2020 from 2K. Now we're probably about 160 people working on it. So it's been a real adventure and we're very excited to see this get big."
With Drive the first of 2K's long-rumoured, multi-game Lego partnership, there's undoubtedly a lot of pressure for this to succeed. Yet while our demo didn't quite live up to the brilliance of Mario Kart, the expansive single-player and brilliant brick building make it sure to be a hit with younger players. 2K Lego Drive launches on Switch, PC, PlayStation 4 and 5 and Xbox Series S|X on May 19th.
Related Products
Other Products
Some external links on this page are affiliate links, if you click on our affiliate links and make a purchase we might receive a commission.