Immortals of Aveum feels like EA's next big single-player franchise
It's not quite magic Call of Duty, but the stellar production and exciting action isn't far off
Immortals of Aveum feels like something EA would have released in the same stable as Mirror's Edge and Dead Space. Which is hardly surprising, since it's the next game from Dead Space's creative director, Brett Robbins.
That's not to say that the game feels like it's from 2007, but instead that it has the originality and confidence of something that would have been given the mega publisher's full backing during their foray into single-player hits. Regardless of how the game eventually turns out, it feels important that there's space for the Immortals of Aveum of this world.
We recently got the opportunity to play around three hours of the game and came away impressed by not only how free-flowing and fun the combat is, but how stellar the game's presentation is, even if we're not totally hooked by the story yet.
Immortals of Aveum is a single-player first-person magic shooter which follows Jak, a magic wielder with the rare ability to wield all three of the types of magic native to the world of Aveum. Plunged into a seemingly unwinnable war, Jak stands side-by-side with the few remaining magic users on his side against the tyrannical Rasharn, a figure whose quest for power has left anything and anyone in his path destroyed, including Jak's family.
Jak has three types of magic, Chaos(red), Force (blue), and  (Life) green. These colours delineate what kind of attacks he can use with that strain of magic and essentially translate to weapons you could find in a typical first-person shooter.
The red magic is a devastating shotgun blast used for close quarters, the blue magic is more ranged, and the green magic is a burst fire perfect for engaging with enemies from a safe distance. As you upgrade each of these trees, you'll spec further into that style of play. For example, progressing down the blue path may allow Jak to deploy cover on the battlefield to snipe from afar.
These weapon types coalesce with Jak's movement abilities which include a dash, a double jump, and a whip, which can bring enemies toward him. Combat encounters are designed with a lot of movement in mind, and the speed of the enemy AI means that unless you're specced in a very specific way, you're going to need to keep moving in order to survive.
The sign of a good combat system is if you'd be willing to ping around an empty arena that was repeatedly filled up with enemies, just to have fun with the attacks, and in Immortals of Aveum that's an unqualified "yes."
The final game will feature more than 25 spells, which Ascendant says gives players the opportunity to play through the game multiple times using entirely different builds. From our demo, it seemed like there was some focus on X attack works on X enemy-style encounters, but the further we progressed, the method with which you could attack each of the enemies in the game became more varied.
It's an extremely fast-moving game and ran well during our play session on PC. Enemies are also very readable, something that when we asked creative director Brett Robbins about, his eyes lit up talking about how much of a focus that was for the team.
There's an obvious issue as soon as you're fighting mystery enemies on a foreign planet using weaponry that you can't recognize from the real world. In most games, the only way to really find out what they do is to get hit by them, but from what we played, it appears that the enemies are similarly colour coded to the players' attacks, meaning if you see something red, you know you're in for some up close and personal trouble.
Immortals of Aveum is beautiful. The facial animation stands right alongside the juggernauts of the industry, which took us by surprise considering how little it was mentioned in the presentation ahead of our time with the game. It's very cinematic, as you might expect from something with so much Call of Duty in its blood, but at least as far as we could see, it's far less reliant on borrowed imagery and homage, the world of Aveum feels very bold and very original.

The game is striving for a cinematic presentation, as is evident from the title sequence, but we're not entirely convinced by the narrative itself so far. Jak seems like an enjoyable enough protagonist, even if some of the Marvel-inspired dialogue will likely grate on some that have been worn down by quips.
It's always difficult to get a grasp on how the overall story will play out during a preview experience, but the world of Aveum itself is certainly somewhere we'd like to explore further. It feels very lived in, like there are hundreds of stories all across it, not just that you're the center of the universe and everything going on around you is irrelevant. The cast of side characters also seems very strong from what we've played, assisted once again by the stellar animation work.
Immortals of Aveum finds itself in an interesting position, with a unique opportunity to establish itself as part of EA's roster. A mid-July release, Immortals has little competition, and if it can manage to sell the sheer joy that can be found in that combat to players, EA might find itself with another blockbuster.
Related Products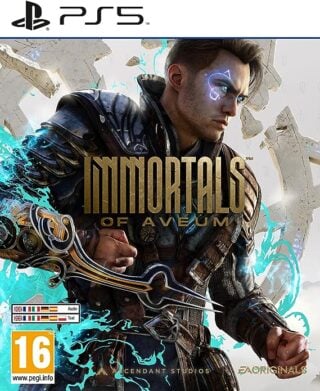 Immortals of Aveum (PS5)
Immortals of Aveum (Xbox)
Some external links on this page are affiliate links, if you click on our affiliate links and make a purchase we might receive a commission.