Here's how Cyberpunk 2077 compares on PS5 vs. PC
See the first console versus PC screenshots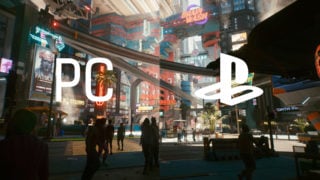 Here are the first retail Cyberpunk 2077 images showing how the much-anticipated open-world game compares on consoles to a high-end PC.
The console images shown on this page were captured from the PlayStation 4 version of the game – which VGC received on Tuesday – running on a PS5 via backwards compatibility mode.
The PC images were captured on a machine running a GeForce RTX 2070, Intel Core i7-8086K @ 4.00GHz and 16GB of RAM, with all visual settings set to max and medium level ray-tracing.
Due to media restrictions, we're unable to share video footage until a later date, but the images below should provide some context on the level of visual fidelity PS5 players can expect.
UPDATE: Media outlets have now published the first retail Cyberpunk 2077 PS5 and PC gameplay:
ORIGINAL STORY CONTINUES: It's also worth noting that Cyberpunk 2077 appears to offer performance modes on Xbox Series X at release, but not on PlayStation 5.
(PC images are unlabelled)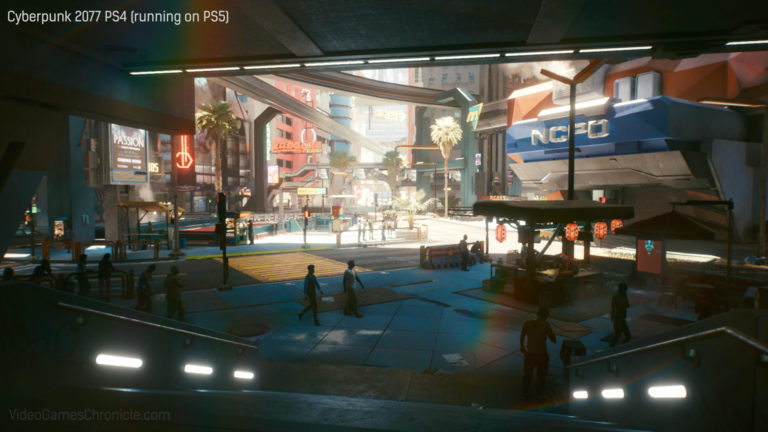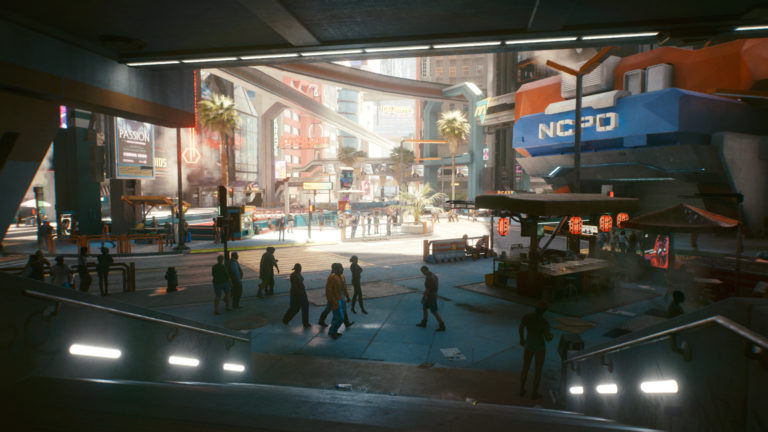 ---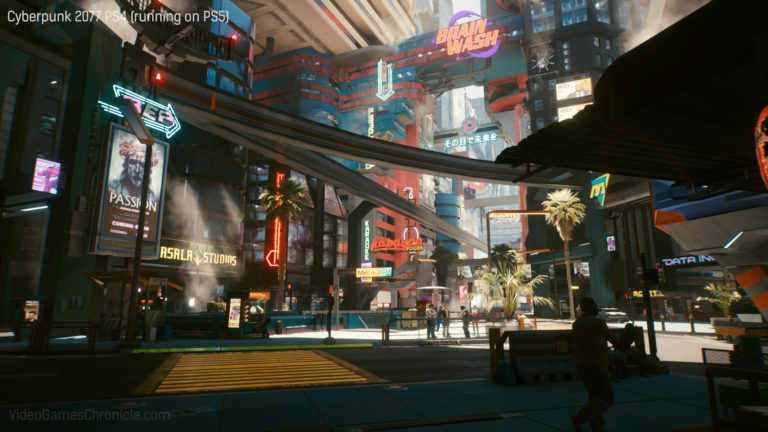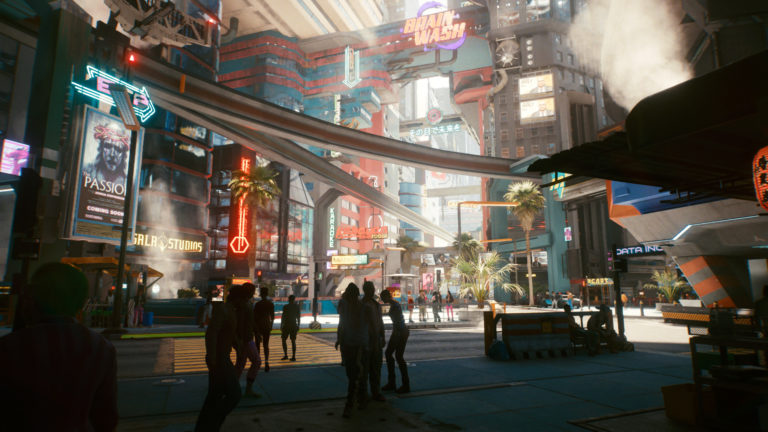 ---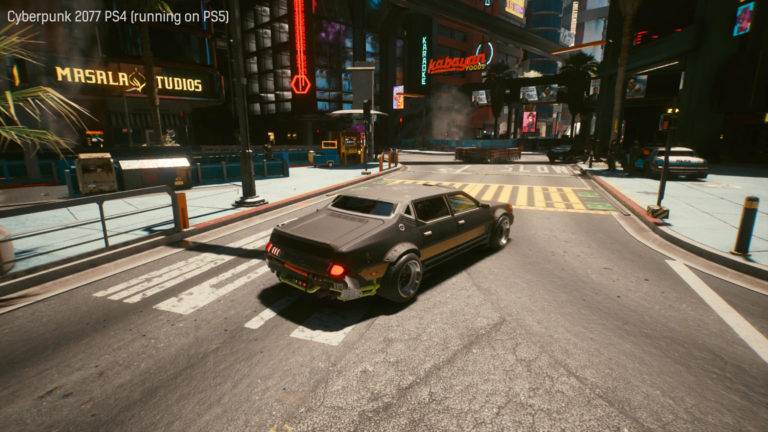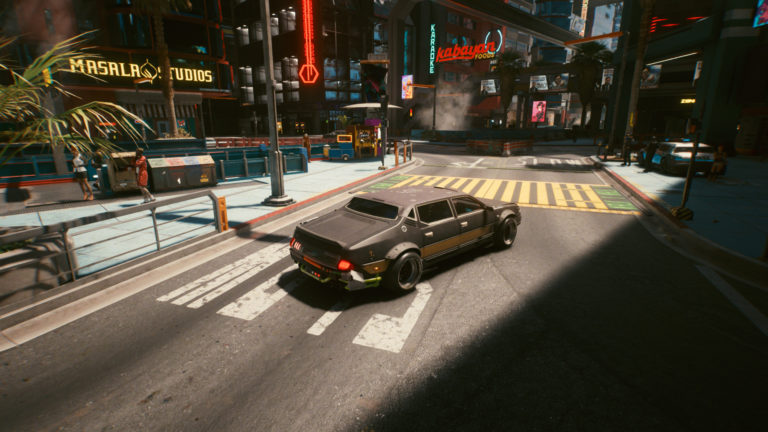 After roughly one hour of gameplay, we're impressed with how the game stacks up visually compared to PC, considering that this version of the game is designed to run on old console hardware (albeit with a performance boost from PS5).
In our limited time with the console version – which includes CD Projekt Red's day one patch – it's impossible to tell how much it's improved in terms of bugs compared to the pre-release PC version, which as described in our Cyberpunk 2077 review, suffered from a significant amount of bugs.
However, we did notice a few minor graphical issues in the opening section of the game, and eventually, we even suffered one crash. As on PC, the visual bugs were not significant enough to spoil the experience, but the crash is a concern (we never experienced a crash in tens of hours on PC).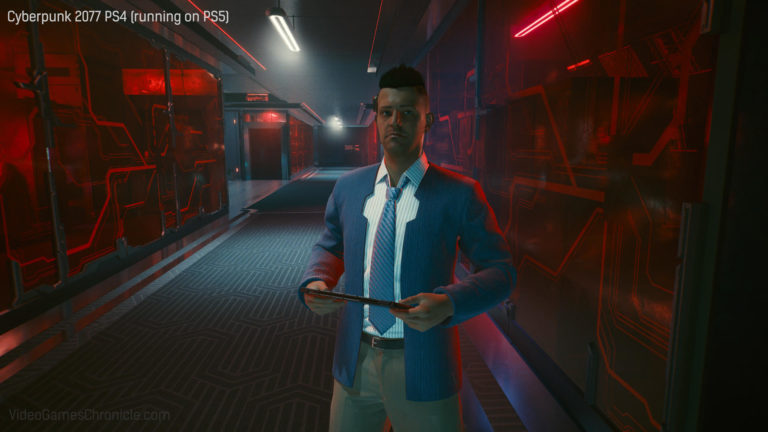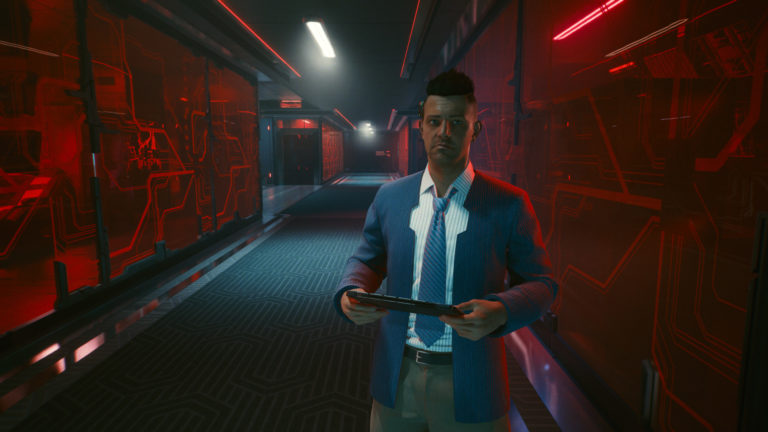 ---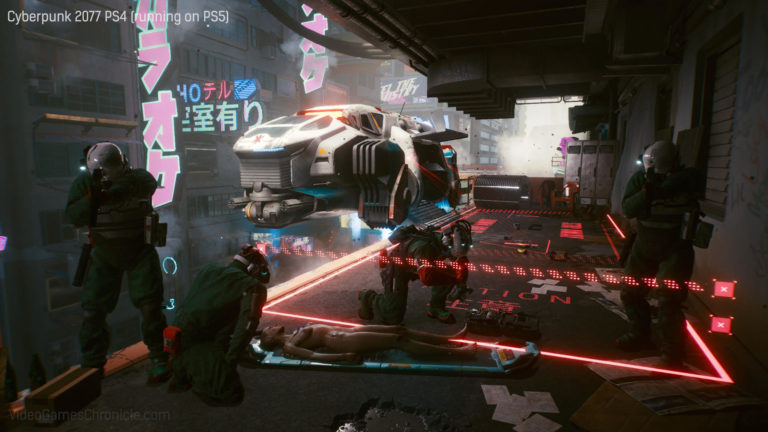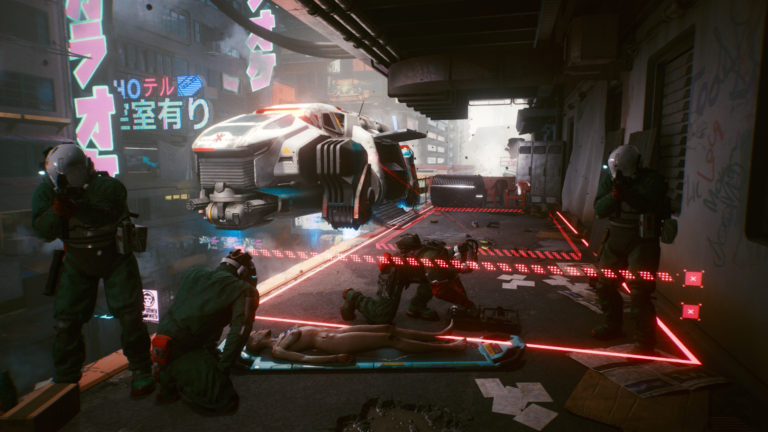 ---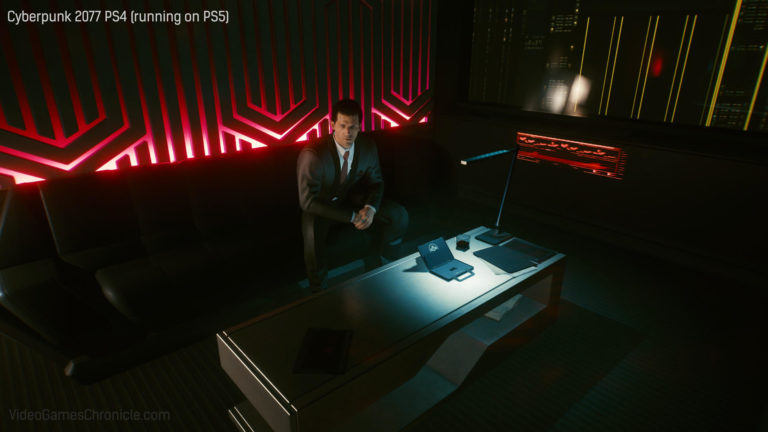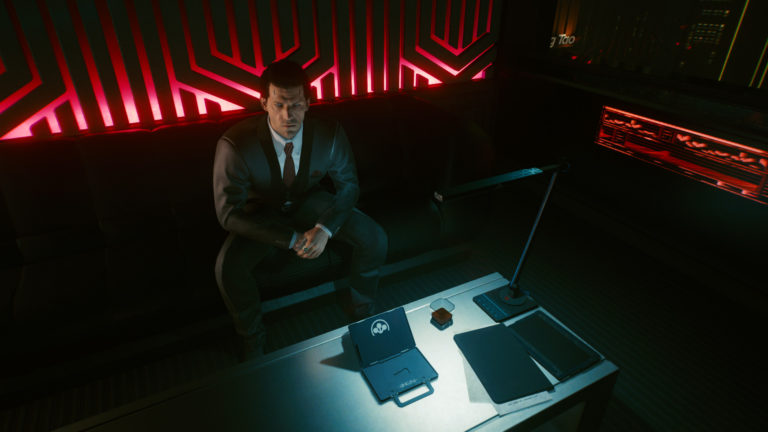 As shown in our comparison screens, the cinematic sections of Cyberpunk's opening stack up well on PS4 when compared to PC. This is good news, since we found 2077's narrative and cinematic scenes to be its best feature. It also appears to run at 60fps, which is a huge bonus.
Out on the streets, there appears to be a reduction of NPCs and vehicles, while the overall lighting can't stack up to a high-end computer, as expected.
As detailed in VGC's Cyberpunk 2077 review: "As a narrative experience, 2077 is undoubtedly one of the most immersive and engrossing video games to date, besting titles with far less complexity and certainly fewer script pages.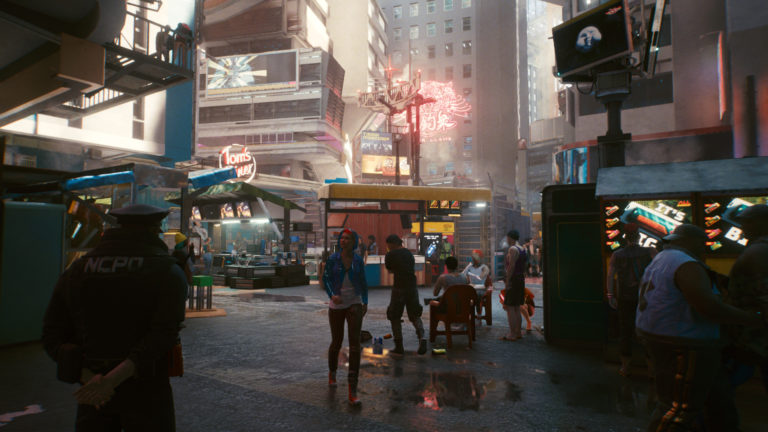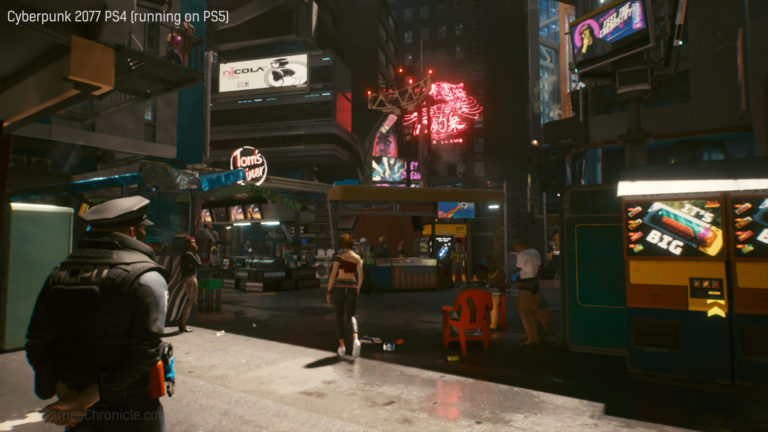 ---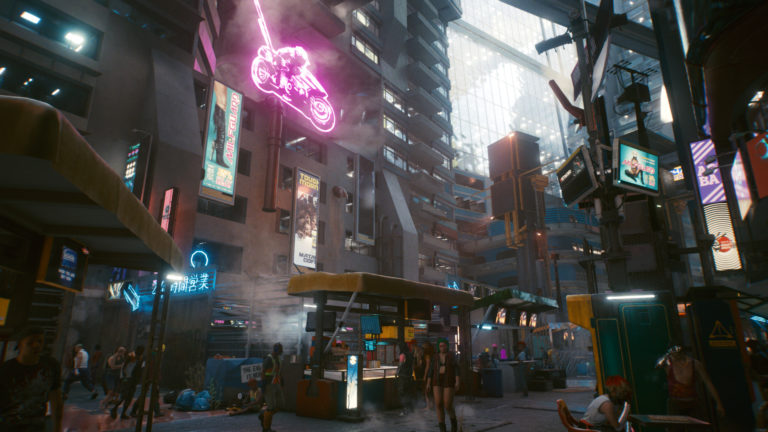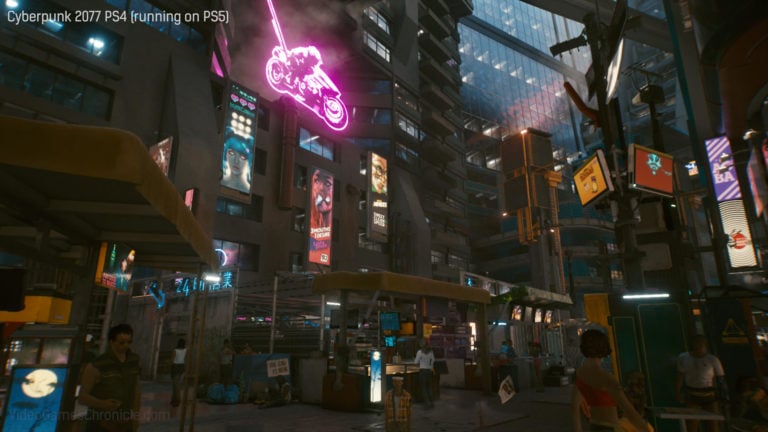 ---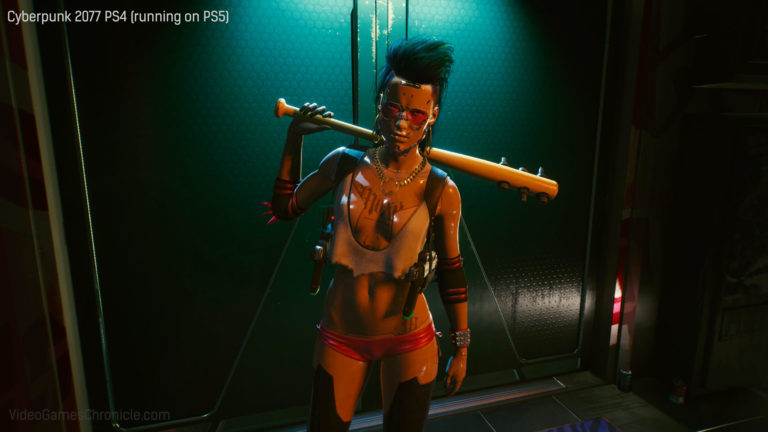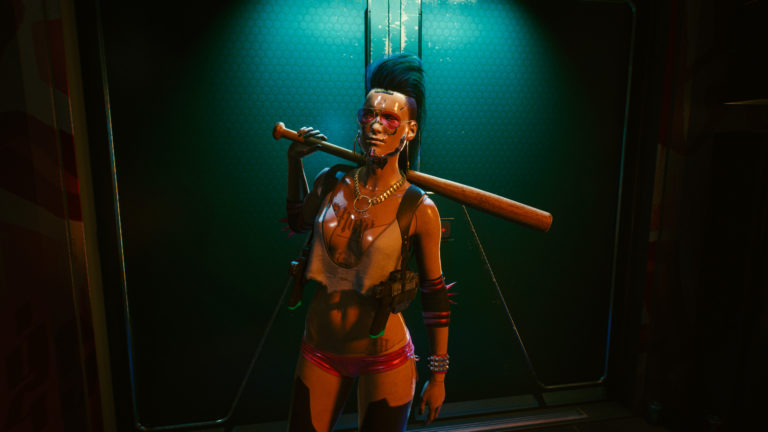 "…Usually, RPGs of this complexity are forgiven for their flat character performances and lacklustre animation, but Cyberpunk's cast are as convincing as we've seen – when release day bugs aren't making their cigarettes float through the air, at least."
On our experience with release bugs, the review adds: "This level of complexity naturally comes at a cost – especially at a time when the game has had to be shipped via remote working.
"At release, Cyberpunk 2077 has a significant number of bugs and you will almost certainly encounter several if you choose to play it this side of 2021. During our playthrough we regularly encountered floating scenery, stuck UI elements, teleporting characters and audio glitches – and it was even worse before the day one patch arrived.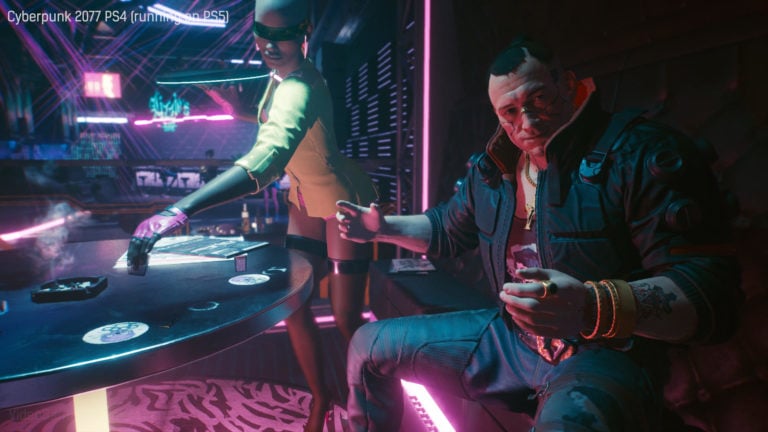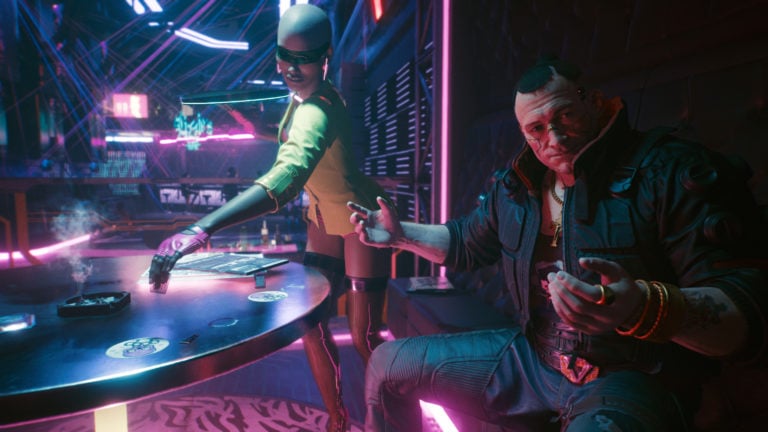 ---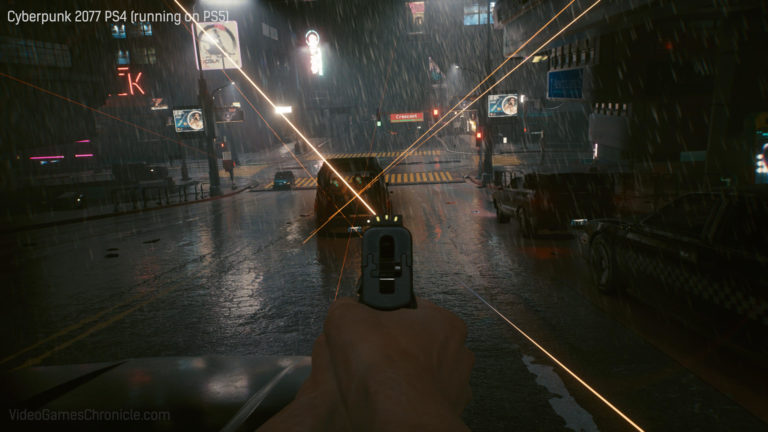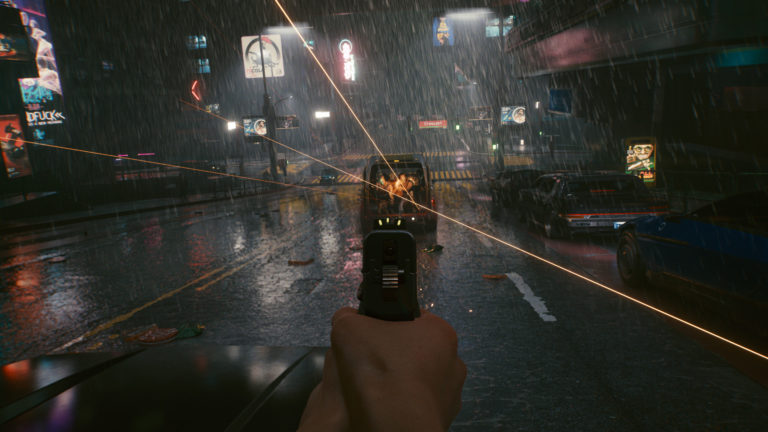 ---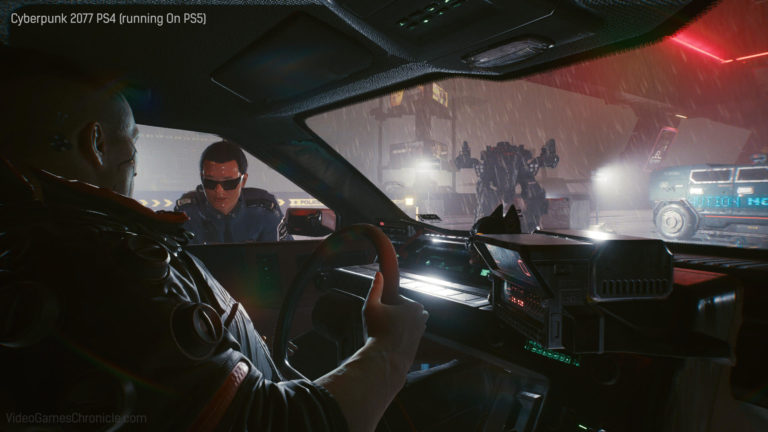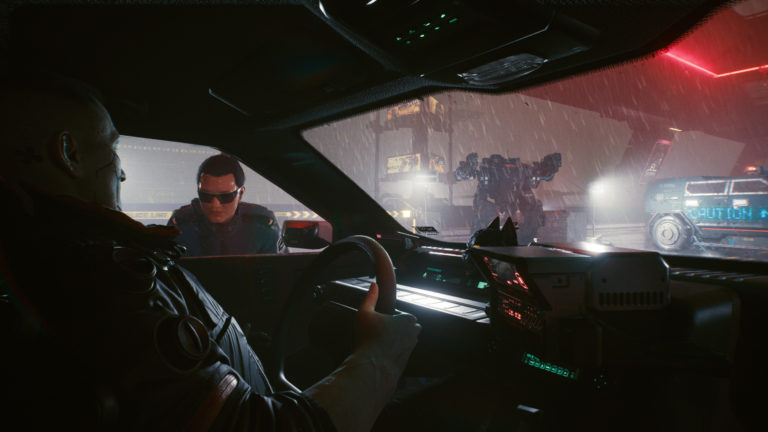 "Whether this is enough to spoil the release experience will likely differ for each player. The issues aren't game-breaking and certainly didn't spoil our overall experience, but there's little doubt that Cyberpunk would've been a more polished game if CD Projekt had delayed it yet again for further testing.
"If you've already amassed a pile of games to play over Christmas, it might be worth considering saving your trip to Night City until further patches arrive. That said, if you can ignore the numerous graphical glitches, 2077 is still a tremendous experience at its core. And with further patches, it will be unmissable."
Cyberpunk 2077 currently has a 91 Metascore on review aggregation site Metacritic, based on 46 PC reviews.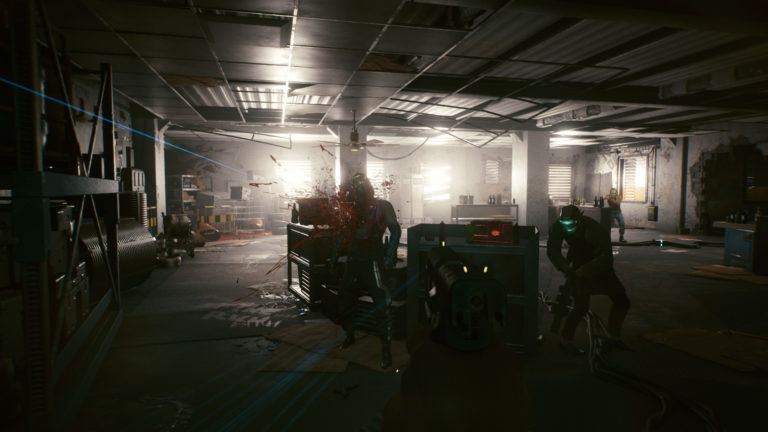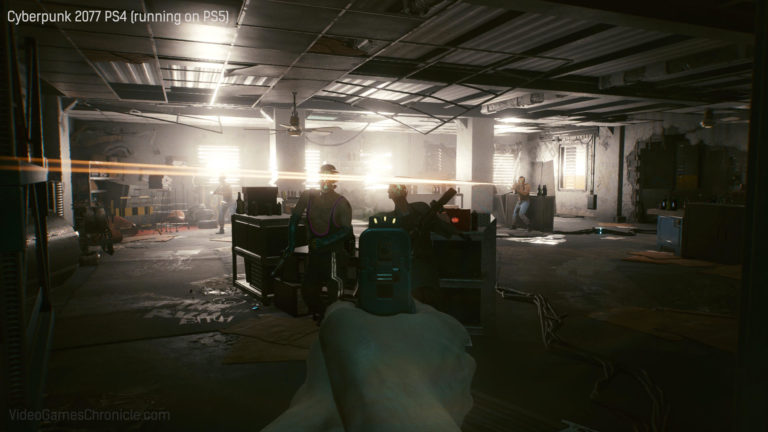 ---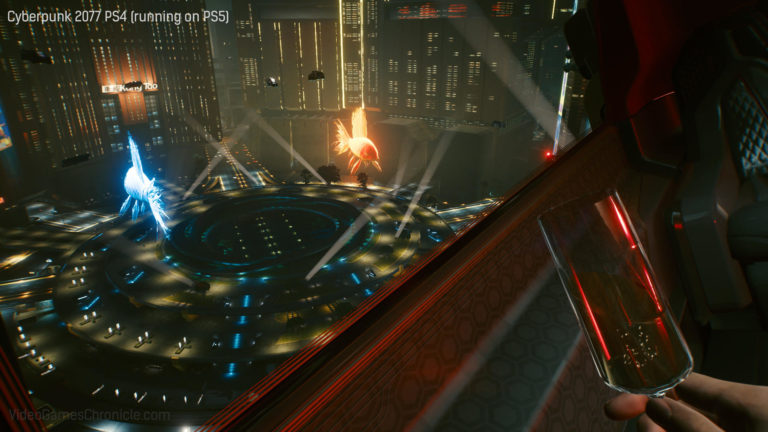 Cyberpunk 2077 reviews went live on Monday, ahead of the game's release this week. Most critics awarded high scores, although some had concerns over the game's representation and release bugs.
Cyberpunk 2077 will initially be released for PS4, Xbox One and PC. It will be playable on PS5 and Xbox Series X/S via backwards compatibility, with a "proper, full-blown next-gen version" planned for release next year.
You can pre-order Cyberpunk 2077 from Amazon (UK), Amazon (US), Walmart, Best Buy and Game, among other retailers.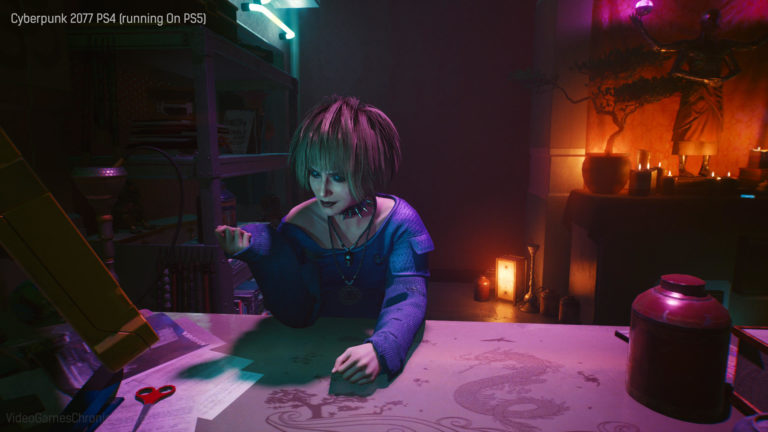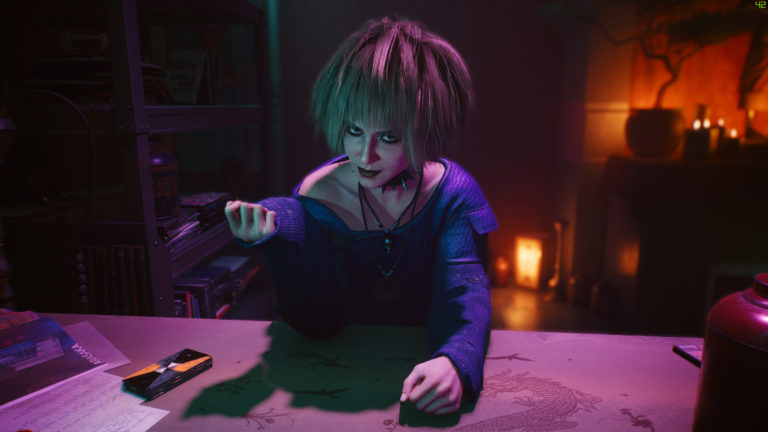 ---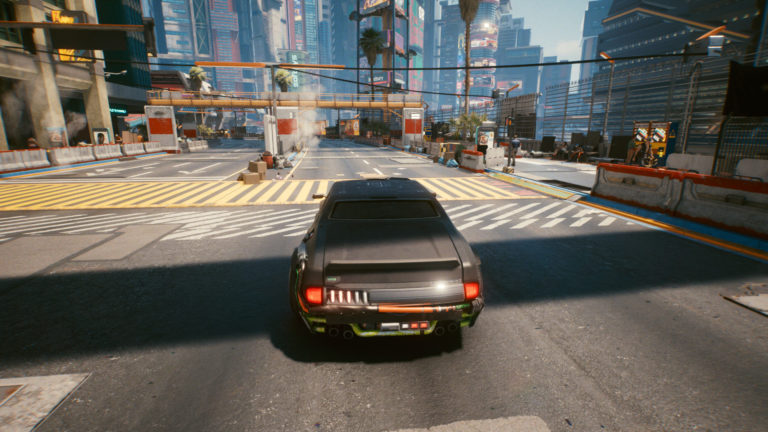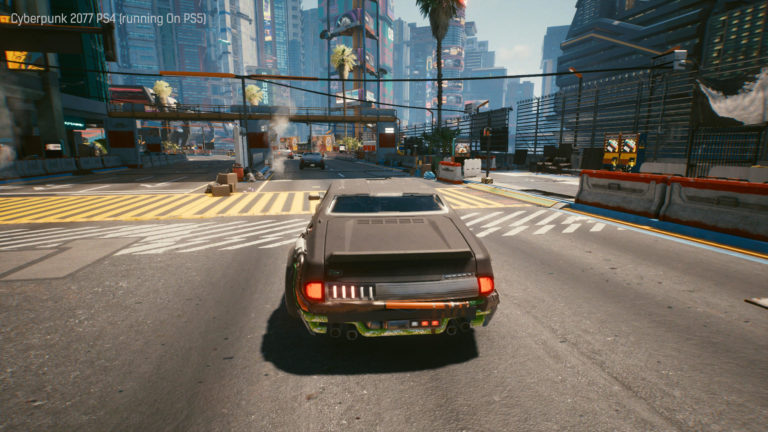 ---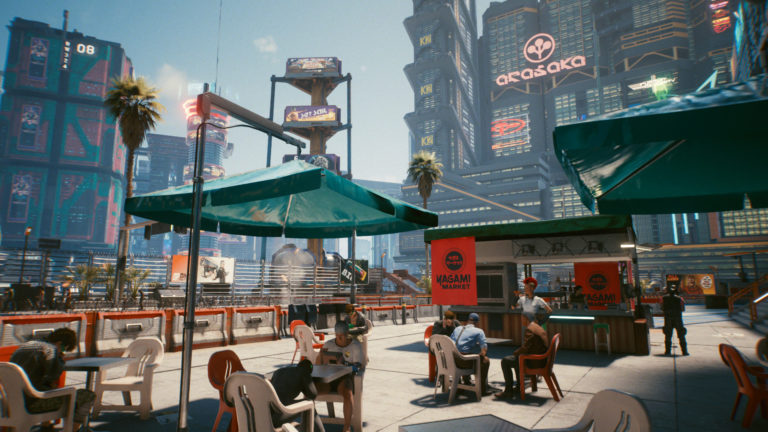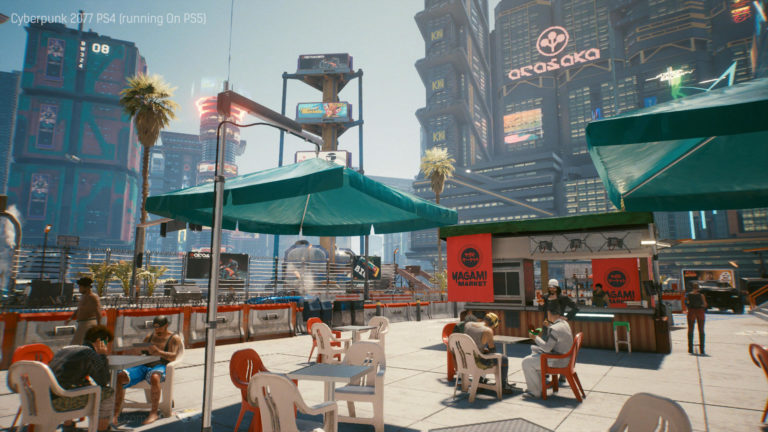 Related Products
God of War Ragnarök (PS5)
Other Products
Some external links on this page are affiliate links, if you click on our affiliate links and make a purchase we might receive a commission.