Hands-on: Tomb Raider Reloaded is typical mobile fare but Netflix could be its saviour
Lara's latest on mobile has the free-to-play trappings you'd expect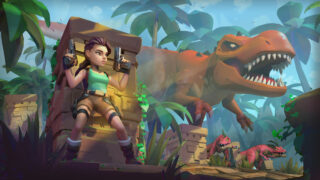 It's been a while since Lara Croft was raiding tombs in the palms of players' hands.
In 2015, the Tomb Raider star appeared in two separate mobile games, each a very different beast – the endless runner and Temple Run knock-off Lara Croft: Relic Run, and the critically acclaimed puzzle game Lara Croft Go.
There hasn't been another major mobile Lara Croft title in the eight years since then, however, but that all changes tomorrow, which canonically is Lara's birthday (because of course that would have to be Valentine's Day).
Tomb Raider Reloaded marks the gun-toting artefact-pincher's return to iOS and Android, and from the early code we played there's some promise there – albeit with caveats.
Gameplay is more action-orientated than the slower-paced Lara Croft Go, with the game taking place from an overhead view.
Each of the game's chapters – at least, as far as we could see in the first few hours of play – is split into 30 smaller stages, and to clear a chapter you have to complete all 30 in a row without dying.
Levels are brief but going through 30 in one sitting can still take a while. Thankfully, then, you can quit out of the app and resume where you left off later.
Most of these stages throw a bunch of enemies at Lara, and it's up to the player to gun them all down before the door to the next stage opens.
Control is limited to using the touchscreen as a virtual joystick to move Lara around each stage. When you take your finger off the screen, she starts automatically shooting at the nearest enemy, and will stop when you make her move again.
As such, the general gameplay involves running around until you find some free space, stopping to shoot for a while, then running away again when your location becomes compromised by enemy attacks.
It's an acquired taste, and one that may disappoint some players who see the screenshots and imagine a twin-stick shooter in their head. As far as we can tell, Lara can't shoot while running, and players have no real control over which direction she aims in.
Instead, the game decides which enemy to target by auto-targeting the closest one, then remaining locked onto them until either they die or you move.

This can lead to odd situations where you lock onto a nearby enemy who then retreats, and remain focused on them as different enemies get much closer to you. You then have to move a little in order to 'reset' the aim and lock onto someone closer.
This may be making it sound a little more complex than it really is – it's actually quite intuitive. There's no denying, however, that it does remove a bit of control from the player, and what we wouldn't give to have controller support that allowed for twin-stick combat.
Clearing a stage will usually offer you an upgrade, be that faster shooting, more powerful shots, rebounding bullets or the like. The idea is that by the time you reach the 30th stage and that chapter's final boss you'll have sculpted Lara's combat abilities into something perfectly suited for that particular enemy.
Throughout a 30-stage chapter, players will occasionally encounter either a sub-boss (which is more or less the same as a normal stage, only longer), or one of Lara's allies, who will offer you a bigger power-up, such as the option to increase your maximum health.
This also leads to one of the most tragic elements of the game – poor Winston, Lara's loyal butler, is relegated to offering the player a power-up, but only if they watch an ad. Suddenly all those times we locked him in the freezer in Tomb Raider 2 felt justified.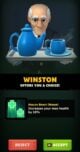 Which brings us to potentially the most interesting aspect of Tomb Raider Reloaded. We were given early access to the free-to-play version of the game, which will be available from February 14 on the iOS and Google Play stores, and it's what you would expect from a game of this ilk.
There are all manner of weapons to buy, outfits to unlock, things to upgrade and the like. There's an energy system which you have to recharge, there's your obligatory premium currency (gems) which can be bought with real money in packs ranging from £1.99 to £99.99.
The thing is, though, Tomb Raider Reloaded is also being made available via the Netflix app, and that could be an altogether more interesting prospect. Although we've yet to try it, the Netflix version will supposedly have no ads and no in-app purchases, suggesting it'll offer a more traditional unlocking path.
This could be the secret to upgrading Tomb Raider Reloaded from a frankly exhausting array of things to collect, unlock and grind to something with a more satisfying, less harassing progression system.
It's not a terrible start, then, and fans of the Tomb Raider series should at least download it for free and judge for themselves how oppressive the microtransactions are (to be honest, we've seen worse).
It's the Netflix version that could be the best experience, though, so anyone who subscribes to the streaming service may want to open their Netflix app on Tuesday and download that version instead.