Hands-on: Star Wars Jedi: Survivor is shaping up to be an exceptional sequel
Respawn's Jedi epic continues in a follow-up that looks to address every issue with the first game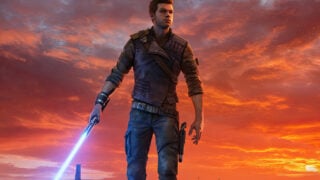 Star Wars Jedi Survivor feels like a third game in a series, rather than a direct sequel.
Every element from the first game feels more refined, polished, and expanded upon, and if the final game can fulfill the expectations that our demo left us with after playing for a few hours, then we may have to retire Assassin's Creed 2 as the benchmark for improvement on a promising original.
Our demo began with Cal Kestis crash landing the Mantis onto a lush planet, in search of some replacement ship parts. The planet, Koboh, is occupied by the Galactic Empire, as well as the last dregs of the fallen Separatist Droid Army.
---
Jedi: Survivor poncho location | Jedi: Survivor blue battery doors | Jedi: Survivor green gates | How to change lightsaber color in Jedi: Survivor | Star Wars Jedi Survivor new game plus  | Star Wars Jedi Survivor bounties list
---
On his way to meet up with his former pilot Greez, who is now propping up the bar in a small settlement, Cal runs into a new group of bandits, the Bedlam Raiders, led by the towering Gen Dai' Rayvis.
There's so much more that happened during our four hours with the game that we can't discuss – and honestly, if we did, we'd be here for days – but rest assured that the sheer number of story threads, interesting leads, and references to both the future of the Star Wars canon and the far-flung past had us extremely excited.
Cal now has five combat stances at his disposal – Single, Double-Bladed, Duel-Wield, Crossguard, and Blaster. The last two were absent from our demo, which started around an hour into the game according to Respawn.
The Crossguard stance, which has been shown in other promotional material, is reminiscent of Kylo Ren's lightsaber, which features a much longer blade and two small blades crossing the hilt. Blaster is… well, a blaster. How uncivilised.
While the first game experimented with multiple stances (and almost included the dual-wield stance as its own bespoke option before being cut during development, according to our interview with Respawn), the sequel fleshes each of them out and gifts them all sprawling skill trees.
Each stance is a tradeoff. One will deal more damage but is slower, and one attacks more rapidly, but does less damage on each attack and is weaker against blaster fire. It was hinted to us that enemies later in the game will engage in a rock-paper-scissors battle with the player where one stance is very clearly designed for that encounter, but as our demo largely featured basic Stormtroopers to mash up, we were free to experiment with all three.
Also returning from the first game is Cal's suite of Force powers, which seem to have been revamped somewhat. For example, the ability to freeze multiple enemies in a circle was somewhat of an "ultimate" move that Cal charged up over time, whereas the rest of the force arsenal (push, pull, launch off a cliff) all remained governed by the Force meter.
Once we had our sea legs and were pulling foes towards us, using them as a human shield against blaster fire, then skewering them with our lightsaber, it was like riding a bike. The combat is still incredible fun.
"Once we had our sea legs and were pulling foes towards us, using them as a human shield against blaster fire, then skewering them with our lightsaber, it was like riding a bike. The combat is still incredible fun."
It still uses a Souls-lite parry system, the timing on which is difficulty dependant, but when you're dealing with large groups of enemies, the free-flowing fun that can be had is compelling. We found ourselves quickly seeking out fights just to experiment with the large number of moves each stance offered. It feels like, depending on the length of the full game, you could play through it multiple times, each with a different stance, and get a different combat experience.
Just how long the full game is remains to be seen, but we're already impressed by how expansive the levels appear to be when compared to Fallen Order. Whereas the first game featured levels that were largely corridors, small areas, and some basic shortcuts that would make backtracking easier (though not as easy as you'd like), Survivor adopts much larger open spaces, with several different areas sprawling off in every direction.
Koboh features a hub town with vendors, mission givers and other characters to chat to, however, in every direction there are small side stories, areas to explore and hidden bosses. Think of the realms in God of War Ragnarok – you could simply play through the golden path content, but you'd miss a lot. We already felt like we were missing significant side content during our demo, as we were prioritising seeing the exciting story content.
Sure, plenty of what you'll find in the world are collectibles, customisation items, lore, and other small items, but alongside that, there are seemingly larger side-quests, puzzle rooms, and more. What makes this even better is the much-improved map, an element of the first game that was so universally disliked that during our interview with Respawn's principal UI visual designer Daanish Syed, he brought it up unprompted as one of the main improvements for the sequel.
Speaking of customisation items, they're one of the game's main collectibles, and seemingly a huge focus of the game. Within the few hours we spent with the game, we found trousers, jackets, hair options, and more. Cal is more customisable than ever, a huge fan request that seems to have been answered and then some.
Sure, it's a bit immersion-breaking to make it through a difficult platforming puzzle only to find that someone had a mullet in a chest, but even among the other people taking on the demo, the range of different Cals that players can build is impressive.
"Cal is more customisable than ever, a huge fan request that seems to have been answered and then some."
Visually the game is a huge improvement on the first, with that caveat being that we were playing it on PC with everything up to practically the highest settings. Even so, the visual leap was significant, not only in the stunning vistas and lush fauna but the detail on Cal's face. Respawn is well aware of this, as there were a good few moments when Cal would take a breather so we could both appreciate the beautiful scenery of the planet.
We want to play more Star Wars Jedi Survivor right now. The game is just bursting with smart changes. Every little thing that annoyed us in the first game appears to be fixed, and even the stuff that was great, such as the enjoyable hack-and-slash combat and the strong story, seem far improved.
The story specifically, details of which we have to be incredibly tight-lipped about, is very exciting. When the splash screen appeared after the final cutscene telling us the demo was finished, we were desperate to find out what was going to happen next.
The biggest question remains over just how many of these larger planets the game actually contains, but so far, it's an adventure we're extremely excited to return to and to find out just how massive the galaxy is for ourselves.
Related Products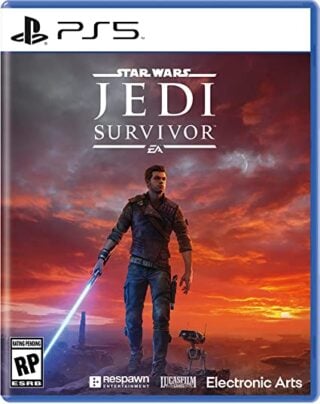 Star Wars Jedi: Survivor (PS5)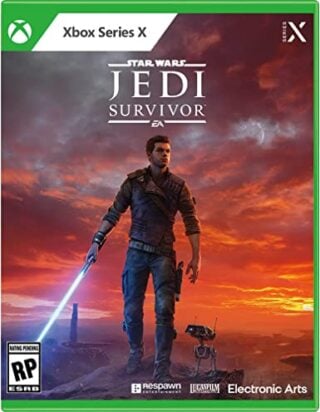 Star Wars Jedi: Survivor (Xbox Series X/S)
Some external links on this page are affiliate links, if you click on our affiliate links and make a purchase we might receive a commission.