Hands-on: Splatoon 3 is as conventional as it is colourful
Surprises are few and far between in Nintendo's third bout of mess and mercing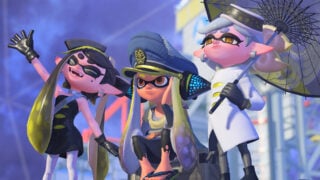 After a long, hot summer spent spraying filthy patios in PowerWash Simulator it takes a few minutes to remind yourself that, in Splatoon 3, it's okay to make a mess.
This is the anti-PowerWash, after all: a race to cake every square inch of the level in ink, while battling four rival squid-kids who seek to splatter your territory in their own hue. It is a resolutely Nintendo angle on the online shooter.
Bullets are replaced with playful paint, there's a collaborative focus on territory-grabbing over killcount and, in the ink itself, a beautifully tactile tool for travel – you can swim through your own team's ink to speed up navigation and get the drop on the enemy.
In Splatoon 3, this is all as it ever was. It's ever so slightly prettier, and, to our ears, ever so slightly wetter sounding as you splat and squish through a turf war, but the core idea has not been meddled with.
Splatoon 3 guides:
Splatoon 3 Splatfest | Splatoon 3 tier list
It does raise the question: how exactly do you expand on a game that largely nailed its big idea first time round? Do too little and it seems like a glorified expansion pack. Do too much and you risk upsetting the flow of the game and its considerable fanbase.
In our hands-on session – a taster menu of various modes – Splatoon 3 definitely favours evolution over revolution.
Take the inklings themselves – they can now Squid Surge up walls, popping over ledges with enough height to start firing on any squatters on the higher ground. Where previously there was a slight disadvantage to cresting walls, you now have the power of surprise and it looks cool.
Or consider the Squid Roll, where you quickly change direction while swimming. Combine a jump with a jab of the analogue stick in the opposite direction of travel and you can flummox pursuers with a darting hop – one that also has a brief window of invulnerability to repel incoming unpleasantness.
If you're sick of dodge rolling Dualie players (the game's dual-wielding pistol class), this new move adds a welcome bit of evasive pep into everyone's moveset. Evolution strikes again.
"In our hands-on session – a taster menu of various modes – Splatoon 3 definitely favours evolution over revolution."
The Turf War where we use these skills are also slightly livelier affairs. Spawning sees you firing into the arena from a hovering platform – a more dynamic entrance and it gives you control over your starting position.
Then at the other end of the fight, inklings now celebrate with emotes you purchase alongside other traditional cosmetics. Ever dreamed of seeing an inkling dab? Well, a) time to re-evaluate your life, and b) Nintendo have you covered.
We also try two new weapon classes. The Splatana turns a windscreen wiper into a samurai sword that flings projectiles or charges up vertical slashes that creates an instant path to higher ground. As more cowardly players, its close range appeal is slightly lost on us, though we do get spanked by it up close and can confirm its lethality.
The Tri-Stringer is more fun. Its spread of projectiles and an option to charge up timed explosives makes it good at both broad ink coverage and precision strikes, while its special – the Killer Wail 5.1 – blasts six inky deathrays that look truly terrifying as they slice across the arena. It's top stuff.
But even with new gizmos in play, it never quite escapes the whiff of familiarity. As we battle through the tight confines of Scorch Gorge, a new, short map that hurries everyone into a bloodbath in a central courtyard, we wonder if a casual dabbler might be forgiven for thinking they were playing new DLC for Splatoon 2.
This is more keenly felt in the single player offering, which returns to the obstacle course style of the first two games.
These are Mario Galaxy-ish clusters of platforms that serve as training for online survival. A level built for the Tri-Stringer, for example, shows how sticking timed bombs to moving platforms can splat foes otherwise out of reach. Very standard stuff.
A few ideas are borrowed from Splatoon 2's Octo Expansion. You can tackle levels with trickier weapons for higher rewards, and the appearance of toll gates hint at a more interesting campaign structure (all the gates in our build were free, so it's hard to gauge how this will work).
But the stages themselves are crushingly overfamiliar after two games of this stuff. Bounce pads, slide rails, ink cannons… check, check, check. It's more remix than anything tangibly new.
"But the stages themselves are crushingly overfamiliar after two games of this stuff. Bounce pads, slide rails, ink cannons… check, check, check. It's more remix than anything tangibly new."
It irks as the Splatoon universe has such character – and weirdly dense lore – that you'd think it could sustain a bigger narrative experience with more substantial worlds to explore and conquer. Continuing to dice it into micro-challenges can't help but feel like another glorified tutorial, which it arguably is.
Of everything we try in Splatoon 3, it's Salmon Run – the returning horde mode – that makes the biggest leap. Being able to throw eggs that were previously carried back to base injects a surge of energy.
You can pull off cool solo dunks from afar, or more radically, set up daisy chains where you pass eggs between the team to fill the basket in rapid time. It feels like the killer team interplay that was missing from the mode. Combined with the fact that Salmon Run is no longer limited to daily timed windows and this is guaranteed to be a bigger timesink this time round.
Which is to say that the tiniest tweak can flip a game on its head or elevate a reliable favourite, which gives us hope that there are more pleasant surprises in store. There's heaps of stuff from the recent Nintendo Direct we didn't get to test, such as the new Tetris-like boardgame, customisable lockers or the three-way Splatfest.
The latter has a public demo this coming weekend, but the promise of three colour face-offs could well be the spark missing from the more conservative Turf War.
With the real make or break of Splatoon 3 lying in its subtleties, a brief hands-on is maybe not the best showcase. At the very least, this should be a solid continuation of what came before; whether its quirks can elevate it to something more, is yet to be seen. Still, a nice change from cleaning virtual sheds.
Related Products
Other Products
Some external links on this page are affiliate links, if you click on our affiliate links and make a purchase we might receive a commission.