Hands-On: Last Stop is on track to be Annapurna's next big hit
The second game from Virginia developer Variable State is more talking sim than walking sim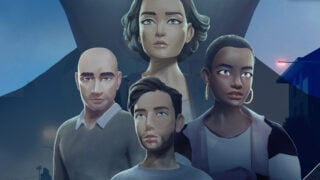 It feels like Annapurna Interactive can do no wrong at this point.
Ever since the Hollywood-based publisher released its first title What Remains of Edith Finch in 2017, its track record has been nothing short of exceptional.
The likes of Sayonara Wild Hearts, Gorogoa, Florence, Outer Wilds and Telling Lies have earned Annapurna a string of accolades other publishers can only dream of, and it's hoping Last Stop can continue this trend.
Its pedigree is promising. Last Stop is being developed by Variable State, the three-man team behind the critically-acclaimed Virginia, and has been in development for nearly five years.
"This wasn't supposed to take five years, was it?" Terry Kenny laughs as we put this to him. "We're maybe not good at estimating how long it takes to make things." His colleagues, Jonathan Burroughs and Lyndon Holland, laugh too.
The trio are chatting to us over Zoom, shortly after we started each of Last Stop's stories. The game is split into three separate adventures, each divided into a series of chapters, and players jump between them as the game progresses.
Although the opening menu lets you choose which story to start, you only get to play Chapter 1 of that story before you're returned to the menu and asked to choose the next story. Only once you've cleared Chapter 1 for all stories do you then move onto Chapter 2, meaning the three stories progress together.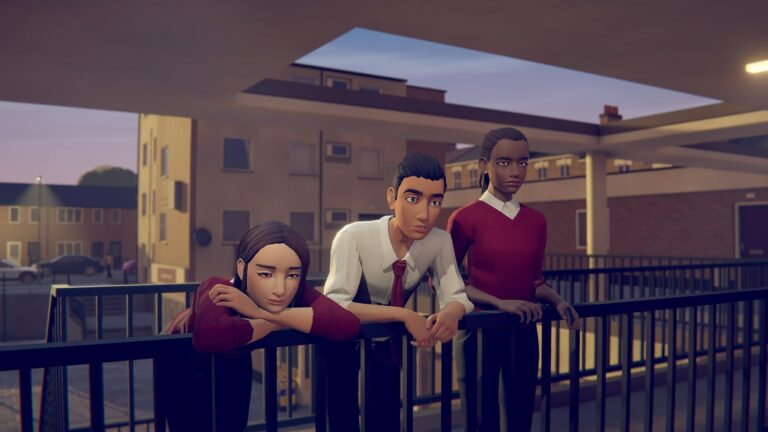 Whereas Virginia was played without any dialogue at all, Last Stop is the complete opposite – it's a very dialogue-heavy game and the majority of the player interaction lies in choosing what each story's protagonist will say next. Holland suggests this may have been the reason for the five-year development time.
"I think one of the big things I think I've learned is that having a dialogue system with lots of characters and getting all the performances for that, you think 'oh, we'll scale it back, we'll do something minimalist', but then you always need more," Holland explains.
"So it's actually a much bigger task than I think we all thought it was, and there's been a lot of stages to the quality of these conversations, and you're seeing it at its highest [level of detail], I suppose, but there's been much leaner versions of it."
It's hard to imagine what that could have looked like, because in this near-final state – the game's released in July – the dialogue is very much Last Stop's central focus, and the key to getting across the personalities of each of its three protagonists.
Each story is very different too, almost playing like a different movie genre. Paper Dolls is something of a comedy sci-fi movie and stars John Smith, a single parent struggling to make ends meet for him and his daughter. One day John swaps bodies with Jack, a trendy video game developer – cue humorous hijinks as a technophobe has to work at a game studio and pretend to know what he's talking about.
Stranger Danger is more of a thriller and has you playing as Donna Adeleke, a teenage student who's hanging out with her friends one night when they start discussing the mysterious man across the road. Lots of people enter his house, but nobody ever leaves, so the friends decide to follow him one night.
Finally, Domestic Affairs appears to be more of a drama, with players taking on the role of Meena Hughes, a cutthroat professional who's struggling with an unsatisfactory family life and the threat of a young, promising new colleague threatening to steal her promotion.
"When we started out, from the earliest stages, there was this ambition to do something that would have multiple overlapping stories, or might even be some sort of anthology show like The Twilight Zone, The Outer Limits, something like that," Burroughs explains.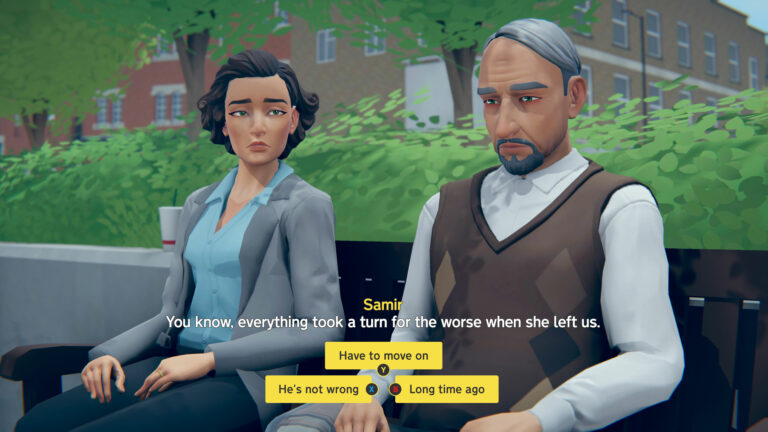 "I think initially in tone, though, it was going to be perhaps much darker than it's ended up being, or at least more obviously connected to something like The Twilight Zone. It was going to be set in America, originally".
Instead, Last Stop is set in London, but not any specific borough of London. Some elements of the game may be based on real-life locations – Donna's apartment looks like that of 3D modeller Stevie Brown and the block of flats John lives in is based on the Balfron Tower in East London's Tower Hamlets – but this isn't supposed to be a perfect recreation of the city.
"In fact, the layout of one particular area may be based on the set of [UK soap] Eastenders," Kenny laughs.
While part of the game involves travelling between locations and taking part in the occasional mini-game, the real central focus is conversation.
There are numerous dialogue-heavy sections in each of the chapters we've played so far and the player is given a choice of three things to say next for nearly every line their protagonist has in these chats.
While this makes it very easy to sculpt your character's personality to suit your needs – you can make them a little sarcastic, make them deadly serious – it's not necessarily designed to dramatically affect the course of the game in any way.
We watched the team play through the first chapter of Stranger Danger in a video call last week, then when playing through it ourselves later we decided to choose completely different dialogue for Donna. Although this naturally had an impact on the responses other characters gave to our lines, ultimately the plot hit the same beats throughout.
We ask the team if this is designed to be a linear story with a clear plot they had in mind, rather than a branching affair like The Walking Dead or Life is Strange
"I think that's fair to say, is it?" Kenny replies. The others agree.
"There are places where the game kind of has a memory of decisions you make," Burroughs adds. "There's one instance where a character has to come up with a creative lie in a situation, and depending on which one of the three choices you make it'll be referred to later on.
"But you're right, there isn't really a branch… until the very end," he teases.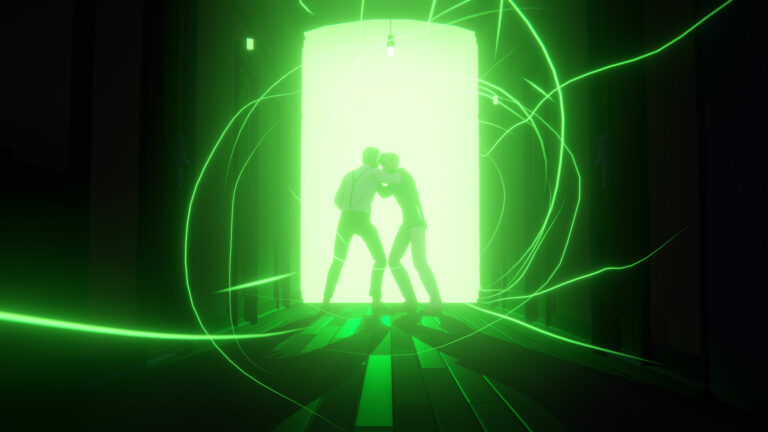 Virginia was published by 505 Games and seemingly came out of nowhere, enjoying a wealth of critical success. This time all eyes are on Variable State to follow up with a winner, and there's the added potential pressure of working with a publisher with the sterling reputation of Annapurna.
We ask if this new publisher relationship is an exciting one, or whether it adds extra stress. Surely there has to be an underlying fear when making a game for such a well-respected publisher that their game may not be well received and may even be deemed the first 'bad' Annapurna game?
"I don't think Annapurna would allow a bad game to go out", Holland smiles. "They've been an amazing publisher to work with.
"I don't think Annapurna would allow a bad game to go out. They've been an amazing publisher to work with."
"When they see that the game has reached a certain place, and we've gone 'oh, let's do more of that polish elsewhere', they've given us the resources to do that. They've very much believed in the game and wanted us to make it as good as it can be.
"We felt we were in safe hands with them, [that we wouldn't end up] in a situation where you could be with a publisher who just wants the game out and they'll put any old crap out. Annapurna would never do that."
"On the creative side they've just been really supportive of decisions we've made," Kenny adds. "Like the decision to switch from America to England, for example, was very early on.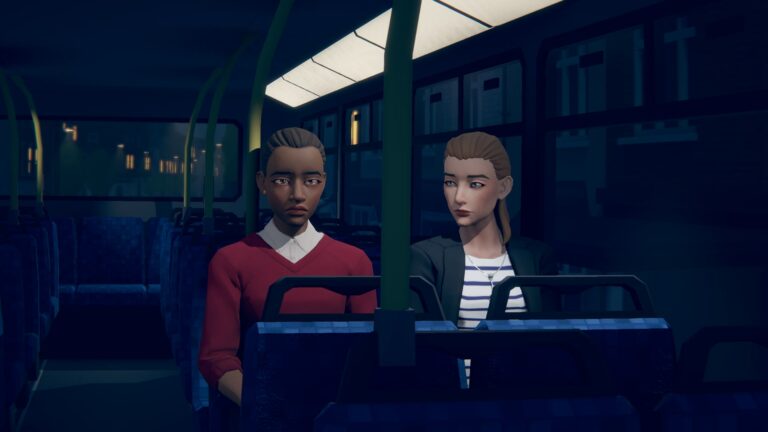 "We'd pitched the game with a video [set in America] and we were saying 'this is the vibe, and what's it's going to look like and everything else', and then a couple of months into production we were like 'actually, you know when we showed you that whole thing? What we'd actually like to do is set it in London, and here's why'.
"And there was no 'UGGHHHHH', they were like 'okay, cool, let's hear what you have to say about that', and there's been a number of occasions like that back and forward. Sometimes they've come to us and thrown a grenade in and said 'maybe do this', and we've gone 'oh, you know, maybe that is a good idea'.
"So it's been a tremendously positive experience working with them."
For a game so heavily plot-focused, we're going to have to play all three stories to their conclusion before we can say for sure whether it's all paid off. From what we've played so far, though, the signs are pointing to Last Stop being another critically-acclaimed feather in Annapurna's cap.